Download Blog
Published on December 7, 2022 by Sanchit Tuli
The race to remake healthcare – Giant firms are entering the healthtech space to mark the shift from a "fee for service" (FSS)-based model to a "value-based model"
With technological advancements in every sector – from retail shopping to entertainment to education to banking to purchasing automobiles and services such as personal grooming and hygiene – the consumer's comfort level rises, while the cost burden reduces as the number of services increases.
However, this is not the case with healthcare, with the sector stagnating due to critical issues such as astronomical costs; a lack of focus on the quality of service provided, with more emphasis on the volume of services provided; obstacles to shifting to a low-cost setting; and a lack of sufficient focus on wellness and preventive care. The root cause of these problems lies in the established method of operation – the fee for service (FFS)-based model – which incentivises medical service providers for increasing the number of services patients avail themselves of, irrespective of the clinical outcome.
This practice was under scrutiny for more than a decade, but the pandemic triggered an urgent need to change the model as economic activity declined with tighter mobility restrictions being imposed.
The global economy contracted by a sharp 3.5% in 2020, according to the April 2021 World Economic Outlook Report published by the IMF, a 7% loss relative to the 3.4% growth forecast in October 2019, translating into a loss of nearly USD9.0tn in economic output for two years, the worst economic downturn since the Great Depression.
The projections for 2023 are no better as the global economy faces new crises while still recovering from the effects of the pandemic. The war in Ukraine has triggered a humanitarian crisis in Europe, increasing global inflationary pressure by 7%. The global economy is now projected to grow by only 3.1% in 2022 and 2023.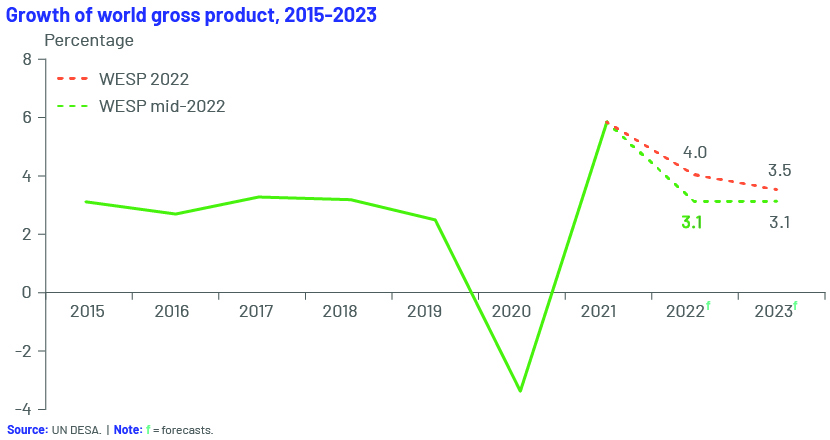 The pandemic exposed the healthcare systems of both developed and developing countries
Analysing problems in the healthcare system under the FFS-based operating model
1. Astronomical healthcare costs – Amid the pandemic, healthcare operations increased exponentially as did the cost of healthcare, pushing more than half a billion people into extreme poverty, according to the World Bank. Even if such costs are managed by insurance providers, the burden has shifted from the insurer to the individual covered, in the form of higher premiums and deductibles.
2. Lack of focus on quality of care – Even before the pandemic, given the lack of time and resources, physicians were not incentivised to deliver long-term clinical outcomes for their patients, and focused more on immediate and transitory outcomes. This is a key problem of the FFS-based model.
3. Focus on volume of services – Under the FFS-based model, physicians and other medical providers are paid more if they provide more services, resulting in them recommending more diagnostic tests and services than required. The physician may mean to increase confidence in diagnostics, but this often results in a spike in costs for the patient.
4. Obstacles to shifting to a low-cost setting – Medical service providers often opt for capital-intensive medical devices such as MRI and other imaging equipment to increase profits, despite the availability of lower-cost options. As a result, the patient is forced to pay a higher price or receive sub-optimal care or both.
5. Less focus on preventive care – The FFS-based model comes into effect only when an individual is unwell, and provides few incentives to increase awareness of the need to stay healthy and take measures to prevent falling ill. It does not offer low-cost, high-value services; wellness or preventive care; or patient education.
The weak global healthcare system, exacerbated by the pandemic, has affected primary healthcare the most
Primary healthcare is regarded as the first line of defence in maintaining health, as it provides diagnosis, health-monitoring services and reporting to minimise outbreaks. This segment was the most affected, as millions needed basic medical amenities and care at the same time. The US primary healthcare system was underprepared for the pandemic and weakened due to chronic underinvestment and labour shortages.
Fewer in-person visits – The increasing lack of confidence in the quality of service and the shortage of medical staff, which results in waiting periods of 30 minutes to more than two hours for a general check-up, have led to fewer patients visiting their family doctors. These individuals have shifted rapidly to new-age telehealth and other online interactive medical consultancy practices. Telehealth replaced 20% of primary-care visits in the first half of 2020, compared to 1% in 2019.

Less revenue – As the number of in-person visits dropped, independent physicians' revenue shrank. The primary-care segment suffered an estimated loss of USD15.1bn in the spring of 2020, primarily due to the decline in the number of in-person visits.

Medical service provider burnout – The pandemic resulted in increased burnout among primary-care providers. In April 2021, just a year into the pandemic, 71% of primary-care providers suffered burnout compared to 33% in May 2020.
The plight of the healthcare system under the FFS-based method highlighted the need for an effective, accessible and affordable value-based healthcare system where providers are incentivised to deliver a high-quality service at a lower cost.
The pandemic resulted in an ecosystem for care at home:
Resilient virtual care – As of February 2021, the use of telehealth was 38x more than pre-pandemic levels. While the reimbursement parity for telehealth is not clear, this presents providers with an opportunity to meet dynamic consumer needs. About 40% of consumers expect to continue using telehealth, according to a survey by McKinsey & Co., 11% more than before the pandemic.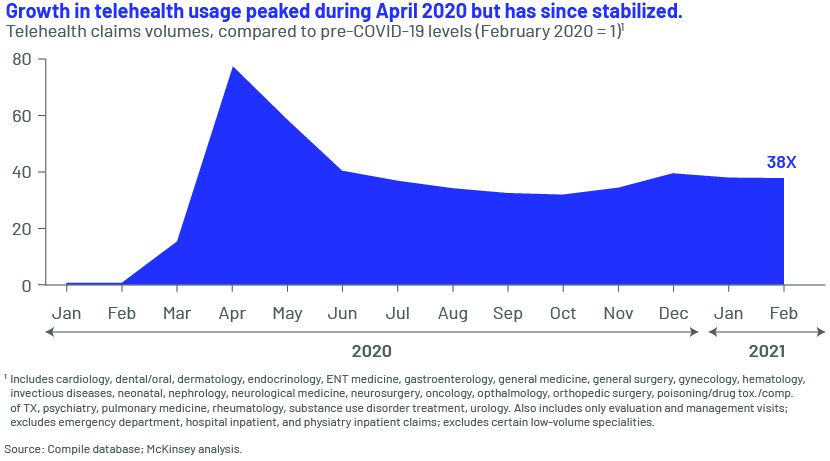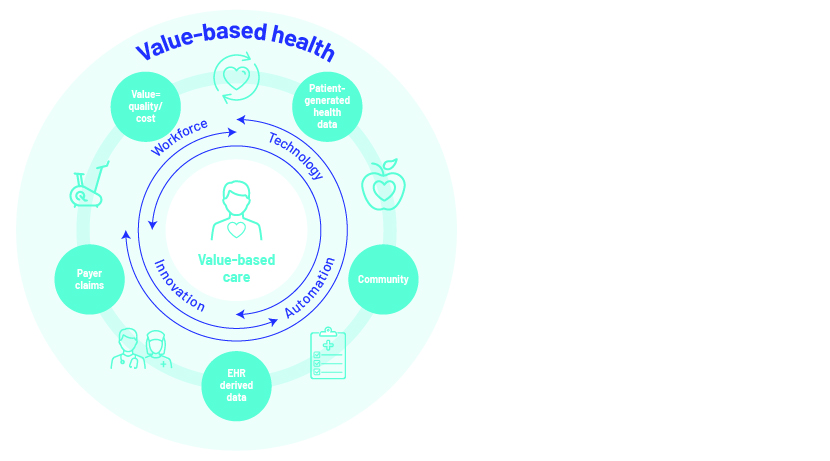 As a result, healthcare providers who initially provided only primary healthcare now focus on providing universal health coverage (UHC), ensuring hassle-free, affordable and accessible healthcare. To execute UHC successfully, they are shifting to medical consultation through digital modes such as telehealth, and plan to invest heavily in in-house technology.
How the value-based model can solve the problems of the FFS-based model
Value-based healthcare is a healthcare delivery model or process where medical service providers are paid based on health outcomes as opposed to the number of medical services delivered.
Low-priced options to achieve better health results for patients
Under the value-based healthcare system, healthcare providers concentrate more on providing preventive care while mitigating the chances of chronic diseases such as cancer, diabetes, hypertension, chronic obstructive pulmonary disease (COPD) and obesity. This model focuses solely on assisting patients to recover quickly. As a result, expenses on doctor's visits, medical tests, other medical procedures and prescription medication are reduced for both short-term and long-term requirements.
Increase in patient satisfaction with reduced waiting times and efficient operations
Under the value-based model, healthcare institutions are driven to improve financials by increasing patient satisfaction through improving communication with patients, respecting patients, making the practice engaging, optimising and streamlining the appointment process, reducing the administrative workload such as by streamlining the billing process, and deploying enterprise management software and other automating tools to reduce the operational workload.
Increased efficiency in payments and mitigating risk for payers
The value-based model increases efficiency by unitising payments covering a patient's full care cycle, or chronic conditions, with a coverage period of a year or more. Payers benefit from controlling costs by distributing risk across a larger and diversified patient population. The value-based model encourages the population base to stay healthy and assists them with treatments and wellness services so the frequency of claims on payers' premium pools and investments is reduced, saving costs in the long term.
Suppliers to sync prices with patient outcomes
Under a value-based model, suppliers or manufacturers would look to peg their prices to positive patient outcomes and reduced costs, considering this as a unique selling proposition as national health expenditure on prescription drugs continues to rise. Under this model, participants in the healthcare sector would look for backward integration with suppliers and manufacturers to tie prices of drugs to their actual value. We expect this process to become the standard as individualised therapies increase.
Healthy economy to reduce overall healthcare spending
Lower healthcare spending benefits the economy, with positive financial implications for individuals, businesses and governments. Under the value-based model, otherwise high hospitalisation costs for medical emergencies and chronic diseases could be accessed at lower prices by allocating healthcare benefits to the masses and reducing the cost burden on patients
Improved care coordination
Under the conventional FFS-based healthcare model, healthcare providers are not provided with incentives for working with a diversified supplier network. The value-based model provides such incentives and incentives for using advanced technologies that improve care coordination. The synergies result in better outcomes as all healthcare providers work together to improve the overall health of the population.
Part 2 of this series discusses the application of and outlook for the value-based model.
How Acuity Knowledge Partners can help
We are a leading provider of high-value research, analytics and business intelligence. We help corporate clients from diverse sectors understand strategy; we understand the operational concerns and challenges they face, and assist them with decision making.
We offer customised solutions including market and competitive intelligence, benchmarking and analysis, strategy research, due diligence and industry analysis. We provide venture capital and private equity (PE) firms with comprehensive solutions across the investment cycle and help them stay abreast of industry dynamics and trends in consumer behaviour, economics and demographics in both current and new markets. We also offer horizontal support across middle-office and back-office operations to PE firms on the investment side; our services range from portfolio management and advisory to deal finding and target selection.
Sources:
https://www.wsj.com/articles/dr-amazon-will-see-you-now-11662715810
https://hbr.org/2022/01/can-new-players-revive-u-s-primary-care
https://investor.walgreensbootsalliance.com/news-and-events/financial-news/financial-news-details/2022/Walgreens-Boots
https://www.medicaldevice-network.com/comment/venture-capital-healthtech-funding/
https://rockhealth.com/insights/q3-2022-digital-health-funding-the-market-isnt-the-same-as-it-was/
https://www.lordabbett.com/en-us/financial-advisor/insights/markets-and-economy/recession-indicators--a-checklist-for-investors.html
https://www.spglobal.com/spdji/en/documents/commentary/market-attributes-us-equities-202209.pdf
https://www.who.int/news-room/fact-sheets/detail/ageing-and-health\
https://www.un.org/en/desa/covid-19-slash-global-economic-output-85-trillion-over-next-two-years
https://www.ibm.com/downloads/cas/N2NNWYXG
https://www.oracle.com/news/announcement/oracle-completes-acquisition-of-cerner-2022-06-07/
https://press.aboutamazon.com/news-releases/news-release-details/amazon-and-one-medical-sign-agreement-amazon-acquire-one-medical
https://www.walgreensbootsalliance.com/news-media/press-releases/2022/walgreens-boots-alliance-completes-majority-share-acquisition
https://www.cvshealth.com/news-and-insights/press-releases/cvs-health-to-acquire-signify-health
https://www.unitedhealthgroup.com/newsroom/2022/2022-9-7-wal-mart-collaborate-affordable-health-care.html
https://hbr.org/2016/07/how-to-pay-for-health-care
https://news.bloomberglaw.com/health-law-and-business/insight-the-healthcare-industrys-shift-from-fee-for-service-to-value-based-reimbursement
https://www.forbes.com/sites/simonmoore/2022/06/24/multiple-signals-now-point-to-us-recession/?sh=3b6fb2466290
https://www.forbes.com/sites/brucejapsen/2022/08/31/walgreens-finalizes-carecentrix-home-care-investment-as-rivals-bid-on-signify-health/?sh=447073a479e2
https://www.imf.org/en/Publications/WEO/Issues/2022/07/26/world-economic-outlook-update-july-2022
https://www.ibm.com/downloads/cas/N2NNWYXG
https://www.imf.org/en/Publications/WEO/Issues/2021/03/23/world-economic-outlook-april-2021
https://www.delveinsight.com/blog/value-based-healthcare-model#Future_Impact_of_Value-Based_Healthcare
---
What's your view?
---
About the Author
Sanchit Tuli joined Acuity Knowledge Partners' (Acuity's) Investment Banking team with over two years of experience. He specialises in the healthcare and consumer sectors. He currently supports the US division of a leading European bank, having demonstrated proficiency in financial statement analysis and preparing credit reports and pitch decks. He is well versed in preparing customised research reports involving market and competitive intelligence, market assessment, benchmarking, market entry and growth strategy for deal identification. He is knowledgeable about proprietary databases such as FactSet, Bloomberg and Capital IQ.
Prior to Acuity, he was at Wells Fargo, where he managed credit underwriting, involving analysis of business models, revenue streams, capital structures and deal terms for US and European middle-market corporate debt portfolios.
Sanchit holds a bachelor's degree in Business Administration from Christ University, Bengaluru, and is a CFA level 2 candidate.

Blog
Wellness industry trends – 2023....
The wellness market has been around for a while. From the days of Jane Fonda's workout t....Read More

Blog
How true are PE Performance Valuation?....
Private equity (PE) is a niche segment of the financial services sector. Due to the increa....Read More

Blog
Rising investor demand for ESG in their portfoli....
"Investments are subject to market risk" is a mandatory statement a fund house makes i....Read More

Blog
Part 2 – Transition from Fee-for Service ba
The race to remake healthcare – Giant firms are entering the healthtech space to mark th....Read More
Like the way we think?
Next time we post something new, we'll send it to your inbox