The changing landscape of ESG Investment
Responsible Investing – Investors' Perspective on ESG considerations
Role of Public Sector Enterprises in driving sustainable growth
Role of Public Sector Enterprises (PSEs) in Climate Change Mitigation & Adaptation, Sustainable Development Goals (SDGs)
How
we are different
Solid research pedigree; team with front-end experience
Customized services in terms of the framework, analysis, report content and coverage; to be based on client requirements
Transparent approach; ability to execute with minimum lead time
Dedicated offshore team for ESG/SDG/CC analysis
Nearshore capabilities: offices in London, New York, Hong Kong, Beijing, Bangalore, Costa Rica, Colombo and Gurgaon
Strong service quality levels: high retention rate; number of clients with an engagement period of over a decade
Our perspective

on

Whitepaper
Sustainable fast-fashion brands: an illusion ?
......... Read More

Whitepaper
Resetting the stimulus: COVID-19 and climate change
......... Read More

Whitepaper
An ESG perspective: Evaluating companies amid COVID-19
......... Read More
Meet our
experts
Charanjit Singh joined Acuity Knowledge Partners in October 2019 as the Head of ESG Research. He has more than 20 years of experience in Investment Research & Advisory, with a focus on ESG, Climate Change, and Clean Energy. Previously, he was a Senior ESG strategist with HSBC and the Co-Head of their India Onshore Research Centre. During his tenure of more than 11 years at the bank, Charanjit was instrumental in building and leading three sector teams for the bank's global research business in India. Charanjit had been rated as one of the top five analysts in India/Asia in the Asiamoney Brokers Poll during 2012-15 for his sector coverage. He has been voted in the Extel Survey during 2010-14 and in 2017 for Climate Change and SRI Research. A research report co-authored by Charanjit received the first-runner up prize at the FARSIGHT Awards from London Accord in 2012. Prominent publications, including WSJ, Fortune India, FT and Financial Express, have quoted some of his research works. Charanjit has also worked with CRISIL (an S&P subsidiary), in addition to a leading energy company and a steel major. He has also been a consultant on assignments funded by DFID, CIDA, and the World Bank. An Engineering graduate, Charanjit also holds a Masters in Business Administration. He is a recipient of the Chevening Fellowship and has studied Financing and Investments in Low-Carbon Economy at the University of Edinburgh.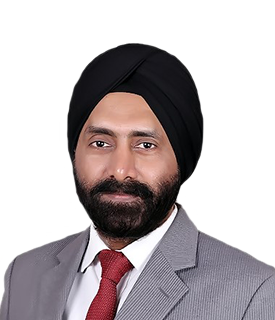 Balaji Ramakrishnan leads Europe and Middle East business development for Acuity. Having spent his formative years in core banking technology operations, he brings a deep understanding of credit processes and the ability to make analytics-driven decisions. He works closely with senior client stakeholders as a trusted partner, shaping the business case for scaled efficiencies through centralisation, standardisation and intelligent automation within Commercial Lending and Asset Management verticals.
Balaji has established long-term partnerships with banks, asset managers and insurance firms across a number of front and middle office transformation initiatives over the past 20 years. Prior to Acuity, he worked at Accenture and Oracle, serving European financial services clients. He holds an MBA from the London Business School.