End-to-end CDB update services
Combining smart technologies (EDGE) and specialist staff to ensure end-to-end high-quality CDB updates. EDGE is a custom-built proprietary platform that helps automate the update process, reduce turnaround time, and increase efficiency
100% database coverage

Covers 60+ global and regional databases; flexibility to onboard new databases

Quantitative and qualitative updates

Covers entire universe of data requested by consultants, including quantitative and qualitative information

Flexible data formats

Accepts data in any format readily available with a client; no hassle of converting data to a specific template

Robust quality control

Multi-layered quality-control framework to ensure high-quality data updates. Data is checked thoroughly at every stage of the process, i.e., input data validation, data preview, and checks of final updated data on databases

Historical data audits and restatements

We take complete ownership of historical data review and restatement

Additional support

We support our clients in areas such as product registration, new database onboarding, product profile review and creation, and responding to consultant questionnaires
Why choose EDGE ?
Cost-effective

30-40% more cost effective than other service providers

Shorter turnaround

20-30% shorter turnaround time to alleviate bandwidth challenges

Quality without compromise

Consistent and accurate uploads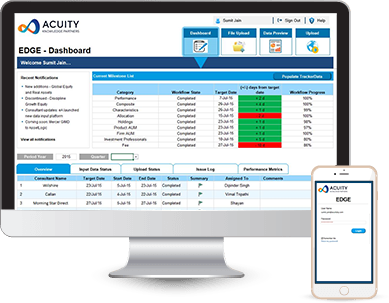 A managed solution to support end-to-end consultant database updates
Flexible and customisable managed solution to efficiently manage consultant database uploads process i.e., input data validation & formatting, database updates and 100% quality checks as well as manage ad-hoc requests.
Customer Testimonials
"
The team has worked diligently to get us to where we are now, after what has been a frustrating quarter. We wouldn't have been able to catch up like this without the timely efforts of Acuity Knowledge Partners. So thank you.
CDB Specialist
Top 50 asset manager
"
Earlier today, I was speaking with the team and they were raving about the excellent job that each team member has done in updating the consultant database. Please know that we are grateful for your efforts, particularly given the uncertain circumstances we are all facing with COVID-19. Like us, we know you too are working from home and have the same challenges, and it is wonderful and reassuring to know that you have been able to deliver seamlessly. A sincere thank you for your efforts and know that your colleagues in Boston are very appreciative of your contributions.
Senior Vice President, Investment Strategies and Product Development
Top 20 global asset manager
"
I'd like to thank you and the team for the amazing work you've done and the strong partnership you all have with my team. Your team made this first "live" quarter a huge success amid a global pandemic; hats off to everyone! I know there were professional and personal challenges that we all faced so I cannot say THANK YOU enough to everyone. I'm proud to be part of this amazing group!
Senior Manager – Global Product Information
Swiss asset and wealth manager