Download Blog
Published on August 17, 2023 by Shekhar Mishra
'Brand value is very much like an onion. It has layers and a core. The core is the user who will stick with you until the very end'. — Edwin Artzt
This blog is the first of a series of blogs on social media listening and analytics.
Social media is a treasure house of information on customer likes and dislikes, preferences, attitude and sentiment towards a brand. All this information can be tracked by monitoring digital conversations on brands in different channels. This information can be useful and collected at a low cost.
Social media listening – the practice of monitoring digital conversations across myriad platforms – can unravel real-time customer insights, sentiments and preferences. The insights are derived from customers involved with the brand. No one can prevent anyone from posting, as these are public platforms.
Social media listening is no substitute to traditional market research, as fundamentally the latter entails the analysis of data systematically collected from a representative sample. Data collected from social media only complements the findings from market research.
Primary-research-focused data collection and research methodologies are designed with specific questions or business problems in mind. The representative audience is asked pointed questions, so one can validate one's hypothesis. Here are certain advantages of market research:
Use of representative sample

Mode of data collection – online, focus group

Specific questions

More reliable data/responses

Actionable insights
However, in recent trends, organisations, besides using primary research survey tools, are banking considerably on social media footprint to build their marketing strategies. This paradigm shift is explained by the volume of active users who can be easily approached in economical ways.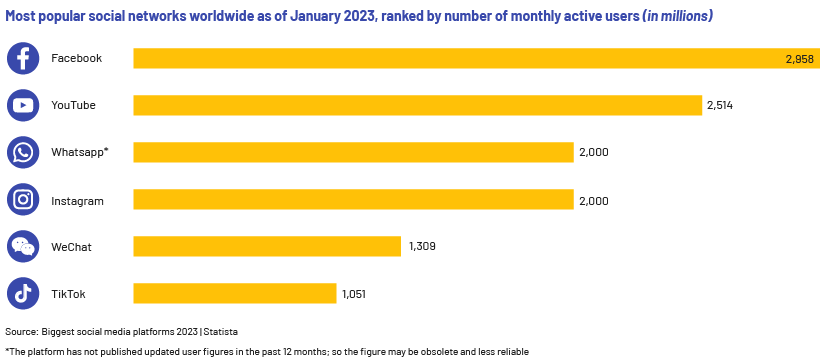 While traditional market research and focus groups are still relevant to research on specific business problems to unearth opportunities, they do not reveal what's trending. Moreover, market research surveys are conducted with a limited and representative audience, due to the cost involved in on boarding samples.
On the other hand, social media is termed market research on steroids, as brands can monitor in real time the topics that have engaged their customers, as well as their preferences and needs, around which they can design their strategies. These conversations, about any brands, help unlock untouched opportunities.
Defining business objectives for social media success
Social media can be integral to achieving one's well-defined business objectives.
By leveraging the power of social media, one can achieve a range of marketing goals including increasing brand awareness, generating valuable leads and fostering customer loyalty:
Brand awareness involves increasing a brand's visibility. The goal is to ensure that a brand is recognised, and consumers are familiar with the company's name.

Lead generation revolves around identifying potential sales and revenue opportunities for a business. It involves adopting marketing strategies to drive the sales of products or services.

Customer retention entails fostering loyalty among current customers, encouraging them to continue their relationship with a business and ensuring repeat purchases.
Once one gains a clear understanding of the business objectives and implements strategies, the appropriate metrics can be tracked to evaluate the success of the social media endeavours.
How organisations are harnessing social media to raise brand awareness
Social media offers a cost-effective means to reach a wider audience, compared to traditional marketing channels. Consequently, it can significantly boost brand awareness and recognition among potential customers.
As mentioned above, brand awareness increases visibility by drawing the attention of consumers. Marketers have long been dedicated to capturing and sustaining consumer interest in brands, designing campaigns towards this end. Brand awareness is the first stage of the lead generation process. Consumers must first discover and recognise a brand before they make a purchase.
However, creating brand awareness can be daunting. It demands substantial time, cost and engaging content that would drive audiences to share their views about a brand within their network.
Brand awareness campaigns on social media have two objectives:
Creating brand awareness

Managing reputation
Brand awareness campaigns:
These campaigns focus on making a brand 'memorable' to target audiences.

Social media is a conduit for large enterprises and small companies to create brand awareness at a fraction of the cost incurred in advertising in traditional channels.

Many brands extend their promotions to digital channels.
Reputation management campaigns:
Reputation management campaigns are positioned to build a positive image of a brand and mitigate any negative publicity.

Such campaigns are difficult to create, as negative publicity or crisis is usually a rare occurrence, and most brands are unprepared to respond to them.

Marketing teams have to be highly involved, as in an instant, people can publish negative opinions about a brand.

Every media channel must be tracked regularly for negative remarks and efforts made to close the loop quickly by addressing the grievances of customers and retaining them.
A plethora of top brands have incurred material losses, as they failed to adequately handle customers' negative emotions. Netflix, for example, lost 800,000 subscribers in 2011 and has yet to regain lost ground.
It is equally important to understand the yardsticks adopted to measure brand awareness:
Impressions

Total volume of brand mentions

Total volume of product/service mentions

Total reach

Engagement – like, comment, share

Site visits

Conversions

Share of voice

Blog traffic and share.
Reputation metrics are:
Percentage of positive mentions

Percentage of negative mentions

Share of voice

Average time spent to respond to customer complaints.
Conclusion
Social media should not be considered in silo to gauge a brand's health. Results mined from digital channels should be mapped to the outcome of the brand tracking primary research survey – mentions from social media should be in close sync with aided and unaided brand awareness metrics from the survey results unless there have been recent developments concerning the brand.
Findings from social media listening and market research surveys together have several advantages:
Holistic insights: unified view of target audience

Validation of insights: When both methodologies point towards similar observations, the insights can be deemed credible and backed by facts

Deeper understanding of consumer sentiments and their preferences

Enhanced decision-making through fact-based holistic perspective, which ensures accurate understanding of audience's mood, thereby improving business outcome.
In our upcoming blogs, we will discuss other benefits of social media listening, including lead generation and customer retention, followed by marketers and metric measurements.
How Acuity Knowledge Partners can help
Against the backdrop of a dynamic market, market research and consumer insights become critical for all corporate and consulting businesses. Our end-to-end market research consultancy helps clients understand markets and customer insights in depth. We are industry-agnostic and work across the value chain of a particular sector/process to deliver value and trustworthy data. Our research is based on empathy- and emotion-driven responses for B2C studies and fact- and data-driven insights for B2B studies that help brands and businesses understand the crux of the problem and make informed decisions.
We are a leading market research firm. Our seasoned experts use a wide range of quantitative and qualitative primary research techniques, together with digital footprints from social media monitoring, to provide a comprehensive report with a unified view on brands. This helps our partners assess consumer insights, understand market trends and evaluate the competitive landscape.
Sources
---
What's your view?
---
About the Author
"Shekhar has over 10 years of experience in market research. He is leading multiple client engagements across market research value chain. He is also actively involved in innovation and data analytics endeavors. Prior to Acuity Knowledge Partners he worked at WNS Global Services. Shekhar holds a bachelor's degree in Information Technology."

Blog
Transitioning to sustainable fashion mitigates e....
Fast fashion's rapid production and consumption cycle has a detrimental impact on the en....Read More

Blog
Technology a catalyst for future deals....
Technological advancements have made past ways of transacting obsolete. Trends are changin....Read More

Blog
Recordkeeping – a must for asset managers and ....
With evolving technology and digital needs, access to information is just a click away. Th....Read More
Like the way we think?
Next time we post something new, we'll send it to your inbox