BEAT
Financial Data Extractor
Investment banking analysts spend significant time on data collation from various sources, resulting in longer turnaround times and difficulty in expanding their coverage universe. Acuity Knowledge Partners offers the Financial Data Extractor to help investment banks overcome such operational challenges.
This tool automatically retrieves financial statement information from company filings and populates relevant data points in the agreed MS Excel templates. It also automates the manual and time-consuming process of searching through multiple company filings for financial information and updating Excel models with the data.
Its applications span a range of standard investment banking analyses, such as trading comps, financial benchmarking, precedent transactions analysis and company profiles.
---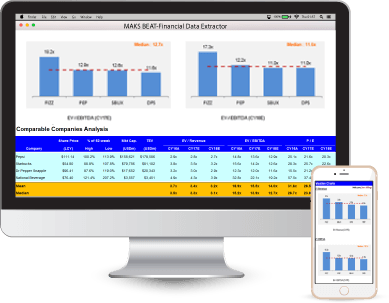 Features
Customized data retrieval with the option to choose a particular financial statement (balance sheet/income statement/cash flow statement), the reporting period, the number of periods for which data is to be extracted, and more.
Automatic comment generation: All numbers extracted are automatically accompanied by comments that provide the source of information and page number as per the required format.
Lookback referencing functionality which with a single key stroke on the data point opens the page of the PDF the data point has been sourced from and also highlights the data.
Automatic backup generation with which the tool creates a backup document of all the information extracted from the company filings in PDF format and the highlighted data.
Approach & Impact
Approach
Automation of standard processes (from data extraction to model updates) and the introduction of processes for faster review and course correction
Automation of relevant information extraction and representation
Impact
Potential time savings of up to 50%
Significant improvement in turnaround time
Customizable tool for use by different clients
Batch processing of data/files, enabling increased coverage
Unattended execution; the new base role is that of reviewer, versus analyst previously