Research analysts, portfolio managers and investment bankers spend a significant amount of time on manual and resource-intensive financial data collation for various analytical needs. This results in longer turnaround times and limits the ability to expand the coverage universe within the available time and planned cost.
To help overcome such operational challenges, Acuity Knowledge Partners is introducing BEAT Aura, a powerful financial data extraction and standardisation tool backed by strong artificial intelligence (AI)-/machine learning (ML)-based training algorithms. This web-based tool automatically retrieves information from financial statements in company filings and populates relevant data points in the agreed MS Excel templates by using designated cloud databases. It also automates the manual and time-consuming process of searching through multiple company filings for financial information and updating Excel models with data.
BEAT Aura's application spans a range of standard research analysis including equity and credit research financial modelling, trading comps, financial benchmarking, precedent transaction analysis and company profiles.
---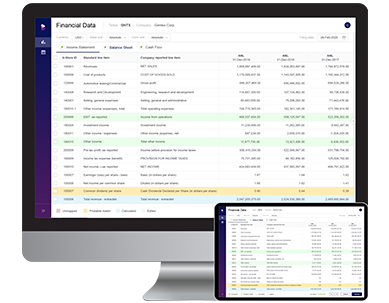 Features
Highly customisable: Easily customisable according to your business requirements and analytical needs. The extracted data is uploaded directly to your in-use models and data files. It is a built-in plug-and-play module that can be integrated with other BEAT apps and digital services
Ease of use: An easy-to-use web-based user interface. Several customised extraction options are available: choose all or a particular financial statement (balance sheet/income statement/cash flow statement), the reporting period, the number of periods for which data is to be extracted and more
Strong validation process: The step-by-step linear data extraction process eliminates complications and errors. The system validates data on a live basis and lets users know if there are mismatches in the data extracted, incorporating a quick and automated correction/updating process
Lookback referencing functionality: The audit traceability feature checks the data extracted. A single key stroke on the data point opens the source page the data point was extracted from and also highlights the data
Automatic backup generation: The tool creates a backup document of all the information extracted from company filings in PDF format and the highlighted data
Progressive learning: AI-/ML-based training models/algorithms learn the way you append data and updates financial taxonomies automatically at the back end
Approach & Impact
Approach
Automates standard processes (from data extraction to model updates) and introduces processes for faster review and course correction
Automates relevant information extraction and representation
Impact
Significant improvement in turnaround time: potential time saving of up to 50%
Customisable for different users
Batch processing of data/files, enabling increased coverage
Unattended execution: the new base role is that of the reviewer versus the analyst