We are delighted to announce that Acuity Knowledge Partners has been certified as Great Place to Work in India. We are invested in our employees and empower them to be exceptional.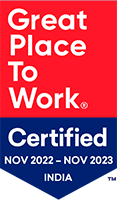 WE'RE A GREAT PLACE TO WORK!
Everything we do is
performance-based.
And so are the
rewards.
We are committed to creating a holistic Employee Value Proposition (EVP), driven by the aspirations of our employees. Rewards and Benefits are the two pillars of our EVP.
Pay for Performance
Competitive pay and benefits in the industry
Quarterly performance-based rewards and recognition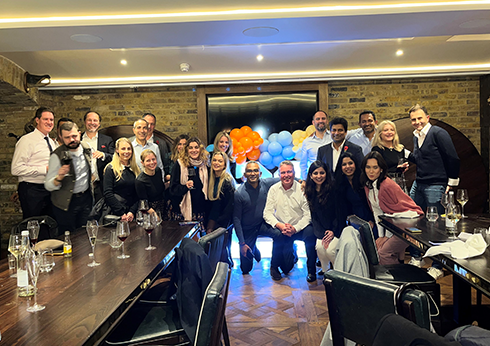 20 year celebrations- London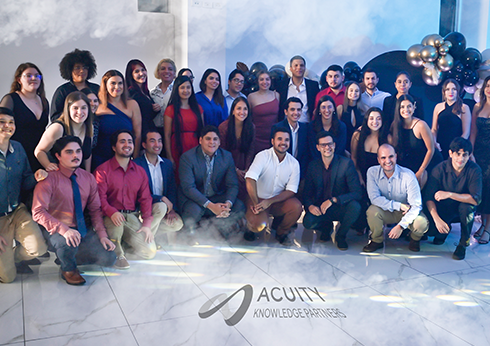 20 year celebrations- Costa Rica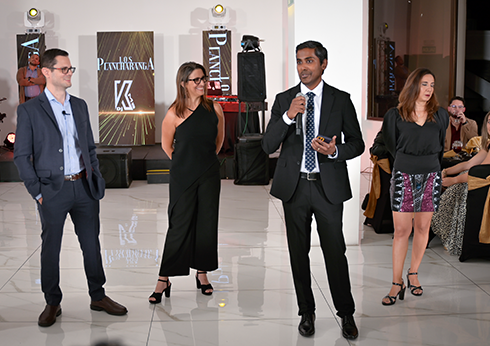 20 year celebrations- Costa Rica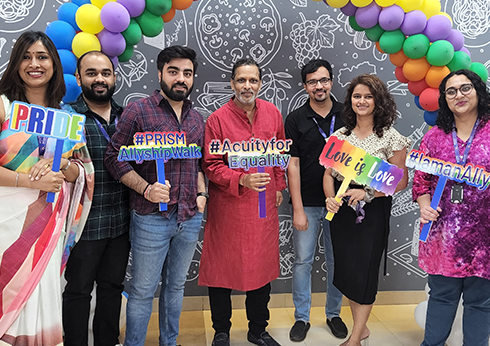 Pride month celebrations- Gurgaon
---
Comprehensive benefits, not just in terms of statutory norms, but also in terms of the direct impact on the individual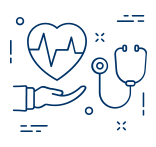 Health Benefits
Group Medical Coverage
Business Travel Accidental Coverage Policy
Life Insurance
Dental Coverage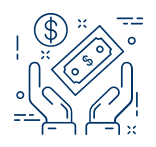 Monetary Benefits
Group Medical Coverage
Business Travel Accidental Coverage Policy
Life Insurance
Dental Coverage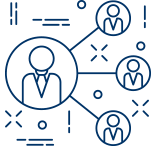 Employee Assistance Schemes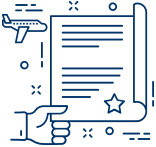 Comprehensive Leave Policy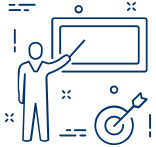 Training and Employee Development Schemes
We regularly conduct studies and surveys to improve our offerings to our employees across the globe. Our benefits package focuses on an employee's health, wealth, and professional growth.
Please note that some of these benefits may be applicable only in specific locations
We're committed to
boosting your career trajectory


Management Trainee (MT) Program
A fast-track career development program to ensure top performers are recognized and given training support to elevate them to the next level.
Blended Learning – Classroom + eLearning + On-the-Job
Content – Domain Knowledge + Team Skills + Management Skills


Leadership Program
Our well thought-out leadership has been crafted to create leaders for today and tomorrow. Selected individuals are mentored and groomed by senior leadership on providing cutting – edge solutions, project delivery, client interaction, and engagement


Training and Sponsorships
We encourage our staff by sponsoring courses such as
Chartered Financial Analyst (CFA)
Project Management Professional (PMP)
Financial Risks Manager (FRM)
We provide 100+ training programs (Classroom and Online)


Internal Job Postings
We strongly believe that each individual charts his/her own career; our internal job postings have been crafted keeping this in mind We believe employees are always looking to better themselves, so if you offer them the opportunity to do so within the organization, we will be able to retain our best talent
Our culture is driven by our
core values

Customer Focus
We tackle our customers' problems as if they were our own

Excellence
We want everything we do, big or small, to be exceptional

Open Mindset
We invite new ideas and differing perspectives

Teamwork
We achieve our best results when we work together
We're a fun bunch to
work with
We believe happy employees are the secret to a profitable, viable company. Our effective employee engagement programs resonate with team requirements and aim to bring employees together, increasing communication and nurturing camaraderie.
Annual Offsite

Annual Party

Football Tournament

Sinhala and Tamil New Year Celebrations

Women Employee Resource Group Events (WERG)

Women's Day Celebration

World Environment Day
You'll be surrounded by some of the
best minds in the industry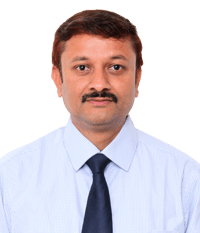 Kirankumar Belgur
Commercial Lending
Bangalore, India
" Working at Acuity Knowledge Partners places me in a collaborative working environment. It offers opportunities for employees take up new challenges, contribute to company success, improve their capabilities, and build a career in capital markets. Additionally, CSR initiatives help you grow as a responsible individual serving the community. "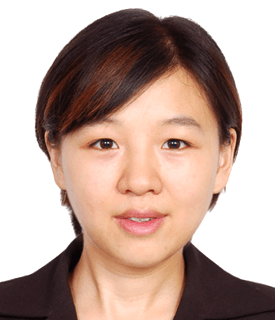 Huijuan Luo
Investment Research Team
Beijing, China
" Working at Acuity Knowledge Partners has been a great experience. You not only apply your talent and work with great minds, but also enjoy the positive working atmosphere, as management is thoughtful and experienced. "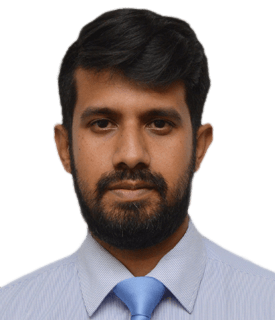 Rohan Fernando
Quantitative Technology
Colombo, Sri Lanka
" The best part about working at Acuity Knowledge Partners is working with the best mathematicians, the best statisticians, and the best financial analysts. You feel motivated to learn more. "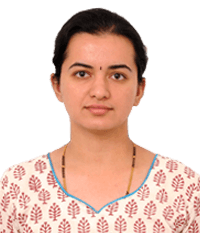 Lakshmi Krishna
Quantitative Services
Bangalore, India
" Acuity Knowledge Partners has a global mindset that allows its employees to learn and share from their experiences working with multiple clients. This has fostered a progressive workplace where individual contribution is recognized and encouraged. Acuity Knowledge Partners has not just stopped at providing opportunities to its employees, but it has extended its impact through corporate citizenship and making a difference to the society we live in. It is a great place to work. "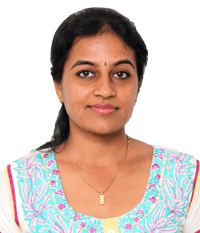 Roopa Purushotham
Fund Marketing Support
Bangalore, India
" Acuity Knowledge Partners gives you abundant learning programs and also opportunities to grow. Culture makes you feel that you are at home. Hard work, dedication and sincerity are always recognized. "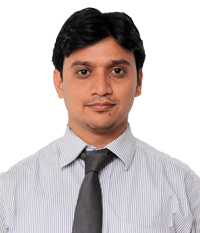 Harshwardhan Khandelwal
Investment Research
Bangalore, India
" Acuity Knowledge Partners offers a dynamic career path in terms of learning and growth. The variety of projects one can get involved in is innumerable that offers invaluable experience. Mentorship, training facilities/programs and a time bound performance feedback further supports career progression. A friendly team of leaders across verticals integrates the organization that has always rewarded talented and hardworking individuals. "
Think global and
challenge yourself

Our Mission
Empowering our customers to make better, faster decisions

Our Vision
To be the global leader in solving critical business problems
Be part of the company that marks its presence across the world and get a chance to work with some of the most talented individuals in business
A culture of
inclusion
Our core value of inclusion drives our diversity and inclusion program at Acuity Knowledge Partners. We approach diversity and inclusion as an employee engagement initiative that is aligned with our global business strategy. We continue to create an environment where talented individuals—regardless of race, gender, ethnicity or sexual orientation—can be challenged, fully engaged, and recognized for their contributions. Our Global Diversity Council, chaired by MD Paul J Alapat, consists of committed senior leaders who focus on the strategic priorities to ensure that we are an employer of choice for everyone.
Go beyond

the board room

Corporate social responsibility has been a part of our approach to doing business for many years. We actively support activities for social empowerment, inclusive development and environmental sustainability.
Each year, we expand and incorporate projects that support many areas in need of social intervention. Here, we have shared some of the projects we are involved with and our journey so far in the CSR domain.

View our social initiative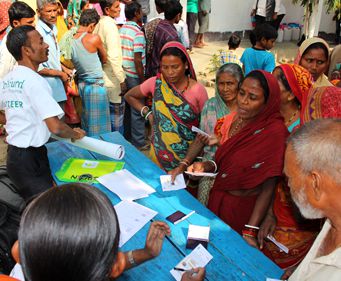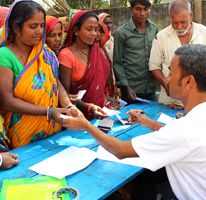 Work at one of the most
loved workspaces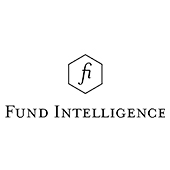 Acuity Knowledge Partners Awarded Fund Intelligence Best New Product Award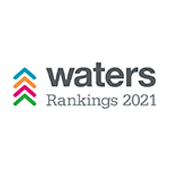 Acuity Knowledge Partners Awarded Best Outsourcing Service Provider to Capital Markets in 2021 Waters Rankings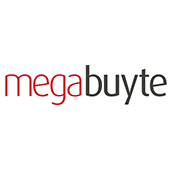 The UK's 50 Best-Performing, Privately-Owned Technology Companies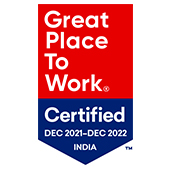 Great Place to Work
Campus Recruitment Program

We recruit fresh talent from leading educational institutes and groom them to become dynamic professionals
We follow a rigorous process that tests candidates on multiple criteria. The process may vary across geographies, but essentially comprises the following:
Aptitude Test
Group Discussion
Case Study Analysis
Personal Interview
If you are interested in joining us then please ask your placement coordinator to email at: