Download Blog
Published on September 7, 2022 by Akanksha Singh
The blockchain market is currently valued at USD12.7bn, according to a study by Statista, and is expected to grow at a CAGR of 80.2% from 2018 to USD39.7bn in 2024.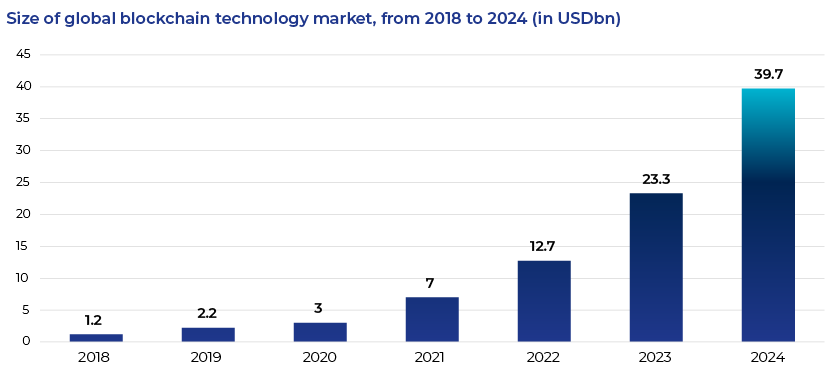 As the numbers suggest, blockchain technology is gaining wide acceptance, and slowly but surely, making its mark in the insight industry. It is changing the way data is stored, owned and shared, benefiting all stakeholders in the industry – market research companies, their clients and survey respondents.
What is blockchain technology?
Blockchain is a digital ledger where each transaction (information/data such as personal details, monetary transactions and customers' online behaviour) is stored as a block, linked to other blocks to form a chain of transactions.
These blocks are available in the public domain but can be accessed only by an authorised user. Authorisation is provided via a combination of a public and private keys. The owner of the block has a private key, which when provided to someone with a public key, that person can view the data stored in the block.
How it can add value to the insight industry
1.Accountability and transparency
Using blockchain technology, data collected from respondents can be stored in the form of digital blocks. These data blocks can be accessed and verified only upon authorisation; ownership lies with the owner, but the data can be used by market researchers with permission. Thus, using blockchain technology ensures data security for researchers and helps them achieve a high level of accountability and transparency for respondents, as they are made aware of when and where their data is getting used. Blockchain technology also helps save respondents' time and effort: when their data is already saved, they can simply share it and refrain from responding repeatedly.
2.Gaining the trust of respondents
Data security is one of the major benefits of using blockchain technology. This also resolves a major challenge faced by the market research sector – gaining the trust of respondents. When respondents do not trust the researchers, they tend to give inaccurate information, resulting in incomplete analytics and uninformed business decisions.
3.Improved data authenticity
Data is, undoubtedly, the most valuable asset required for organisations to function. 60% of the respondents accepted that analytics and data are crucial to their day-to-day operations, according to a recent survey conducted by Forbes, and 58% of the companies surveyed swore by the value they generate from data. However, to generate real value and insights, the data needs to be authentic.
This is where blockchain comes in. Blockchain technology ensures that all the pieces of data are not just accurate but 100% tamper-resistant, so much so that it is impossible for an unauthorised user to modify the data. Even if someone were to modify the data, all the relevant parties on the network would be alerted.
Blockchain: fad or future?
As per a GRIT report from Greenbook, only 40% of the respondents were familiar with blockchain technology, and quite a few saw it as a game changer for the industry, as the following chart shows: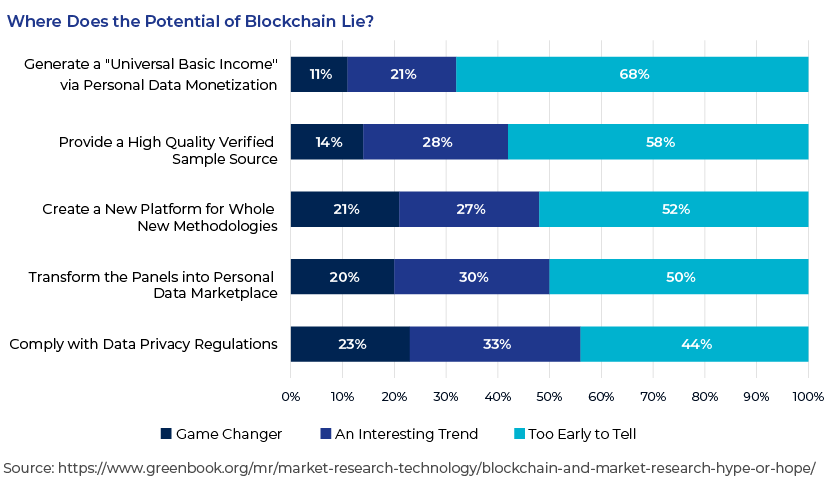 After ascertaining the general view on adopting blockchain technology, the respondents were requested to share potential use cases. They mentioned its significant potential for accessing data, improving compliance with data privacy regulations and transforming panels into personal data marketplaces.
Conclusion
Blockchain technology is considered to be one of the greatest technological innovations of the 21st century, considering its ripple effect on sectors such as manufacturing, finance and education. Although awareness and adoption of blockchain technology is still low in the insight industry, its potential cannot be denied. Considering a few disruptive technologies such as DIY platforms, automation and artificial intelligence also saw limited awareness and slow adoption initially but are now reshaping the insight industry.
How Acuity Knowledge Partners can help
As a leading provider of high-value research, analytics and business intelligence, we offer a full suite of market research services. With our two decades of experience in the market research domain, we can help you maximise ROI on survey-based research. Get in touch with our domain experts to learn how we can add value.
Sources:
How Blockchain is Reshaping Market Research (cxotoday.com)
Blockchain and Market Research: Hype or Hope? | GreenBook
---
What's your view?
---
About the Author
Akanksha Singh is a Delivery Lead within the Survey Programming and Data Processing line of business at Acuity Knowledge Partners (Acuity). She holds a PGDM in Marketing and Communication and has over 8 years of experience in business development and content marketing for various industries including IT and ITES, Finance Tech, Healthcare Tech, Environmental services and the Insight industry.

Blog
Blockchain securitisation – a revolution in gl....
The digital landscape of the world of finance has evolved significantly in recent years, m....Read More

Blog
Stablecoins: a new era of money and payment syst....
Money has been through many iterations since its invention, with coins and paper money bei....Read More

Blog
Market research trends to look for in 2023
The market research sector has grown steadily in recent years and is currently worth appro....Read More

Blog
Best practices for effective data visualisati
Data collection and consumption are increasing significantly. A study by Statista forecast....Read More

Blog
Analysis of open-ended survey responses
In research, the inclusion of appropriate questions that are in sync with the organisation....Read More
Like the way we think?
Next time we post something new, we'll send it to your inbox