Download Blog
Published on March 22, 2022 by Shweta Gupta
Life sciences is a broad field that deals with improving health and well-being. It includes areas such as drugs, clinical trials, medical equipment, identification and management of illnesses, biomedical science, cellular biology, and biotechnology. The sector comprises organizations engaged in research and development, commercialization, and technology transfer in these areas.
Recent advancements in industrialization and the adoption of digital technologies have revolutionized the life sciences sector and transformed the overall treatment paradigm.
This blog focuses on recent trends in the life sciences sector:
Trend #1: Intelligent automation
Increasing application of digital tools and platforms, artificial intelligence (AI)/machine learning (ML), augmented reality (AR)/virtual reality (VR), the internet of things (IoT), block chain technology and robotic process automation (RPA) was the game changer in 2022. Advanced digital platforms, tools, and software have improved the productivity, accuracy and compliance of a number of tasks in the life sciences sector. According to ArisGlobal's Market Research Report 2021, nearly 83% of the respondents surveyed from the sector believe their organisations use automation across their R&D processes, whether in terms of automating specific processes using rule-based automation or deploying more advanced technologies. The primary advantages of adopting and implementing automation technology encompass cost reduction through enhanced efficiency and upgraded adherence to quality standards. The respondents also anticipated acquiring more profound understanding to facilitate improved decision-making, simplify interdepartmental cooperation, and enhance adaptability and expandability.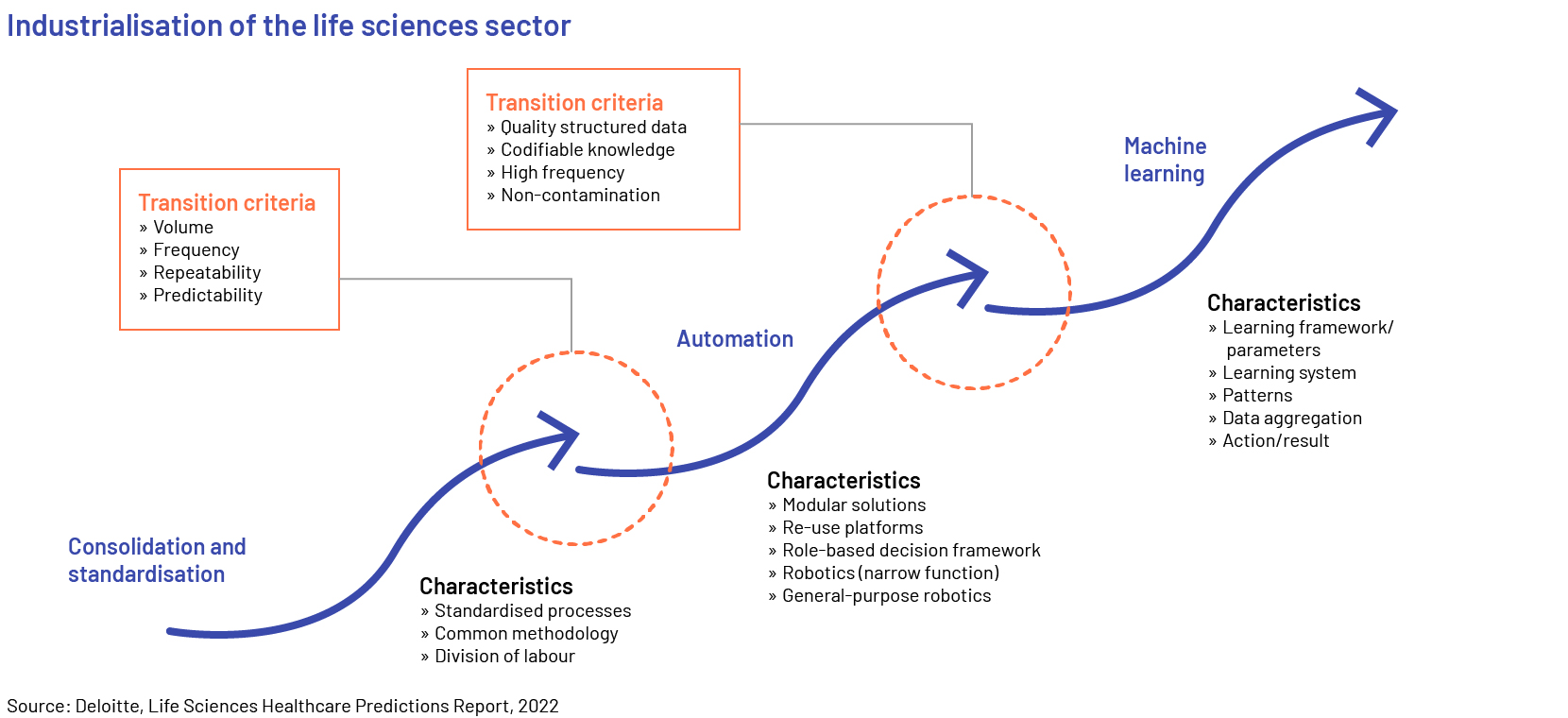 Trend #2: Decentralised clinical trials
Decentralized clinical trials involve a variety of digital technologies that enable research to be conducted without the need for face-to-face interaction between research teams and study participants. The adoption of more decentralized and patient-centric trials is increasing, as they offer benefits such as significant cost reduction and generation of robust clinical data through continuous monitoring.
A number of contract research organisations (CROs) have taken the lead in advancing decentralised and virtual trials. As the pandemic continues, adoption of decentralised trials is accelerating; manufacturers disclosed that only 41% of clinical trials were conducted in the traditional, onsite method in 2021 and around 60% were either hybrid or completely virtual and decentralised. Manufacturers will continue to outsource parts of their trials to CROs in the short term, until they build internal capabilities for hybrid and decentralised trials.
Regulators and biopharma companies are working hand-in-hand with the sector to rapidly revise regulations and facilitate progress. Patients have also become more receptive to virtual/remote healthcare alternatives, which is further boosting the adoption of these platforms and solutions. This has resulted in the accelerated growth of several digital platforms: remote patient monitoring (RPM) solutions, including the use of telehealth; the Internet of medical things (IOMT); automatic pill devices; wearables and sensors; and the use of electronic clinical outcome assessments (eCOAs).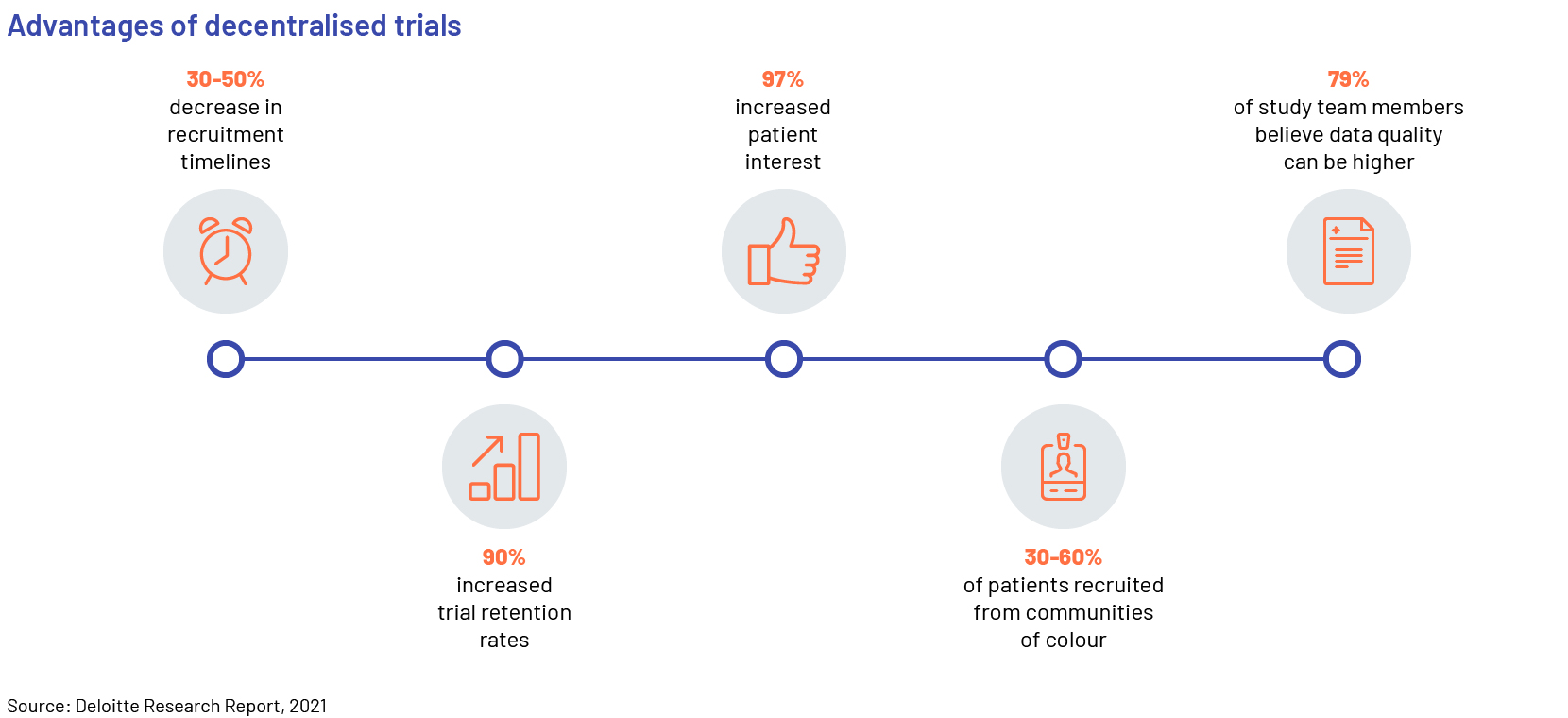 Trend #3: Next-generation real-world evidence (RWE)
Evidence gathered from real-world data (RWD) gives life sciences companies insight on how their drugs are being used. Unlocking value from RWD is the only way in which the sector could accelerate clinical trials and support regulatory decisions such as approving new indications or label expansions for existing drugs. Prominent life sciences and healthcare (LSHC) corporations utilize the information to support the development of clinical trial design and observational research for the progression of treatment methods. Pharmaceutical companies would need to adopt a pragmatic and collaborative approach with end-to-end (E2E) evidence management strategies, by breaking down traditional evidence silos with platforms and processes to access data and knowledge assets across the organization for supporting data-driven decision-making. Creating and implementing such strategies, however, will likely require assessing and re-aligning their current infrastructure, governance, operating models, people, and processes.
RWD is observational data typically gathered when an approved medical product is on the market and used by "real" patients in real life, as opposed to clinical trials. The US Food and Drug Administration (FDA) points out potential sources of RWD, such as electronic health records (EHRs), insurance claims, registries of diseases, products, and data acquired from other sources that may provide insights into the health condition of a patient.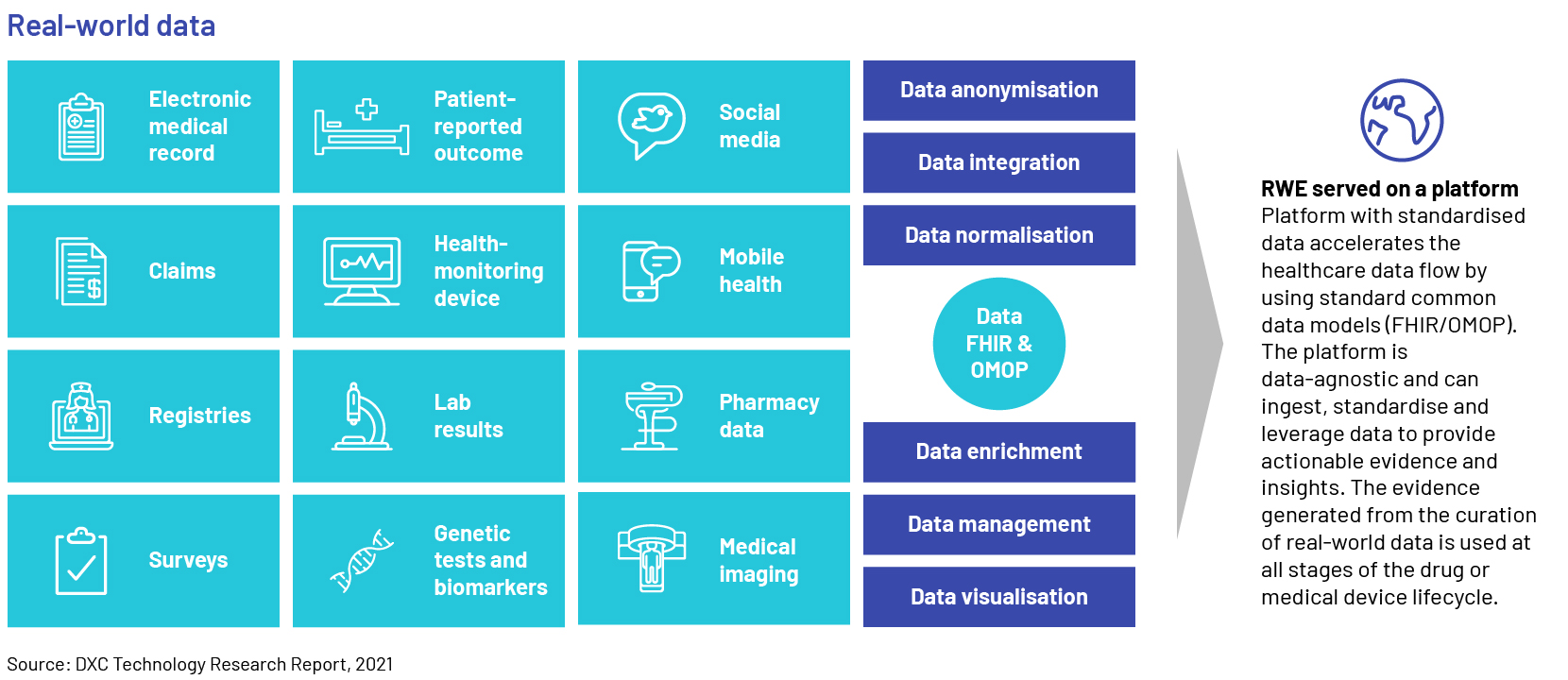 Trend #4: New industry partnerships
Biopharma, pharma and life sciences companies are now focusing on new types of collaboration. Partnerships around clinical studies, research, big data and more enable them to pool resources, tap into additional expertise and increase results and outcomes.
Companies are adopting diverse methods to boost their market growth for developing clinical trials, to accelerate product launches, and experiment with new designs. They are also utilizing cutting-edge technologies like artificial intelligence. These digital systems empower medical professionals to leverage data from previous trials, even those that were unsuccessful, to enhance their designs.
The pandemic has accelerated collaboration with academia, biotech companies, and data providers within the LSHC sector. Stakeholders, including regulators, anticipate this to become the new standard. Along with immunizations, cancer treatment is predicted to continue as a significant catalyst for the life science industry's growth. Oncology accounts for 6 of the 10 biggest new sales generators and 4 of the top 10 bestselling products. Sales of COVID-19 vaccines reached USD10-15bn in 2021, according to Evaluate statistics, with the Pfizer/BioNTech vaccine forecast to be the top seller. Evaluate expects Moderna's COVID-19 vaccine to be the market leader by 2026.
Boehringer Ingelheim is the first pharmaceutical company in the world to collaborate with Google on quantum computing. It offers the potential to significantly accelerate and optimise the discovery of new medicines.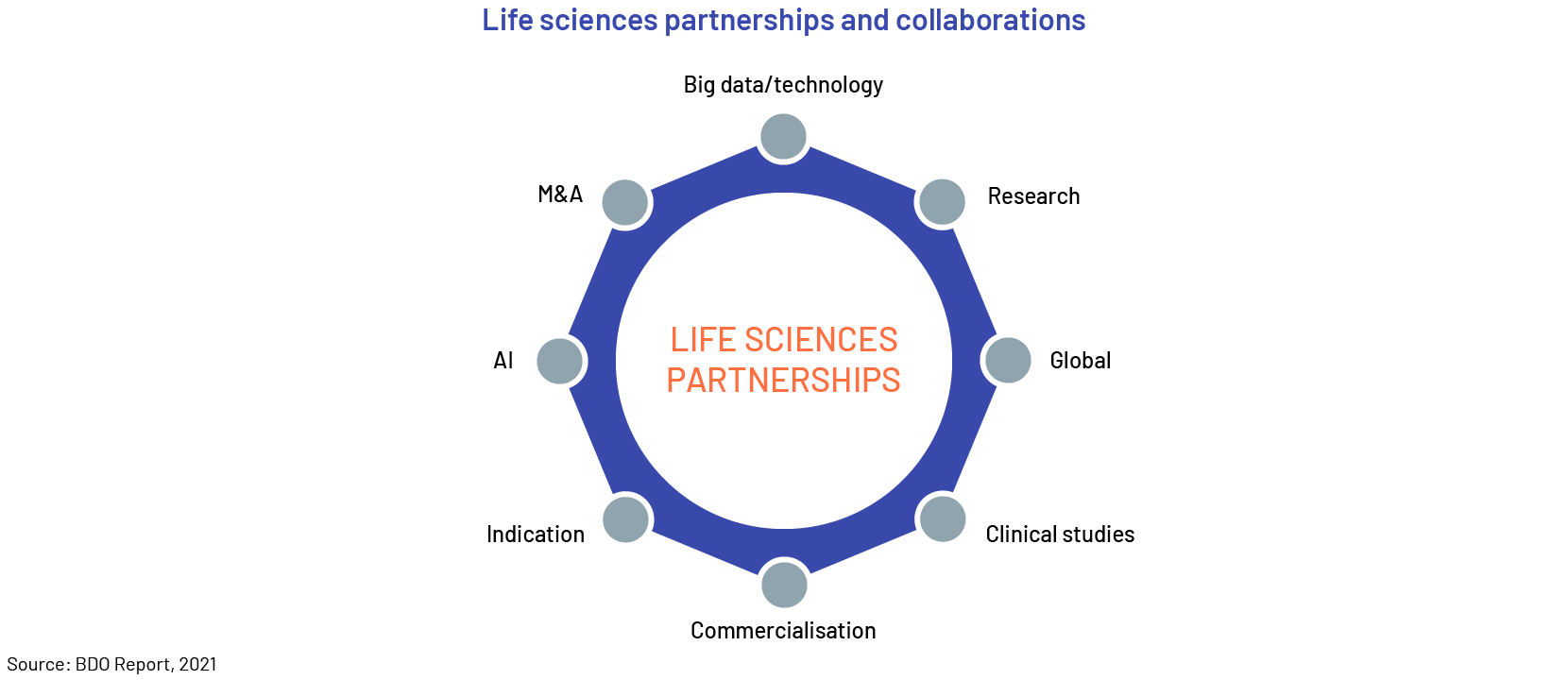 Trend #5: Innovation in medical supply-chain management
Life sciences firms are presently concentrating on modern medical supply-chain management tactics to reinforce their systems, procedures, and information administration. This is the first step in reinforcing the value stream's delivery and cost performance and includes the implementation of new planning and aggregation practices, new inventory management, and improved translation of demand into capacity and workload.
The second step involves searching for affordable manufacturing conditions and suppliers of raw materials to implement cost-effective sourcing and procurement approaches.
The third step includes implementation of best practices that are simple, efficient, and easy to execute. This will aid in streamlining activities, boosting productivity, and curbing expenses for pharmaceutical and life sciences corporations.
Four recent trends in supply chain management include predictive analytics, increased provider/supplier collaboration, e-payables, and cloud computing. Rising acceptance of digitalization, artificial intelligence, and mechanization has amplified efficacy in supply-chain administration, improving the overall procedure's resilience and effectiveness.
Trend #6: Precision medicine
There is also significant focus on supporting customer-centric engagement and creating more personalised products and service offerings. Companies in the life sciences sector want to "go beyond the pill" and be of greater importance in patients' health and wellbeing. This entails seeking to understand engagement points throughout and even before treatment. As the industry increasingly prioritizes patient satisfaction, there are fresh prospects to enhance value throughout the product cycle, such as the involvement of doctors, research and development, and regulatory operations.
For medical device manufacturers, personalisation is also a priority. Physicians now use surgical tools and training aids customised for patient use cases. Health monitoring and in-home diagnostic equipment, for example, feature more connected services, education and dashboards meant to improve the individual experience.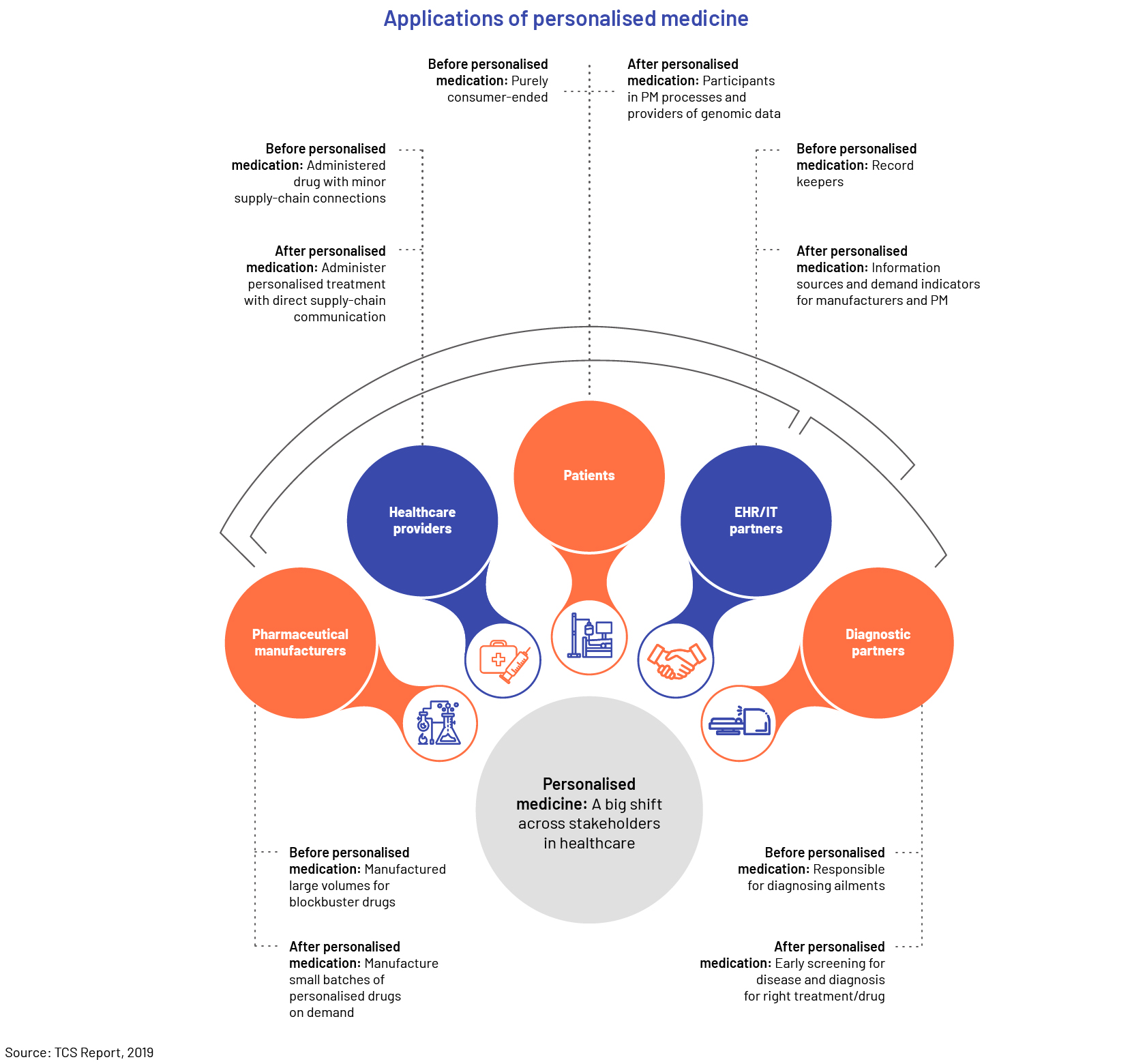 Conclusion
Growth of the life sciences sector is driven by novelty in research and innovation, breakthrough drug development, substantial financing to accelerate drug introductions, growing governmental programs, and medical advancements. Life sciences companies are not only boosting investments in drug exploration and research and development, but they are also revolutionizing clinical data management, business intelligence, and analytical capabilities by embracing digital transformation, AI, ML, RPA, and telehealth counseling.
The majority of biopharmaceutical, healthcare, and life sciences companies intend to shift from conventional technology-focused methods to scalable digital/cloud-based solutions. They are scaling enterprise-grade IT infrastructure and cloud applications cutting across the pharma value chain, therapeutic classes, and geographies.
We believe leaders of life sciences companies should consider the following recommendations if they want to capitalize on emerging digital trends while exploring modern technologies and advanced IT/health-tech applications:
Establish a vision for innovation and data-driven decision making

Enable data management methodologies that would stimulate the acceptance of developing technological patterns and fulfill advancing commercial demands

Focus on and prioritise data strategies and innovations to automate or augment manual processes

Capitalise on emerging technology and IT use case trends such as AI, natural language processing (NLP), RPA, AR/VR and ML
How Acuity Knowledge Partners can help
We are a leading provider of high-value research, analytics and business intelligence services to life sciences, bio-pharma, medtech and healthcare consulting firms.
We provide bespoke research support on market entry and due diligence, portfolio management, licensing and acquisition, go-to-market strategy, opportunity assessment, regulatory landscaping, product launch analysis, market access and therapy area assessment, indication prioritisation, market research and forecasting, pipeline analysis and benchmarking, and competitive intelligence.
For more information on our capabilities, please visit our Life sciences solutions page.
Sources:
---
What's your view?
---
About the Author
Shweta Gupta has ~16 years of experience in research, consulting and advisory services. She is currently part of Acuity's strategy research and consulting team, with experience in secondary research, business, and corporate strategy, thought leadership and competitive intelligence and benchmarking.
Prior to joining Acuity Knowledge Partners, Shweta Gupta worked with companies in the consulting, telecom and research analytics domains, where she was largely responsible for strategic research, corporate strategy, landscape study, market sizing, market entry and growth strategy, operating models, business models, opportunity analysis, company and product profiling and supplier identification.

Blog
The impact of artificial intelligence on finance....
We have witnessed an unprecedented phenomenon in recent years – the growing presence o....Read More

Blog
US municipal not-for-profit healthcare companies....
Key takeaways Inpatient volumes are declining; hospitals are investing to meet in....Read More

Blog
Exploring advancement in Genomics in Saudi Ar
Genomics is the study of the genome (the complete set of genes in a cell or organism) and ....Read More

Blog
Oncology Market Research
Oncology is considered to be the most dynamic area of therapy in terms of innovation, cons....Read More

Blog
Telemedicine trends
Telemedicine is ubiquitous – the new standard of service in all healthcare settings, shi....Read More
Like the way we think?
Next time we post something new, we'll send it to your inbox