Download Blog
Published on August 30, 2023 by Shweta Gupta
Genomics is the study of the genome (the complete set of genes in a cell or organism) and involves understanding the primary structure of the DNA and genetic variations and inheritance. It helps examine the pattern formations of molecules and their impact on the health of an organism. Genome-related technologies can be segmented into five broad categories – PCR, sequencing, microarray, nucleic acid extraction and purification. These are necessary to R&D and drug discovery.
Applications of genomics
Research in human genomics and related biotechnologies helps achieve several public health goals, such as reducing health imbalances across the globe. It also enables major stakeholders to diagnose diseases or prevent outbreaks. Genome-related technologies also have the potential to improve global health equity by enabling the monitoring of imbalances, investments, research and availability of genomic services. This should accelerate with the exchange of information, people and technology among countries.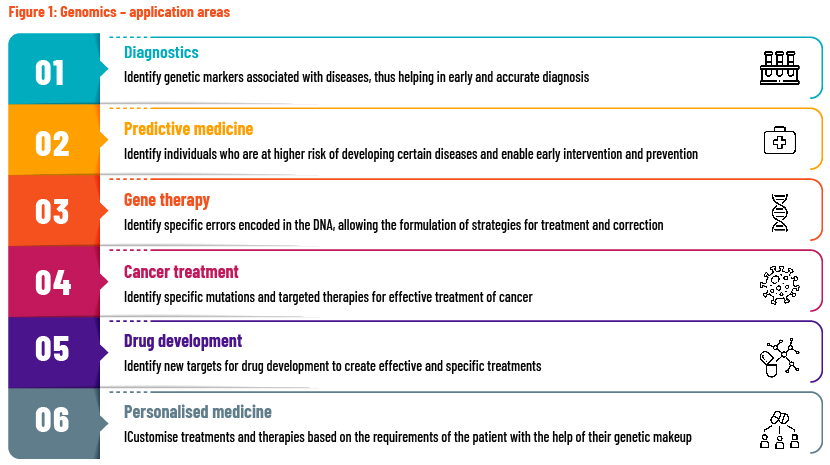 Source: Asia Pacific Genomics Market 2020-2027
Global genomics market
The global genomics market is expected to grow from USD30.73bn in 2022 to around USD65.58bn by 2027 at a CAGR of 16.37%1. By type, the genomics market is categorised into products and services. Products include kits, instruments, software and consumables and account for 75% of total market share. Services include next-generation sequencing (NGS), genotyping, testing and others, contributing to 25% of the market.
In terms of end users, the market is categorised into research centres and academics, pharmaceuticals, and biotechnology companies. These end-users account for more than 55% of all end users of genomics globally, followed by clinical genomics (hospitals and clinics) and consumer genomics/other end users.
Genomics market in Saudi Arabia
The genomics market in the Kingdom of Saudi Arabia (KSA) is expected to grow at a CAGR of 11.29% during 2023-27. The market is predicted to reach a value of USD683m by 2027 from USD445m in 2023 (estimated) on the back of increasing technological advancement in the healthcare sector. Growing investment in innovative product development, along with the availability of advanced testing tools and kits for better analysis, will drive growth further in the coming five years.
Genomics is an evolving branch of science, and the exploration of its full potential for the provision of healthcare is still in its nascent stages in the KSA. It is a crucial area of study and offers the country new approaches to prevent and manage intractable diseases.

Source: https://frontlinegenomics.com/world-of-genomics-the-kingdom-of-saudi-arabia/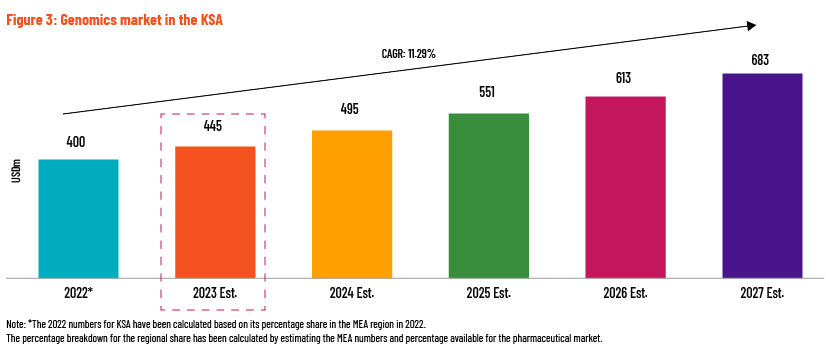 Sources:
Genomics Market Size and Share Analysis – Growth Trends & Forecasts I Mordor Intelligence
Genomics Market Size, Share & Trends Analysis Report By Technology & Application I Grandview Research
Middle East & Africa Genomics Market Research Report – Segmented By Product Type, Technology, Process, Application, End User, Country I Market data forecast
Rising awareness of genetic drugs and personalised medicine also substantiates the anticipated growth of the KSA genetic testing market over the next five years. Furthermore, a growing geriatric population, increasing research and technological advancement in the pharmaceutical sector, and development of genetically modified drugs (and thus personalised medicines) are anticipated to aid the growth of the KSA's genetic testing market during the forecast period.
The country has been actively investing in the healthcare sector and research for the development of innovative products to enhance patient care focused on genomics. In recent years, it has initiated some notable genomics projects, including the Saudi Human Genome Project, the Health Sector Transformation Programme, Majeen and The Saudi Biobank.
Key growth drivers
Increase in consumer demand due to growing prevalence of genetic disorders, greater need for localised testing and declining sequencing costs are the key growth drivers.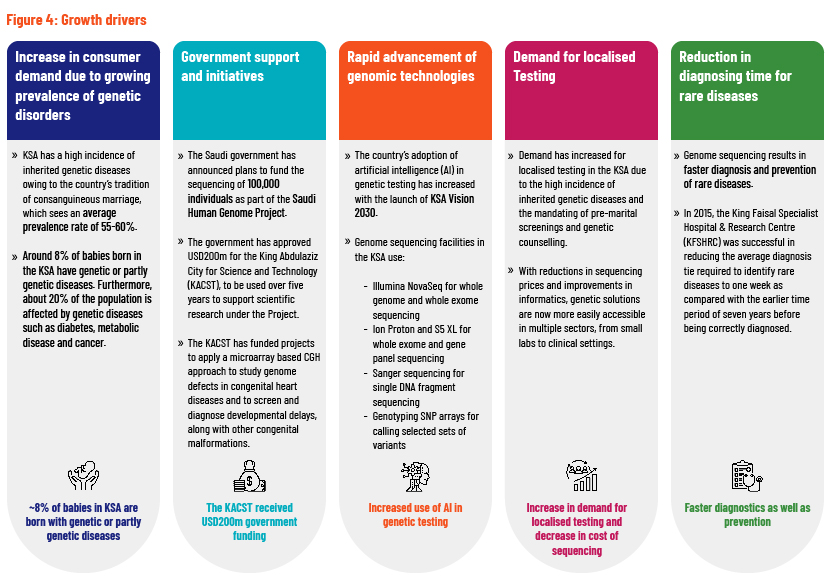 Source: Genomics Market Size, Share & Trends Analysis Report By Technology & Application I Grandview Research
Key market trends in the KSA include demand for NGS services and personalised medicine, expansion of genome editing and direct to consumer (DTC) testing. One of the latest trends in the genomics market in the KSA is the integration of artificial intelligence (AI), machine learning (ML) and blockchain technology into genomics research and diagnostics. These help researchers in data analysis, identification of patterns, prediction of patient outcomes and the study of large sets of sequencing data at a time. Given these advantages, this trend is expected to provide substantial growth opportunities in the market.
Role of the KSA government
The government of KSA has been taking initiatives to promote the genomics market, including the establishment of the Saudi Human Genome Project (SHGP) in 2013, Majeen (a genetic exome database programme) and the Saudi Biobank (national medical research project designed to strengthen biobanking platforms).
The SHGP is a national transformation initiative under Saudi Vision 2030 and aims to sequence the genomes of more than 100,000 citizens to develop personalised healthcare solutions within the next few years. It is the largest genetics-based disease discovery effort in the Middle East and is expected to place the KSA as a global leader in the field of genetic research for diseases and personalised medicine. The SHGP uses sanger sequencing (dideoxy method) and NGS for genome sequencing.
Some of the technologies used in the programme include Illumina NovaSeq (for whole genome and whole exome sequencing), Ion Proton and S5 XL (for whole exome and gene panel sequencing), sanger sequencing (for single DNA fragment sequencing) and genotyping single nucleotide polymorphism (SNP) arrays (for calling selected sets of variants).
The project has been able to achieve the testing of 61,177 samples till date.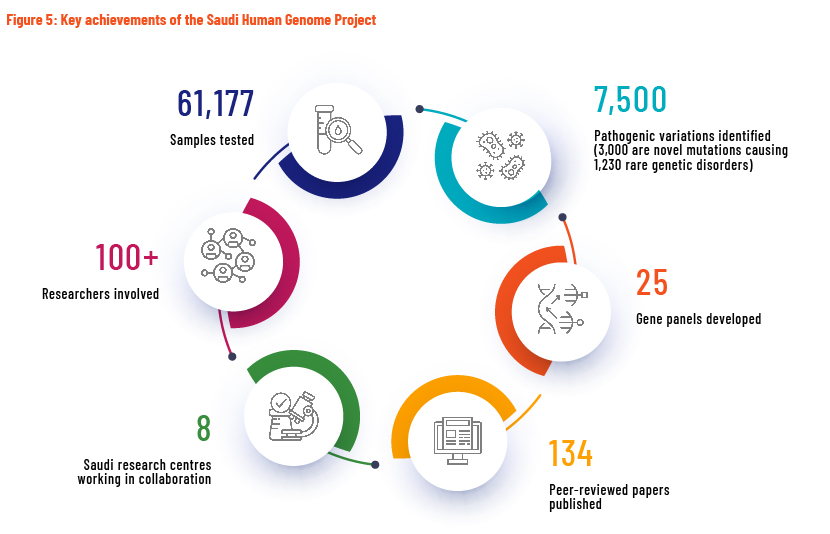 Source: Saudi Genome Program I Saudi Vision 2030
A key factor in the KSA's initiative to develop the genomics research sector has also been its efforts to enhance the accessibility and adoption of genetic solutions by a wider range of end users, from small labs to larger clinical settings. KSA-based players have also been establishing partnerships with private companies to enhance R&D and technical knowledge and strengthen market presence.
Competitive landscape
The KSA market is characterised by the presence of only a few competitors. It has been seeing rapid growth given the potential opportunities for genomics.
Key companies operating in the genomics market in the KSA are NoorDx, Al Farabi Labs, Novo Genomics, Anwa Labs, Saudi Advanced Medical Lab and Saudi-German Genomic Centre. These companies have been adopting strategies such as collaborations and partnerships to strengthen their position in the market and focus on providing localised and specialised services with the help of new technologies.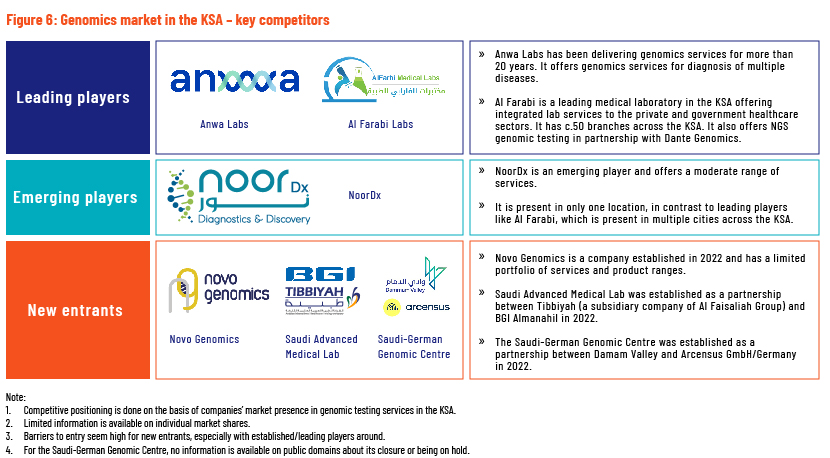 Regulatory landscape
The government of KSA has implemented regulations to ensure the quality and safety of genomics research and diagnostics.
In addition, it has enforced regulation mandating pre-marital genetic testing for Saudi nationals to reduce the risk of genetic disorders while also maintaining privacy and protection of patients' personal data. Moreover, the Saudi Food and Drug Authority (SFDA) mandates that private laboratories attain a licence from the authority as a key entry requirement for business operations.
Conclusion
The genomics market in the KSA has the potential to grow into a significant market because of a favourable environment. Furthermore, it is an attractive market owing to its current nascence, limited competition and substantial market potential.
Some of the key opportunity areas include technological advancements such as AI and ML, rising number of genomic startups, increase in collaborations and partnerships and growing investment and funding in the sector. Together, these developments are expected to transform the healthcare sector in the KSA and improve the quality of life of its citizens.
How Acuity Knowledge Partners can help
Acuity Knowledge Partners (Acuity) is a leading provider of high-value research, analytics and business intelligence services to life sciences, biopharma, MedTech and healthcare consulting firms. We provide bespoke research support on market entry and due diligence, portfolio management, licensing and acquisition, go-to-market strategy, opportunity assessment, regulatory landscaping, product launch analysis, market access and therapy area assessment, indication prioritisation, market research and forecasting, pipeline analysis and benchmarking and competitive intelligence.
Sources
---
What's your view?
---
About the Author
Shweta Gupta has ~16 years of experience in research, consulting and advisory services. She is currently part of Acuity's strategy research and consulting team, with experience in secondary research, business, and corporate strategy, thought leadership and competitive intelligence and benchmarking.
Prior to joining Acuity Knowledge Partners, Shweta Gupta worked with companies in the consulting, telecom and research analytics domains, where she was largely responsible for strategic research, corporate strategy, landscape study, market sizing, market entry and growth strategy, operating models, business models, opportunity analysis, company and product profiling and supplier identification.

Blog
Oncology Market Research
Oncology is considered to be the most dynamic area of therapy in terms of innovation, cons....Read More

Blog
Telemedicine trends
Telemedicine is ubiquitous – the new standard of service in all healthcare settings, shi....Read More

Blog
Evolving life sciences sector
Life sciences is a broad field that deals with improving health and well-being. It include....Read More
Like the way we think?
Next time we post something new, we'll send it to your inbox