Lighting the way to smarter green bond investments
Acuity's comprehensive green bond analysis framework
Leveraging Acuity's solution
Acuity's proprietary green bond analysis framework is a solution developed to overcome these challenges. It enables investors/asset managers to screen the green bond universe and build their investment portfolios. It also enables a comparative assessment of green bond offerings across 16 criteria under six categories.

Figure 1: Overcoming market challenges with Acuity's solution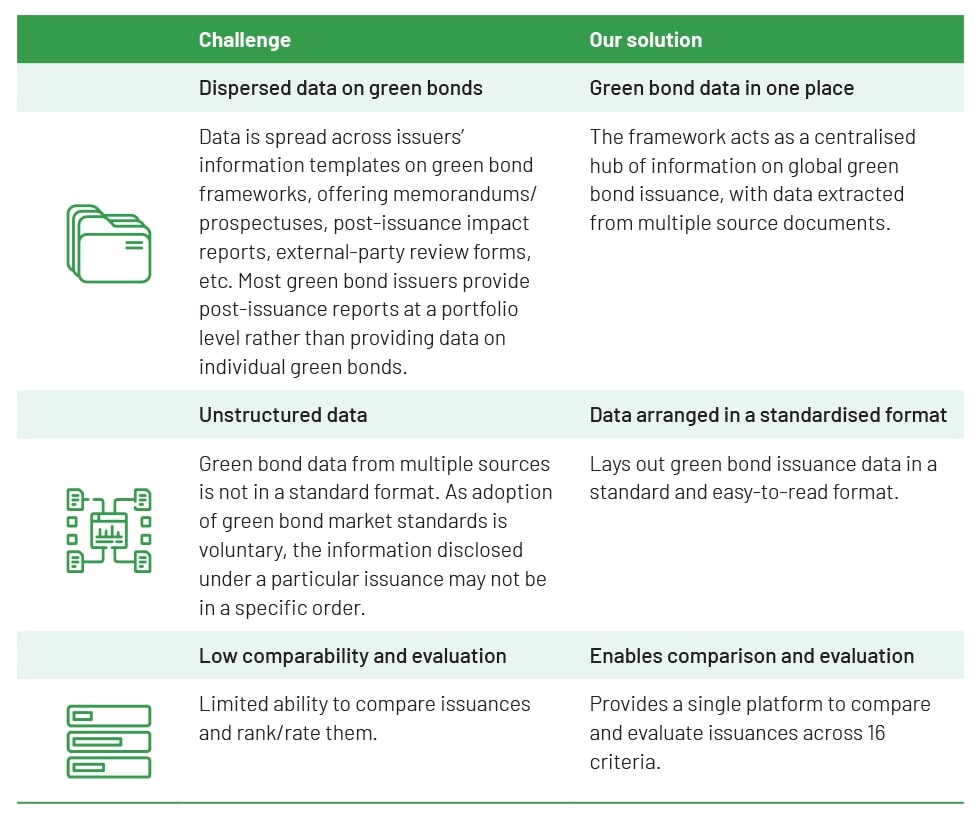 Acuity's green bond analysis framework
Acuity is the #1 provider of research, analytics, operations and technology services to 520 global financial institutions, equipped with an ESG practice providing customised and bespoke support to buy-side and sell-side clients across the ESG research value chain, including SDG research, analysis of ESG-linked credit instruments, ESG/SDG/greenwashing risk ratings, net zero alignment ratings, issuer engagement research and questionnaires, data science for ESG research and SFDR/EU Taxonomy disclosure preparation support.
Acuity's proprietary green bond analysis framework is a robust and comprehensive tool designed to provide a thorough and objective evaluation of the performance of individual green bonds by screening and ranking green bonds based on a 16-criteria rating system. The framework is built on a central green bond database, where key information relating to global green bond issuance is stored in a standardised format. This database serves as the foundation for the analysis, providing a comprehensive repository of information on the green bond market.
Conclusion
Growing demand for green bonds necessitates transparent and standardised performance data to support investments in the sector. Existing sources of green bond analysis are insufficient in terms of data coverage and lack an opinion on what qualifies as "green". These sources primarily act as data aggregators, lacking a method of evaluating green bond issuance.
With Acuity's proprietary green bond analysis framework, users overcome these limitations and stand to benefit from comprehensive information, customisable screening tools and informative visualisations that will light the way to smarter green bond investments. Through a 16-criteria rating system, we offer a robust method for assessing the environmental impact of green bond investments that goes beyond data aggregation and provides valuable direction for investors.
Our analysis is complemented by insightful visualisations that present green bond assessments at both the bond and portfolio level. In addition, our screening process flags potential breaches of key criteria, highlighting concerns associated with specific green bond issuances, as investors continue to grow their green bond portfolio holdings.