NEW Insights
Investment banks see a surge in demand for restructuring and debt advisory post COVID-19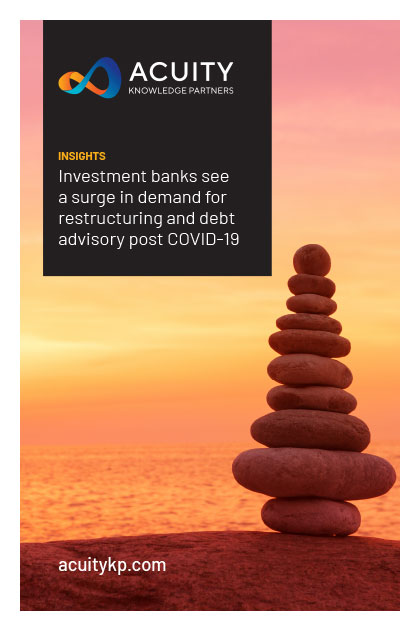 Thank you for sharing your Comments
Your file will start downloading automatically
If it does not download within 1 minute,

Acuity Knowledge Partners presents market insights on restructuring and debt advisory, with key inputs from senior investment banking (IB) restructuring specialists.
The COVID-19 pandemic has had a profound impact on the global economy. Disruption in economic activity, coupled with high debt levels, has made borrowers vulnerable to the risks of default and bankruptcy.
This paper discusses how the pandemic has accelerated restructuring and debt advisory related activity, which is likely to remain at an elevated level for the next few quarters. We also discuss how Acuity's functional expertise and capabilities can help Investment Banks and Advisory firms meet a phase of sustained high demand in this area.
Key Takeaways
Many companies were already troubled leading to the pandemic; the crisis has only accelerated their fall
Disruption in business activity has led to a rise in defaults and bankruptcies
Debt levels, already at an all-time high prior to the pandemic, have surged, primarily due to low interest rates
ere has been a substantial and sudden demand for restructuring and debt advisory