Download Blog
Published on March 28, 2023 by Manish Jha and Bijoy Anandoth Koyitti
The wellness market has been around for a while. From the days of Jane Fonda's workout tapes, Dr. Siegal's cookie diet and neon leg warmers, the market continues to gain traction. However, consumer perspective has shifted recently. Wellness is not just about fitness and nutrition; it also covers physical and mental well-being including better lifestyle habits. This article looks at the dynamics shaping the changing health and wellness market, its key drivers and beneficiaries and what lies ahead for it in terms of growth.
The global health and wellness market, valued at USD4.9tn, is expected to grow at a CAGR of c.6% through 2030, according to CB Insights (Figure 1). The global wellness market alone is valued at USD1.5tn, with 5-10% annual growth, according to a report published by McKenzie in 2021, driven largely by increasing discretionary income globally and the desire of most to adopt a healthy and active lifestyle after the pandemic.
The pandemic was an eye-opener; its devastating impact on livelihoods increased focus on health and wellness practices, explaining the market's significant growth in recent years.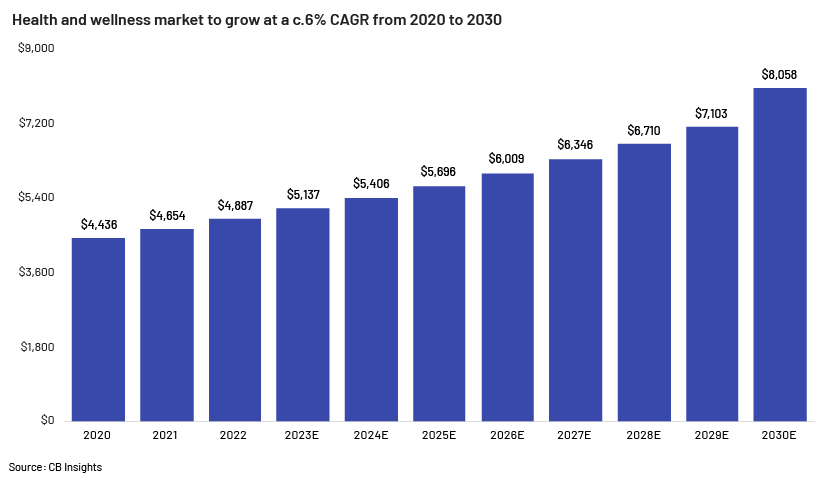 Consumers are now more aware of the types of health and wellness products and services available. Moreover, governments continue to invest in developing sophisticated healthcare infrastructure. The increasing number of macro-level government initiatives to boost the tourism sector is another major factor that should drive growth of the global wellness market.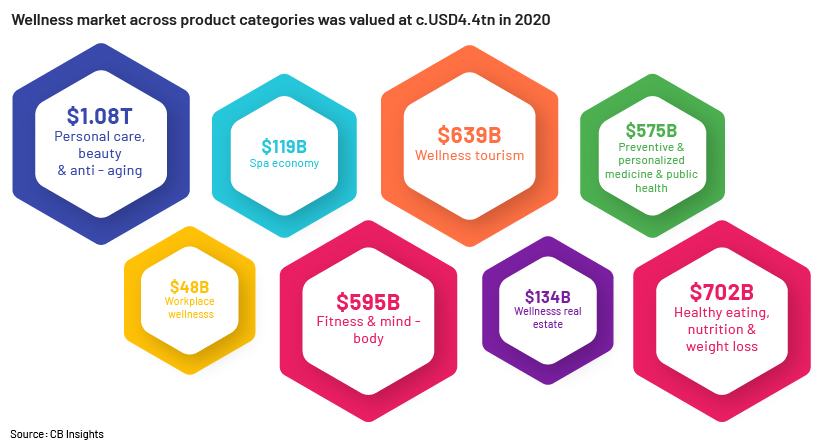 Benefiting from the pandemic
The pandemic paralysed the global economy, impacting the health and wellness market in the process. However, the crisis reshaped the market's dynamics, driving the rise of sub-segments such as telemedicine, at-home fitness, e-medicine, personal care, and beauty and anti-ageing treatment, redefining consumers' understanding of health and wellness. Following significant losses amid the lockdowns, the market has made a strong comeback with a bullish outlook.
Competitive landscape and deal environment
The wellness market is highly fragmented, with the presence of many large players. Considering its huge growth potential, companies have been trying to gain market share through investments, partnerships, and mergers and acquisitions. They have also been investing aggressively in developing products and services, while maintaining competitive pricing for their product lines.
Major players in the market have been investing in partnerships in recent years. In May 2021, Unilever partnered with food-tech company ENOUGH to make plant-based meat products. With its tremendous growth potential and fragmented nature, the wellness market has room for consolidation in the form of mergers and acquisitions. In June 2020, L'Oreal acquired Thayers Natural Remedies, a US-based skincare brand that will be integrated into its consumer products division. L'Oreal did not disclose the deal value but said that Thayers recorded sales of USD44mn in 2019. The need for established players to scale their operations and benefit from the high growth potential should set the ball rolling in terms of consolidation in the near term.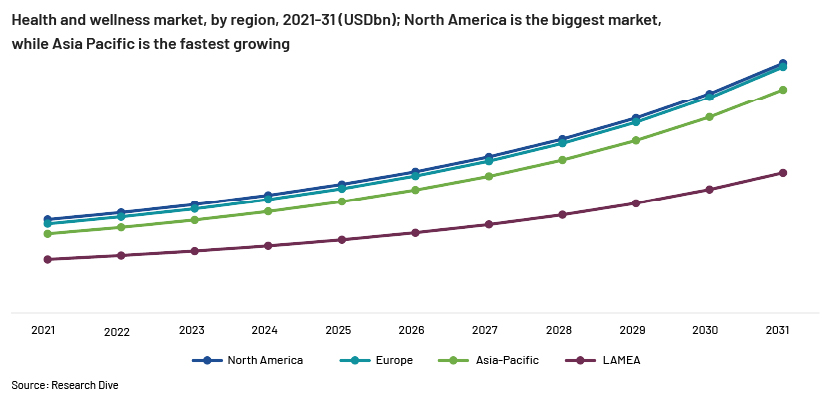 Major players dominating the global wellness market include Procter & Gamble, Nestlé, Hilton, Philips, Herbalife, Life Time Fitness, Amway, Estée Lauder Companies, Beiersdorf, LA Fitness, Danone SA, Henkel and 24 Hour Fitness.
Growth prospects
The rapid market growth expected post-pandemic has raised investor interest in major categories such as supplements, real estate and telehealth. Other sub-segments set to follow a similar trend include corporate wellness tourism. With corporates making conscious efforts to promote employee health and wellness amid the rising significance of the environmental, social and governance (ESG) framework, the corporate wellness market is likely to see significant growth. Companies are also investing in wellness programmes to reduce employee healthcare costs.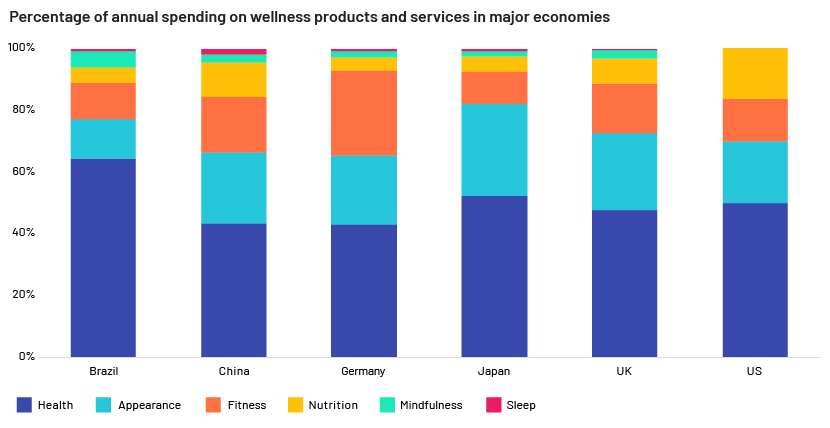 Companies operating in the telemedicine and home fitness segments have made unprecedented market share gains in recent years. As the post-pandemic trend towards increased wellness and health gains momentum, brands able to differentiate themselves quickly are likely to become leaders in this fast-growing market.
How Acuity Knowledge Partners can help
At Acuity Knowledge Partners, our Investment Research team helps financial services clients stay up-to-date about new investment frontiers, industry trends and evolving business models. This includes deep-dive analyses, thematic research, competitive landscape analyses and coverage of companies. Our team of fundamental research experts and data experts can provide optimal solutions by combining alternative data and technology expertise to provide differentiated research insights.
Acuity also provides research content services, including writing, editing and repackaging content. Our team of editors, content managers, writers and supervisory analysts have a decade of experience, on average, working with global financial services firms. They (1) edit reports and perform regulatory reviews, (2) write blogs, whitepapers and thought leadership pieces independently, (3) work with subject-matter experts to compile website material, blogs, and white papers, (4) repackage long research pieces as blogs or brochures to be used as marketing material, (5) write content for videos and blog posts, and (6) refine and manage content in databases.
The experienced team can help you manage your high-value content, giving you the early mover advantage in today's high-volume, ultra-competitive content landscape.
Sources:
Global Wellness Institute

Data Bridge Market Research

IGI Global

McKinsey & Company

Ken Research

BioSpace

Research Dive
---
What's your view?
---
About the Authors
Manish Jha is a part of Investment Research team at Acuity Knowledge Partners. He has around seven years of work experience supporting global sell-side clients on Equity Research including building financial models, initiating coverage reports, thematic reports, ad-hoc data research, and earnings review. Manish holds Post Graduate Diploma in Management with specialization in Finance from IIIT, Pune.
Bijoy Anandoth Koyitti is a senior editor at Acuity Knowledge Partners and has been with the firm for more than 6 years. Besides supporting a marquee sell-side client, he also edits content generated by Acuity's internal divisions and the marketing team. Bijoy has around 18 years of experience in business and financial journalism. Prior to Acuity, he worked as a journalist and then as a news editor for Thomson Reuters for over 9 years. He also worked as a senior editor at financial news startup AlphaStreet. Bijoy holds an MA in English Language and Literature and a PG diploma..Show More

Blog
Advantages of having a remote executive assistan....
"They're troubleshooters, translators, help desk attendants, diplomats, human database....Read More

Blog
M&A activity to keep revenue streams open....
While M&A activity remained muted in 1H 2023 due to market uncertainty and volatility,....Read More

Blog
Strategizing to Mitigate Pressure on Margins....
Investment banks and advisory firms have been pragmatically exploring ways to improve oper....Read More

Blog
Advantages of having a remote executive assis
"They're troubleshooters, translators, help desk attendants, diplomats, human database....Read More
Like the way we think?
Next time we post something new, we'll send it to your inbox