Download Blog
Published on October 19, 2021 by Shweta Gupta
The healthcare sector has undergone significant transformation due to the introduction and adoption of disruptive technologies, not limited to telemedicine, artificial intelligence (AI), virtual patient care and cloud computing platforms. The main objective of adopting these technologies is to improve patient care and diagnosis, prevention and treatment of disease. In this blog, we focus on recent trends and the impact of the pandemic on the digital healthcare space.
Trend #1: Telemedicine
Telemedicine is an emerging technology that has revolutionised the healthcare sector in 2021. There are four main applications of telemedicine: real-time consultation, remote patient monitoring, virtual and online communication and reducing patient visits to hospital. These applications, together with the continued increase in healthcare consumerism, incidence of chronic disease, technological advancements, healthcare digitalisation and government initiatives, are likely to drive growth in the global telemedicine market. This market was worth c.USD38.29m in 2020, according to Mordor Intelligence, and is expected to grow at a CAGR of 28% to reach c.USD168.40m by 2026. The following statistics indicate the increasing adoption of telemedicine services across the healthcare sector amid the pandemic.

Trend #2: Internet of medical things (IoMT)
The IoMT is an amalgamation of medical devices, software applications, health systems and services that help transfer medical data over the internet and reduce the need for a patient to visit a hospital and the burden on healthcare systems by connecting patients and doctors over online platforms. IoMT devices include point-of-care (PoC) devices, smart pills, personal emergency response systems (PERS), clinical-scale wearables, consumer-scale wearables and in-hospital devices and monitors. The pandemic has increased the use of smart pills and wearable devices, which are becoming popular in home care management.
The IoMT also improves drug management, reduces costs, improves diagnosis and treatment, enhances the patient's experience, enables remote monitoring of chronic diseases and improves disease management. The IoMT market has witnessed robust growth amid the pandemic with all healthcare facilities transferring to virtual platforms and adopting digital applications, and software and tools changing the treatment paradigm.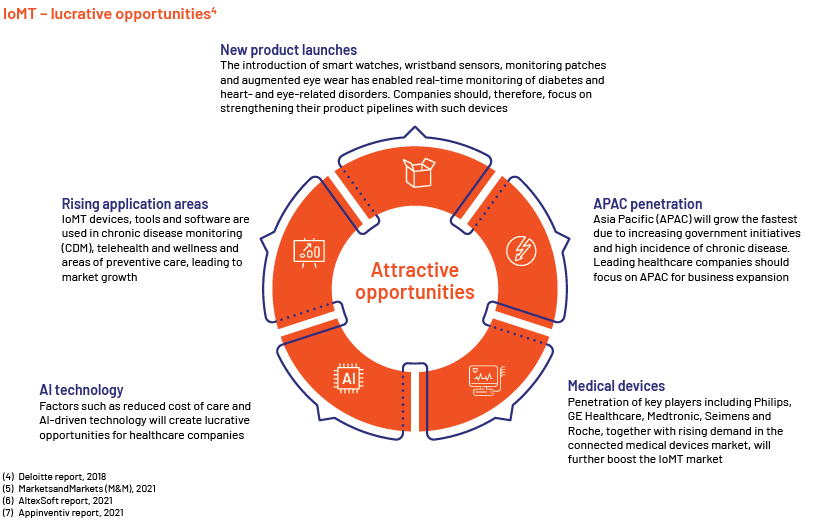 Trend #3: Augmented reality and virtual reality (AR/VR)
The global AR/VR market within healthcare was valued at c.USD2bn in 2020, according to Grand View Research, and is forecast to grow at a CAGR of 27.2% to c.USD9.8bn by 2028. The rising adoption of digital diagnostics, increase in the number of complicated surgeries and adoption of digitalisation in clinical trials and virtual consultation platforms will drive growth in the global AR/VR market.
Patients now prefer online video consultation via digital apps, and healthcare practitioners are using online platforms for training and educational purposes as well as for diagnosis. Leading healthcare companies are collaborating with IT firms to strengthen product pipelines and enable new product launches with high technology and a patient-centred approach. Companies should, therefore, focus on investment in this disruptive technology.

Trend #4: Blockchain technology and AI
Blockchain and AI are two emerging disruptive digital technologies driving the healthcare sector the most. Blockchain technology can maintain all types of electronic data; it is basically a ledger of transactions and is based on decentralised consensus. It has several applications within healthcare, including identity management, dynamic patient consent and management of supply chains for medical supplies and pharmaceuticals. AI software and tools are used in diagnosing disease including cancer; surgical robots work using AI platforms; and healthcare professionals, doctors and scientists use this technology for research and development, new drug discovery, genome editing and proteomics.
These two technologies have reduced healthcare costs and increased remote patient monitoring (RPM) and precision in disease diagnosis, monitoring and treatment. The pandemic has had a positive impact on growth of these technologies within healthcare, and leading healthcare companies, payers, providers and startups are working together to enable new product launches to increase penetration in the sector.
Pandemic impact on digital healthcare
The pandemic has been a substantial catalyst in the rapid adoption of digital health tools. Most countries are adopting digitalisation, in the form of AI, telemedicine, AR/VR, blockchain, digital biomarkers, digital disease diagnosis and conducting virtual clinical trials. Digital therapeutics have enabled the provision of mental health and wellbeing support during home quarantine and self-isolation, and tools such as teleconsultation and video and audio conferencing have enabled remote consultation. Digital diagnostic tools have enabled early diagnosis and patients to be more in control of their health and related decisions.
These factors, together with the continued effort and initiatives of governments, scientists, healthcare professionals, doctors and engineers, would drive growth of the digital healthcare market.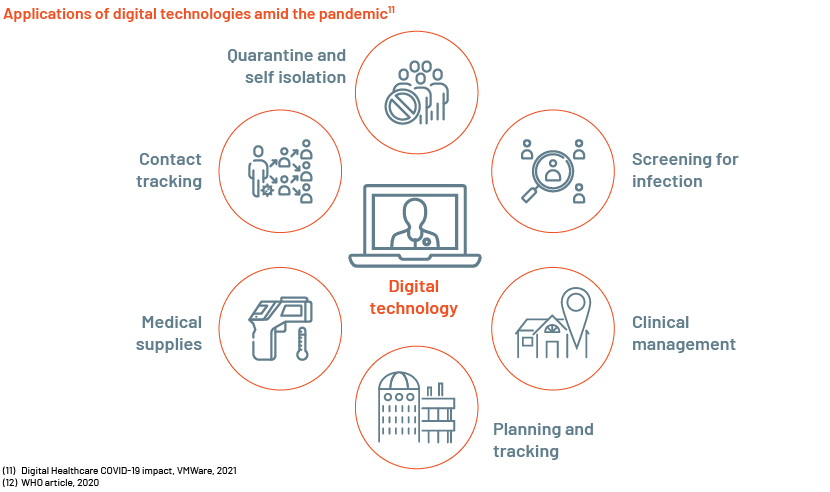 Conclusion
The key unique selling proposition driving the digital healthcare subsector is rapid technological advancement including in precision medicine, digital therapeutics, 3D printing, immunotherapy, gene and stem cell therapies and AI. All these technologies, together with increasing adoption of telemedicine, smartphone applications, wearable devices, big data analytics, AI and robotics, have transformed the way diseases are diagnosed, monitored and treated. The pandemic has accelerated digitalisation in the space, and healthcare professionals, leading digital healthcare companies, startups, payers and providers are now focused on maintaining the pace of launch of new technology platforms, improving patient care and making these digital tools, software and applications easily accessible to all.

How Acuity Knowledge Partners can help:
Leveraging nearly two decades of experience in analysing historical information and projecting trends, we help our clients, including life sciences and healthcare consulting firms, build and strengthen their strategies and business.
We also provide bespoke research support on digital therapeutics, market dynamics, competitive intelligence, opportunity assessment and product launch strategies.
For more information on our capabilities, please visit our Life sciences solutions page.
Sources:
1. Telehealth: A post-COVID-19 reality? | McKinsey
2. [Infographic] Telehealth in 2021 and Beyond – Ruby
3. Telemedicine Use – Household Pulse Survey – COVID-19 (cdc.gov)
4. gx-lshc-medtech-iomt-brochure.pdf (deloitte.com)
5. IoT Healthcare Market Size, Share and Global Market Forecast to 2025 | COVID-19 Impact Analysis | MarketsandMarkets
6. IoMT and its Role in Healthcare | AltexSoft
7. Impact of Internet of Medical Things in the Healthcare Sector (appinventiv.com)
8. Augmented and Virtual Reality in Healthcare Market Size, Share and Trends Forecast to 2023 by Offering, Device Type, End User, Application and Geography | MarketsandMarkets™
9. Augmented Reality & Virtual Reality In Healthcare Market Report, 2028 (grandviewresearch.com)
10. Virtual Reality (VR) in Healthcare Market Size | Forecast By 2026 (alliedmarketresearch.com)
11. Special Report: Digital Healthcare Innovating During Pandemic (vmware.com)
12. COVID-19 and digital health: What can digital health offer for COVID-19? (who.int)
13. The Future of Digital Health – Willis Towers Watso
15. Future of AI & Digital Healthcare | AI in the Digital Health Space (digitalauthority.me)
16. How Digital Health and AI are Driving Intelligent Healthcare, Health News, ET HealthWorld (indiatimes.com)
17. Opportunities and Challenges of Blockchain Technologies in Health Care (oecd.org)
18. Digital Health Technology Vision 2020 | Accenture
20. 7 digital health trends that will dominate the globe in 2021 (thenextweb.com)
21. Digital Health Trends 2021: 5 Technologies That Will Define the Future of Healthcare | MassChallenge
22. deloitte-uk-blockchain-full-report.pdf
---
What's your view?
---
About the Author
Shweta Gupta has ~16 years of experience in research, consulting and advisory services. She is currently part of Acuity's strategy research and consulting team, with experience in secondary research, business, and corporate strategy, thought leadership and competitive intelligence and benchmarking.
Prior to joining Acuity Knowledge Partners, Shweta Gupta worked with companies in the consulting, telecom and research analytics domains, where she was largely responsible for strategic research, corporate strategy, landscape study, market sizing, market entry and growth strategy, operating models, business models, opportunity analysis, company and product profiling and supplier identification.

Blog
US municipal not-for-profit healthcare companies....
Key takeaways Inpatient volumes are declining; hospitals are investing to meet in....Read More

Blog
Wellness industry trends – 2023....
The wellness market has been around for a while. From the days of Jane Fonda's workout t....Read More

Blog
Exploring advancement in Genomics in Saudi Ar
Genomics is the study of the genome (the complete set of genes in a cell or organism) and ....Read More

Blog
Oncology Market Research
Oncology is considered to be the most dynamic area of therapy in terms of innovation, cons....Read More

Blog
Telemedicine trends
Telemedicine is ubiquitous – the new standard of service in all healthcare settings, shi....Read More
Like the way we think?
Next time we post something new, we'll send it to your inbox