Download Blog
Published on November 30, 2021 by Isha Singh
Writing an investment commentary is part art and part science. The content is a mix of your understanding of the markets at a macro level and your ability to tie this to what is happening within the portfolio. When it comes to commenting on portfolio details, converting statistics in a concise, simple and comprehensible format is what makes this job challenging and creative at the same time. While portfolio analysts understand the markets and the portfolio well, they could face challenges in communicating their thoughts concisely to investors. After all, creating an interesting write-up requires an optimum mix of knowledge and inspiration.
Here are some points to keep in mind when writing an investment commentary.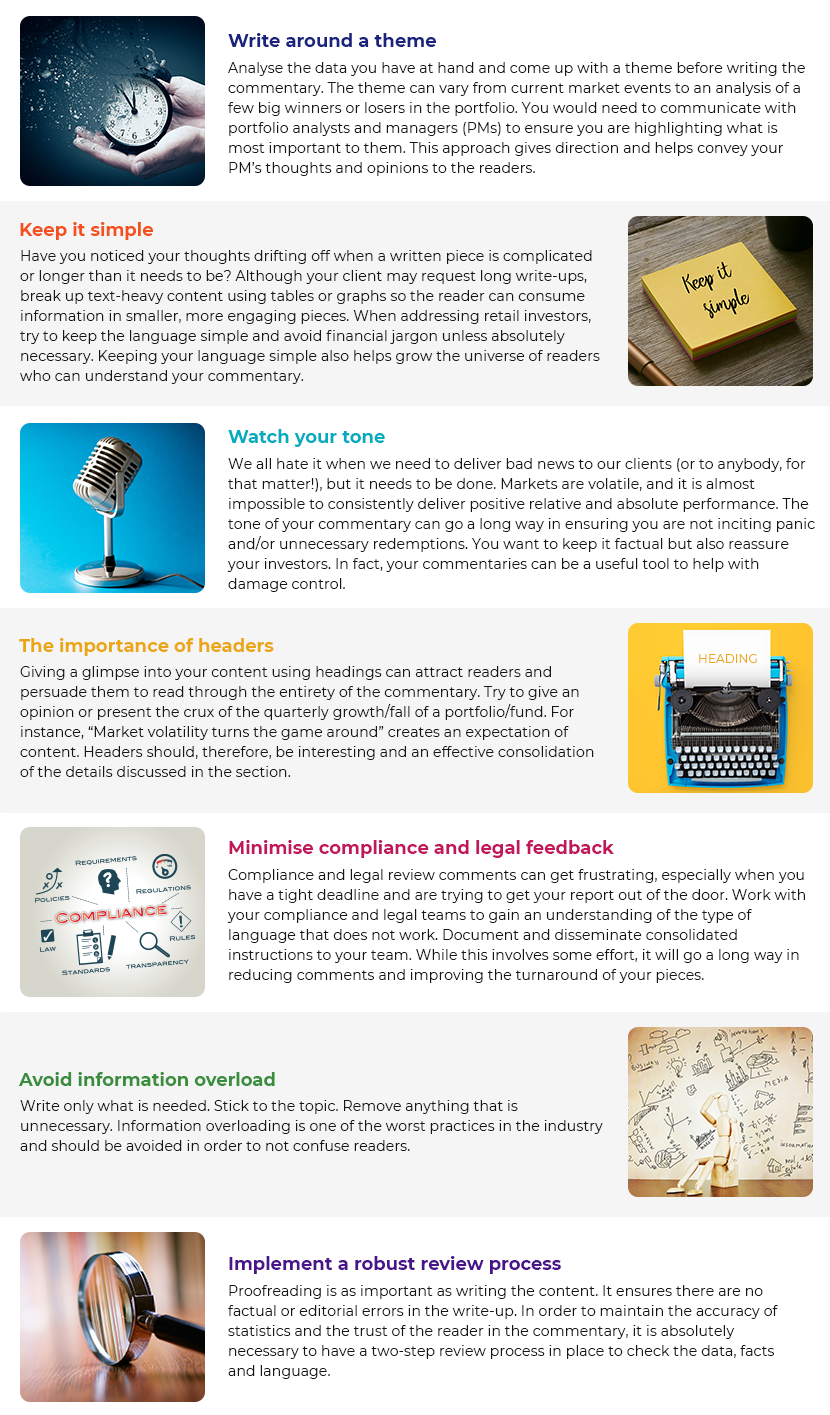 ---
What's your view?
---
About the Author
Isha has over 6 years of experience in working with leading global organizations in Equity Research and Client Reporting. Her expertise spans a broad range of analyses, including portfolio management, performance reporting, commentary writing, market research reports, ESG research reports, Equity analysis, and cash flow modeling. At Acuity Knowledge Partners, Isha is a part of a leading US-based Fund Manager, majorly supporting with commentary writing.

Blog
M&A activity to keep revenue streams open....
While M&A activity remained muted in 1H 2023 due to market uncertainty and volatility,....Read More

Blog
Strategizing to Mitigate Pressure on Margins....
Investment banks and advisory firms have been pragmatically exploring ways to improve oper....Read More

Blog
Automation critical for productivity enhancement....
Client demands are ever-evolving and amid these challenging market conditions that have be....Read More
Like the way we think?
Next time we post something new, we'll send it to your inbox