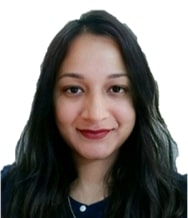 Oliva Rath
Assistant Director
Oliva joined Acuity Knowledge Partners' investment banking team in 2020. Well-rounded professional with 12+ years of experience in Investment Banking and Financial Services firms.
She has supported investment bankers on various pitches involving company/industry research, preparation of strategic research reports, pitchbooks, pre-IPO reports and investor PDIEs, competitive landscaping, market sizing & segmentation, case studies, macro-economic studies, and in-depth industry insights.
Extensive exposure in cross-industries primarily including FinTech, Insurance, Asset Management, Oil & Gas, Real Estate, Industrials, and Utilities. She has hands-on experience with prominent databases like Dealogic, Capital IQ, Factiva, FactSet, Pitchbook, and Crunchbase, along with other key industry associations.