Overview
Acuity Knowledge Partners offers comprehensive web content management services ranging from content maintenance, content publishing, web asset creation, content audits and platform migration. Our web content management specialists are proficient in industry leading enterprise Content Management Systems (CMS). We provide support on web content edits, document uploads, regulatory updates, web page builds, multi-language versioning and digital distribution of marketing collateral.
Our experts also manage internal document repositories, reusable CMS component builds, responsive CMS template creation, interactive widgets and dynamic chart creation while ensuring content complies with necessary regulations and brand guidelines. Cross browser/responsive testing, pre-publishing and post-publishing testing are key practices we incorporate in our quality assurance. Our specialists with the right domain knowledge ensure our clients have a competitive edge via diligent publishing of timely, accurate and compliant digital information.
Moreover, under our array of web content management services, our expertise has progressively expanded to include Web and Document Accessibility. We provide consultation and implementation support in incorporating accessibly provisions for websites and digital documents on par with Web Content Accessibility Guidelines (WCAG), Americans with Disabilities Act (ADA), and USG guidelines.
Tools

Sitecore

Drupal

Optimizely Content Cloud

Wordpress

Adobe Experience Manager

Joomla
HubSpot CMS Hub

Bloomreach

Kentico

Contentstack
Our Perspective
on Web Content Management & Accessibility
Meet our
experts
Fauzaan manages multiple Fund Marketing Services teams in Colombo focusing on the Digital Marketing practice. He has over 19 years of total experience in the software and capital markets industries. He currently manages the end to end delivery of all digital marketing accounts at Acuity Knowledge Partners. Prior to this, he played the role of head of PMO in Quantitative Research. Fauzaan holds a Masters in Project Management specialising in Business Administration and Bachelor of Science (hons) in Information Systems.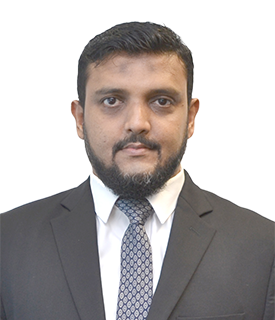 Frequently Asked
Questions
Why is web content management important for financial services?

In the financial services sector, a website is the gateway to a wealth of product information. Companies in the financial services space must use a content management system (CMS) to update web content, data, documents and media. The nature of regulations in the sector mandates that companies disclose specific information to clients and prospective investors in a timely and accurate manner. In addition, the website needs to frequently disseminate thought-leadership content and ensure general company information is always up to date. Having effective web content management processes and specialists with CMS expertise helps streamline these requirements.
How can asset managers benefit from having an optimised web content creation and publishing strategy?

By implementing an optimised web content creation and publishing strategy, asset managers can effectively disseminate marketing material to promptly publicise services and capabilities. This would also help share insights and research on changing market conditions, evolving trends and new events to gain better customer reach.
Asset managers could also ensure that time-sensitive fund data, regulatory material and prospectus information are available on time. They could effectively showcase company information such as investing philosophy, history, management personnel, thought leaders and portfolio managers.
Why is it important to conduct routine web content audits?

It is important that organisations frequently conduct web content audits with the assistance of web-crawling tools. These audits reveal content that needs updating, gaps that new content could fill and obsolete content that should be removed. Such audits also help maintain regulatory compliance, improve page speed, enhance usability and maximise search engine visibility.
Load more