Overview
Acuity's creative services include business solutions for visual, video and content-related needs for your organization. These services accelerate the routine production of content and creatives whilst adding an artistic dimension. Our services include creative design, copywriting, collateral and advertising production, video production, marketing collateral production, formatting, and presentation services. Associates from across our client marketing teams can leverage our creative services to ensure they can cost-efficiently optimize the process of creative support.
Our experienced specialists work with professional software tools. Adobe InDesign to create brochures, handbooks, one-pagers, and flyers. Adobe Photoshop to design social media banners, webpage banners and webinar/events material. Adobe Illustrator to create attractive charts, pie charts and graphics, as well as icons to be included in all sorts of collateral. PowerPoint to create compelling presentations utilizing client guidelines and theme. Microsoft Word to format research papers, reports including respective charts and tables.
Video production service include video editing, motion graphics or animation, and color grading. With our expertise in Adobe Premier Pro and After Effects, we will edit your event videos, social media videos, corporate videos as well as Q&A/FAQ videos by adding name tags, subtitles, transitions between frame, logos, text animations, and intro music. Acuity's creative services team can bring your ideas to life!
Tools

Adobe Illustrator

Adobe Photoshop

Adobe InDesign

Adobe Premiere Pro

After Effects

Microsoft PowerPoint
Microsoft Word

Microsoft Excel

Sketch

Figma

Adobe Creative Suite
Our Perspective
on Creative Services
Meet our
experts
Fauzaan manages multiple Fund Marketing Services teams in Colombo focusing on the Digital Marketing practice. He has over 19 years of total experience in the software and capital markets industries. He currently manages the end to end delivery of all digital marketing accounts at Acuity Knowledge Partners. Prior to this, he played the role of head of PMO in Quantitative Research. Fauzaan holds a Masters in Project Management specialising in Business Administration and Bachelor of Science (hons) in Information Systems.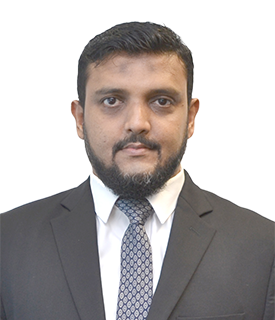 Frequently Asked
Questions
What types of creative services does Acuity offer?

Creative services offered by Acuity encompass the creation of web and print creative graphics, marketing collateral, advertisements and video production services. Our specialists help clients with rebranding, refreshing and enhancing their creatives. In addition, we are experienced in formulating brand design guidelines and visual identities.
What applications and platforms are utilised for creative services?

Acuity's experts primarily leverage the Adobe Creative Suite, including InDesign, Photoshop, Illustrator, Premier Pro and After Effects; we use Sketch and Figma to design user interfaces. We also help format Microsoft Office documents such as PowerPoint and Word documents.
Is visual communication important for brands in financial services?

Visual communication is important to enhance your brand and convey information to your clients. Effective visual communications convey your brand identity consistently and can be more effective than simple words. Clients can leverage our expertise to formulate and execute cutting-edge visual identities across formats and communication channels.
Load more