Download Blog
Published on July 27, 2023 by Chamini Apeksha Thalakotunna
The global transport sector accounts for the second-highest GHG emissions
The global transport and logistics (T&L) sector comprises warehouse services, transport, inventory management, and administration and suppliers, and was estimated at USD1,150bn in 2021. Fortune Business Insights expects the value to boom to USD1,804bn by 2029 from USD1,211bn in 2022, at a CAGR of 5.11%.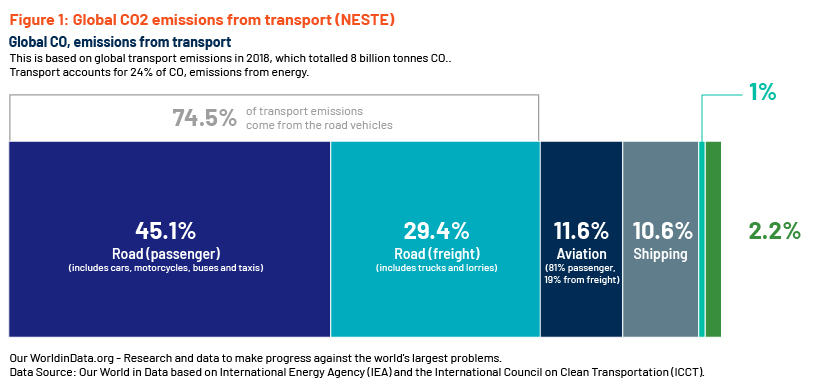 The transport sector accounts for c.17% of the world's GHG emissions (8.43bn tons of GHG emissions annually) and is the second-highest emitter, according to the Low Carbon Technology Partnerships initiative. Nearly 75% of this is generated from road transport. The sector also accounts for about 64% of global oil consumption and 27% of total energy use. Each year, c.185,000 deaths are directly attributed to vehicular pollution. The World Health Organization (WHO) estimated more than 1.3m road fatalities in 2022 and vehicles accounting for up to 50m injuries worldwide annually.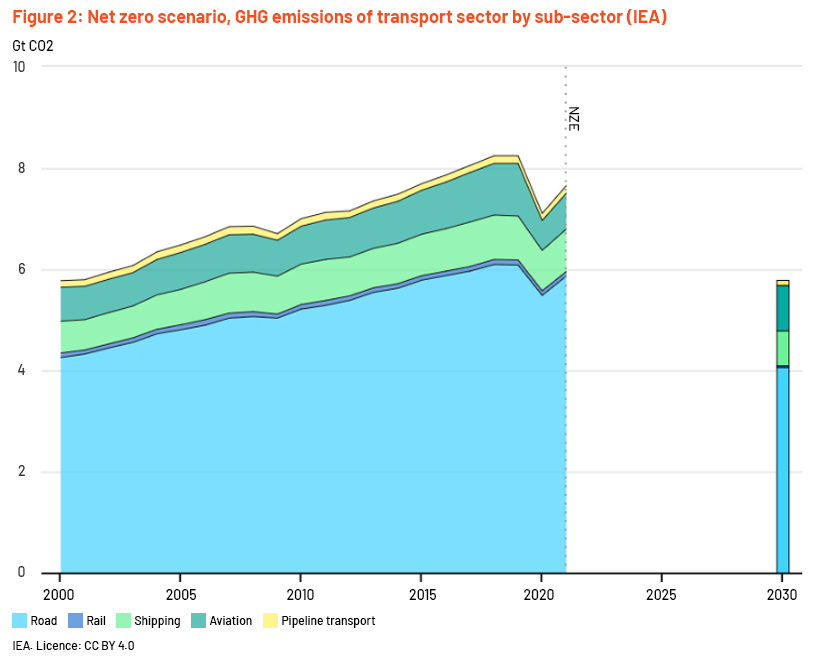 Sustainable transport addresses these impacts of increased urban mobility and promotes more environmentally friendly methods of transport. Sustainable transport systems enable cost efficiency, safety and a positive environmental impact including lower GHG emissions, energy consumption and air and noise pollution.
As pandemic-related restrictions were lifted in 2021, the global transport sector's GHG emissions returned, growing by 8% to nearly 7.7Gt CO2. The net zero scenario requires a 20% reduction in the transport sector's emissions to less than 6Gt by 2030.
Most methods of transport still deploy early stages of low-carbon technologies
Methods of sustainable transport operate with clean fuel and/or batteries. Alternative fuels could be used in flexible-fuel, dual-fuel and high-tech vehicles and help conserve fuel and reduce emissions. Such fuels include biodiesel, electricity, ethanol, hydrogen, propane and natural gas. The following chart lists the characteristics and path to sustainability of the different methods of transport.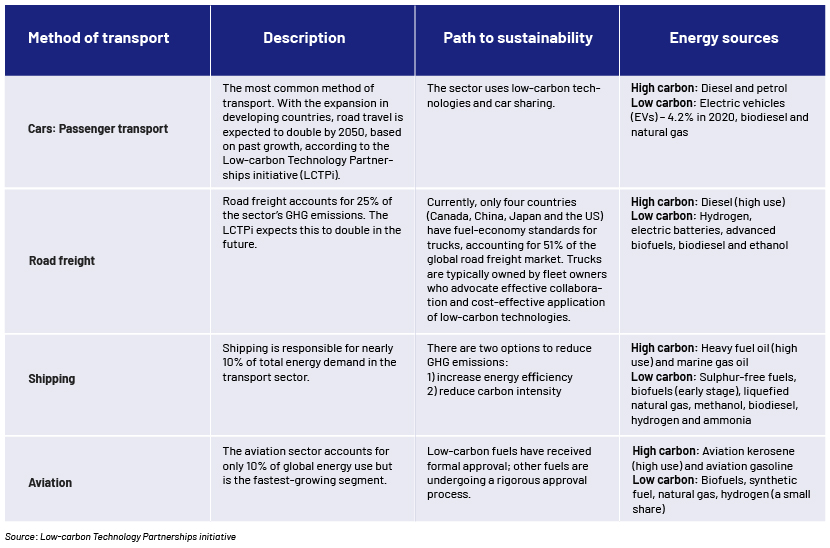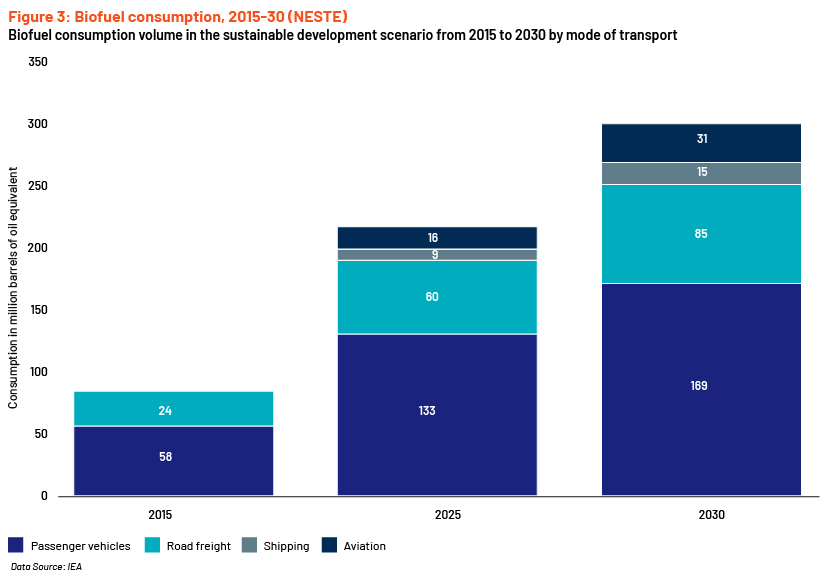 Emerging trends in sustainable transport
Adoption of low-carbon fuels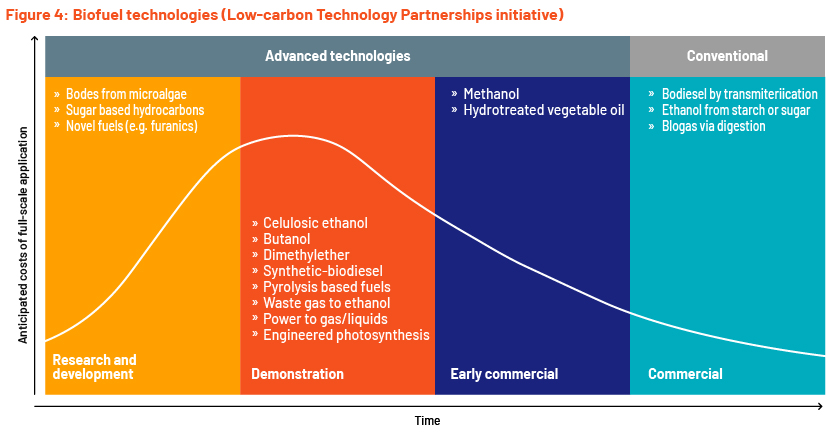 Low-carbon transport fuels are liquid or gaseous fuels that perform substantially better than traditional fossil transport fuels in terms of GHG emissions. These may be based on biomass or other short-cycle carbon resources. At present, only 3% of total transport fuels are considered to be "low-carbon". The following graph depicts the stages of development of a number of biofuel technologies:
In 2022 September, Amazon agreed with renewable fuels technology firm Infinium to power Amazon's fleet of vehicles with ultra-low-carbon electro fuels from 2023. Amazon has placed the largest order for electric delivery vehicles (100,000 vehicles) with Rivian.
Transport using renewable energy
Another major trend is the use of clean energy sources such as solar power in transport; this is termed "carbon-free travel". About 80% of GHG emissions can be reduced by switching to EVs powered by renewable energy. Norway's use of renewable electricity for road transport has skyrocketed following implementation of policies that encourage electric mobility, along with the country's supply of renewable electricity. China was considered to be the second-fastest-growing EV market in terms of sales in 2022.
Renewable sources accounted for 10.2% of the European Union's (EU's) energy requirement for transport in 2020, meeting the EU's target of "10% by 2020".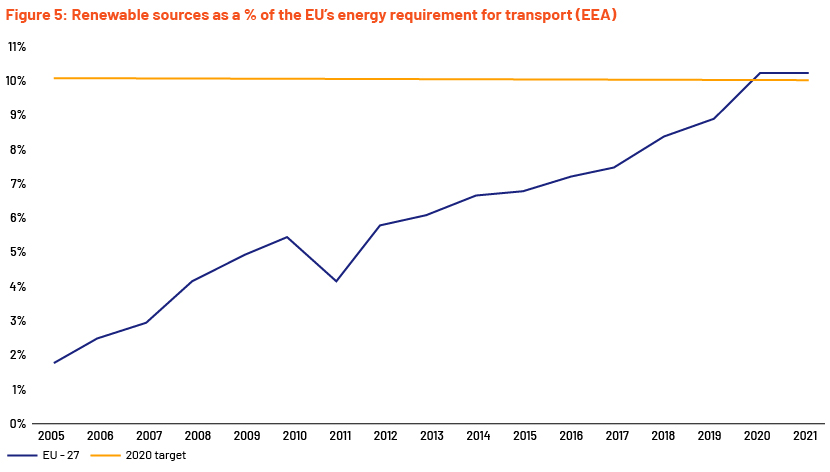 The following graph depicts the boom in global EV sales from 2010 to 2022: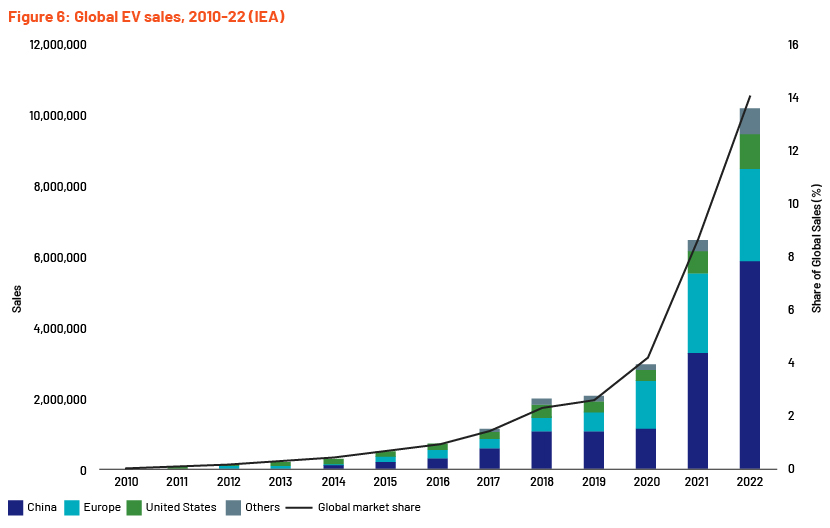 Potential for self-driving taxis
A self-driving taxi, also known as a robotaxi, is a vehicle that operates autonomously, integrating sensors, cameras, radar and artificial intelligence (AI) without the need for a human driver. This results in reduced emissions, improved fuel efficiency and low traffic congestion.
Green logistics
Green logistics covers the supply-chain management practices and strategies that reduce the environmental and energy footprint of freight distribution. It focuses on material handling, waste management, packaging and transport.
DHL is one of the largest global logistics companies committed to sustainability. It aims to achieve zero emissions by 2050 and has implemented a number of initiatives to reduce its environmental impact, such as the use of EVs and alternative fuels.
Measuring sustainable excellence in the T&L sector
The US Environmental Protection Agency has stipulated 12 performance measures to be incorporated in decision making relating to sustainable transport. The following table summarises these ESG key performance indicators (KPIs).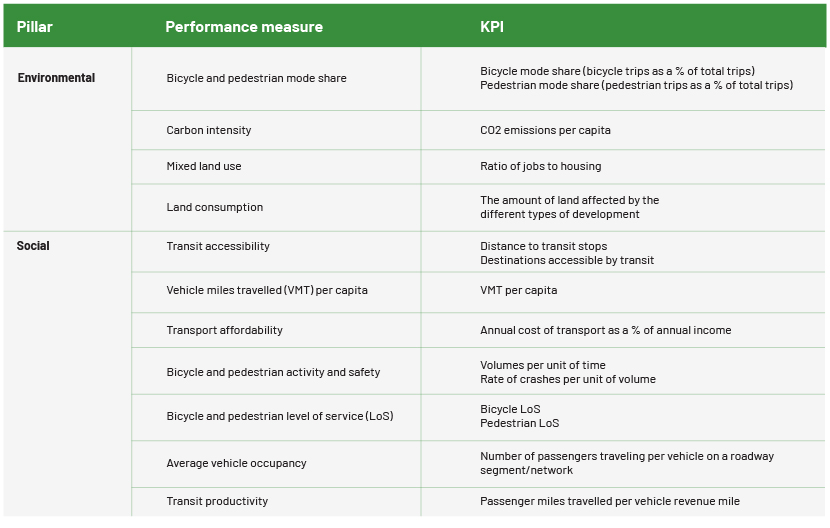 Source: US Environmental Protection Agency
Overcoming key challenges in the sector to achieve sustainability
Despite the potential benefits of sustainable T&L, certain challenges need to be overcome to achieve it. A key challenge is inconsistency and a lack of policies relating to collaboration, expertise and planning land use, and economic constraints. Sustainable transport can be expensive to develop and maintain due to the lack of infrastructure such as EV charging stations. Biofuels are a more expensive energy source than fossil fuels and, therefore, increase transport fuel costs. One of the biggest challenges for solar-powered vehicles is the limited amount of energy that can be generated by solar panels; most models require a backup battery or other power sources to ensure smooth transport when there is not enough sunlight.
There are also several obstacles to sustainable logistics, such as ineffective shipping practices that increase GHG emissions and cost. For instance, ocean freight and railway freight are less expensive than other alternatives, but meeting requirements for immediate delivery would necessitate switching to ineffective modes of operation such as air freight. Supply-chain transparency is necessary because it may become difficult to find trustworthy suppliers and logistics providers.
How Acuity Knowledge Partners can help
We keep our banking clients updated on the latest sustainability trends across sectors including T&L and assess how those can be linked to facilitating sustainable finance products for borrowers. Through our sustainable finance analysis and assessments, we advise borrowers on aligning ESG KPIs with current trends, initially by proposing suitable KPIs and then monitoring these periodically.
Sources:
World Bank

Low-carbon Technology Partnerships initiative

Statista

American University of Sharjah, Sharjah, UAE, S. U. (2014). Challenges to Sustainable Transport in the Developing World
---
What's your view?
---
About the Author
Chamini is an Analyst in the Commercial Lending vertical at Acuity Knowledge Partners since 2022. At present, she is a part of the Sustainable Finance Team and is responsible for preparing pitch decks, performing checks on the sustainability of the deals, as well as managing a database for sustainable finance deals. Prior joining Acuity, she worked as a research intern at Uzabase Inc. She holds a bachelor's in Finance (Special) from University of Sri Jayawardenepura, passed Finalist of Chartered Institute of Management Accountants (CIMA) and Reading for Chartered Financial Analyst (CFA).

Blog
Green packaging material – understanding the ....
Sustainable materials are not always eco-friendly, but it has become necessary to adopt su....Read More

Blog
Oil and gas market pulse: June 2023....
The OPEC+'s efforts to prop up oil prices – including Saudi Arabia's announcement of....Read More
Like the way we think?
Next time we post something new, we'll send it to your inbox