Download Blog
Published on July 13, 2023 by Gaurav Sharma and Akshay Gupta and Surbhi Joshi
The OPEC+'s efforts to prop up oil prices – including Saudi Arabia's announcement of additional cuts of 1 million barrels per day (bpd) in July 2023 and the rest of the member nations extending their current output cuts to 2024 – did not have much impact on the oil market in June 2023. Oil prices continued to show volatility, as the market remained uncertain about demand growth in major economies such as the US, China and Europe owing to weak macroeconomic data and high inflation.
However, LNG price indices broke the extended downtrend in June 2023 as the Japan Korea Marker (JKM) soared on the back of gains in the European market, warmer weather in Asia and improved LNG buying in South Asian markets. The UK's National Balancing Point (NBP) also improved amid the extension of outages at Norwegian gas processing plants and increased gas demand due to warmer weather conditions, largely offsetting the negative impact on prices from healthy storage levels and declining carbon prices in Europe.
Monthly oil market snapshot – June 2023
Industry analysis for the month
Brent prices remained volatile through June, opening the month at USD74/bbl, falling to a low of USD71/bbl and recording a high of USD77/bbl before closing back at USD74/bbl.
Saudi Arabia's voluntary production cut of an additional 1 million bpd in July 2023 and the rest of the OPEC+ members extending the ongoing cut to 2024 had limited impact on oil price movement, as the market was focused on oil demand concerns in China, the US and Europe amid weak economic growth.
However, oil prices found support from several US events, including the government's approval of the bill to raise the debt ceiling limit, the Federal Reserve (the Fed) pausing rate hikes for June 2023 and declines in crude oil inventories.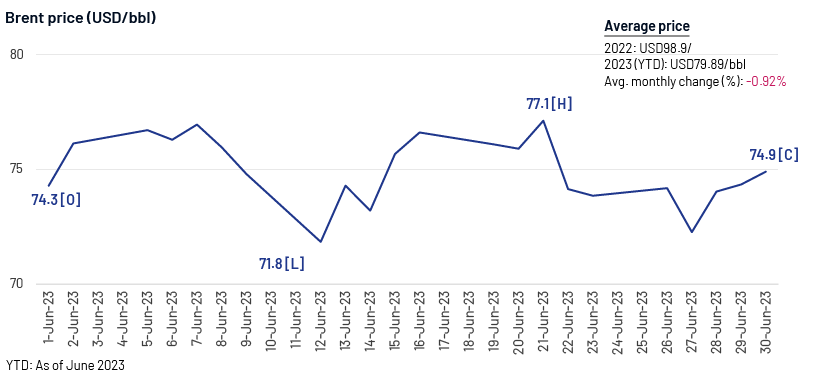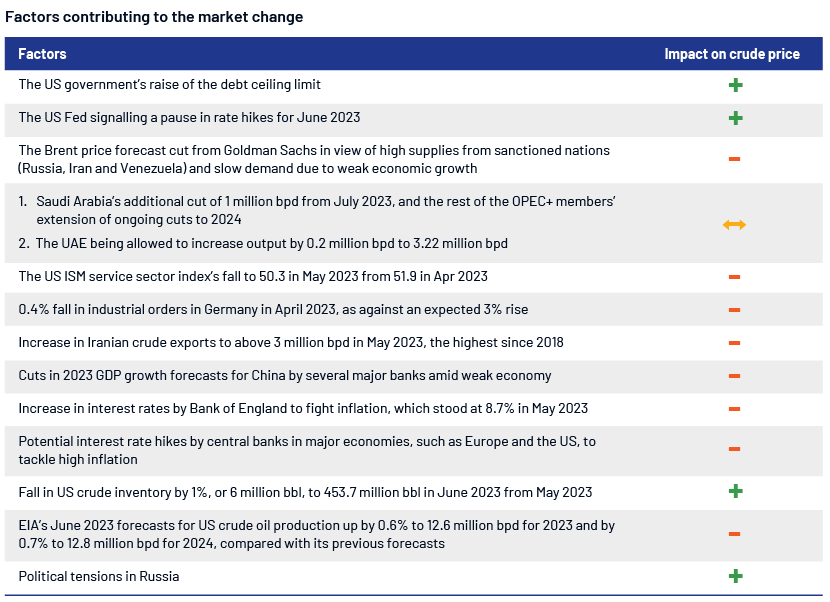 Industry updates (key M&A/investments/deals over the month)
Norway approves USD18.5bn investment in oil and gas projects.

Woodside Petroleum greenlights USD7.2bn Trion deepwater oil field in the Gulf of Mexico.

Civitas Resources, Inc. nears USD5bn oil and gas acquisition deal in the Permian basin from NGP Energy Capital Management LLC.

Eni and Vår Energi to buy Neptune Energy for USD4.9bn, one of the largest cash deals in Europe's oil and gas sector in years.

TRP Energy explores USD1.5bn Permian asset sale.

Gibson Energy buys South Texas Gateway Oil Terminal for USD1.10bn from Buckeye Partners.

Indian government starts process to fund state refiners' green goals via equity.

Berkshire Hathaway boosts stake in Occidental Petroleum to 25%.

Harbour Energy is in talks to merge with Gulf of Mexico peer Talos Energy.

Patterson-UTI Energy and Nextier Oilfield Solutions announce plans to merge; this will create an industry-leading drilling and completion services provider.

Pertamina signs 35-year extension for Algeria oil and gas block.

NOG announces agreement to acquire a 33.33% undivided stake in northern Delaware Basin Permian assets.

Criterium Energy is set to acquire Mont D'Or Petroleum Limited (MOPL).

Oil giant Shell plans to exit Pakistan after 75 years as part of strategic review.
Acuity's view
We believe the oil market could struggle for direction amid uncertainty in demand recovery in China. It would be interesting to see if the Chinese government manages to deliver on its stimulus aid promise to revive economic growth. Furthermore, high inflation in the eurozone and the US could keep oil markets under pressure amid expected rate hikes from various central banks along with expected supply surplus due to growth in non-OPEC production (especially US). That said, the prices can find support on OPEC+ members (Saudi Arabia and Russia) decision to extend production cuts.
Monthly gas & LNG market snapshot – June 2023
Industry analysis for the month
LNG markers showed signs of a reversal in the downtrend in June 2023, with NBP and JKM prices recording increases from the start of the month. During the month, UK NBP rose by USD3.90/MMBtu, or 58%, from the month's opening price of USD6.82/MMBtu to close at USD10.72/MMBtu. Similarly, JKM prices opened the month near USD9.00/MMBtu and saw increases over most of the month, closing at USD11.78/MMBtu.
The US gas benchmark Henry Hub (HH) also followed this trend, rising 7.1% during the month, with peak price reaching USD2.8/MMBtu on month end.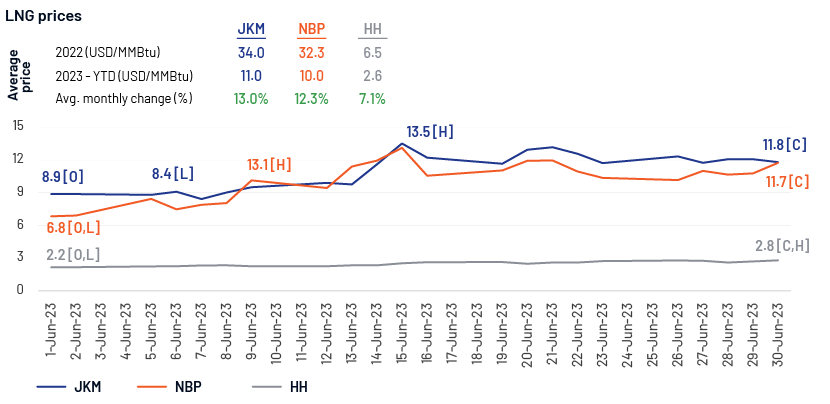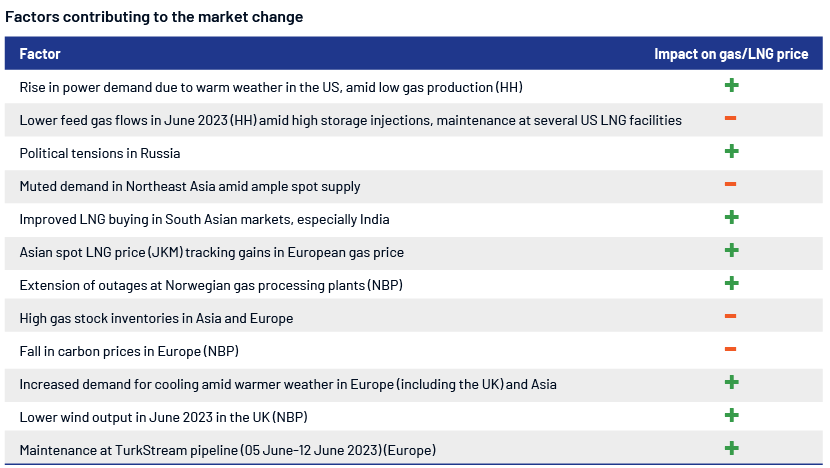 Industry updates (key M&A/investments/deals over the month)
Cheniere seals long-term SPA deal with ENN for 1.8 MMTPA of LNG.

Cheniere and Equinor sign long-term LNG SPA for 1.75 MMTPA for 15 years.

BP and Shell ink 20-year LNG MoU with Australia's Tamboran.

Pertamina and Petronas aim to replace Shell in the Masela project in Indonesia.

QatarEnergy selects CNPC as NFE partner and signs LNG deal to supply 4 MMTPA for 27 years.

Venture Global signs 20-year LNG offtake deal with Germany's SEFE, tied to the CP2 project.

Bangladesh strikes new long-term import deal with Oman for 0.25-1.50 MTPA of LNG for 10 years.

Tanzania aims to sign USD42bn host agreement for natural gas in July 2023.

Shell eyes USD100bn investment for upstream and LNG this decade.

TotalEnergies buys 17.5% stake in NextDecade for USD219m.

Pakistan and Turkmenistan sign a Joint Implementation Plan (JIP) to expedite work on the Turkmenistan, Afghanistan, Pakistan and India (TAPI) gas pipeline project.
Acuity's view
We believe that fundamentals such as high storage levels in key LNG demand centres in Northeast Asia, due to improving nuclear capacity in Japan and uncertainty in industrial demand in China, could push prices lower in the short term, helping price sensitive markets such as India to remain active. The European market is also expected to remain sluggish owing to high gas storage levels compared with the previous year. However, factors including a rise in summer temperatures, revamp of China's industrial output and uncertainties in Russian gas supplies could disrupt the relative calm of the current global LNG market.
How Acuity Knowledge Partners can help
We have a large pool of oil and gas experts experienced in providing strategic support across the value chain. Over the years, we have partnered with leading energy companies and have worked closely with their strategy, business development, market intelligence and M&A teams in providing the information and analysis necessary to achieve business objectives.
Acuity also offers its expertise in the power; renewables; metal and mining; environmental, social and governance; (ESG) and sustainability space.
https://www.acuitykp.com/solutions/energy-and-utilities/
Source(s):Benzinga, Shell, Reuters, Oil Price, Aramco, Reuters, Oil Price, Oil Price, Reuters, ET, Upstream, Money Control, EIAM, EIAJ, Aljazeera, Reuters, NN, Trading Economics, Reuters, Reuters, Reuters, Guardian, Edition, ECB, Energy Pedia, Bloomberg, Offshore-Technology, BW, Rigzone, OPEC, Bloomberg Investing, CME Group, ICE, Offshore Energy, Gulf O&G, PGJ Online, The Star, Gulf Times, Venture Global, Fin. Express, BNN Bloomberg, Upstream Online, Natural Gas World, Daily Times, Bunker Ports, Hellenic Shipping News, NG, TL , NG1, Edition, Energy Connects, NG3, Ember, Bunker Ports, Money Control, NG4, Financial Times, Energy Dashboard, BM Reports, Reuters, Reuters,
---
What's your view?
---
About the Authors
Gaurav has close to 14 years of experience working across oil and gas value chain. He has varied experience working on various strategic research projects involving market intelligence, competitive intelligence, market sizing models, industry benchmarking and market entry strategy. At Acuity Knowledge Partners, Gaurav is leading a team to support a major LNG player in various strategic research projects. He holds a MBA degree in Oil and Gas Management from University of Petroleum and Energy Studies and a BE degree in Mechanical.
Akshay Gupta is an energy analyst with over 6 years of work experience in oil and gas domain. At Acuity Knowledge Partners, he has been a consistent member for leading and liasoning various LNG and gas projects. His current interest includes energy market studies and exploring avenues for energy transitioning. He is a post-graduate in Business Management from TERI University.
Surbhi has close to 4 years of experience in oil and gas sector, with a major focus on LNG and upstream. At Acuity Knowledge Partners, she supports a leading LNG player in various strategic research projects involving market intelligence and competitive intelligence. Surbhi holds a MBA degree from University of Petroleum and Energy Studies and also B-tech degree in Chemical engineering.

Blog
Oil market pulse: October 2023....
The Brent oil price, which has rallied since July 2023 due to production cuts by OPEC+, fa....Read More

Blog
The Good, the Bad and the Worst in Leveraged Len....
The US Labor Department announced the consumer price index had advanced 3.0% y/y in June 2....Read More

Blog
Germany's stagflation explained – what to ex....
Recent events, including the pandemic and the Russia-Ukraine war, have presented significa....Read More

Blog
Oil market pulse: October 2023
The Brent oil price, which has rallied since July 2023 due to production cuts by OPEC+, fa....Read More

Blog
Oil and gas market pulse: August 2023
The average oil prices in August 2023 rose to USD85.1/bbl from July 2023 average price of ....Read More

Blog
Oil and gas market pulse: July 2023
The oil market rebounded sharply (up c.15%) in July 2023, as OPEC+ output cuts started to ....Read More
Like the way we think?
Next time we post something new, we'll send it to your inbox