Download Blog
Published on September 14, 2022 by Anshuli
Key takeaways
Saudi Arabia and the UAE have raised USD11.5bn through initial public offerings (IPOs) in the first six months of 2022 (1H22), while Europe has managed USD4.9bn.

Companies in the Middle East and North Africa (MENA) are removing foreign ownership limitations to attract international interest in the region.

Abu Dhabi Exchange (ADX) has launched Growth Market to encourage small businesses to opt for direct listing instead of IPO for participation in capital markets.
Activities in global markets have been muted in 1H22 on account of crises such as the Russia-Ukraine war, accelerating inflation, hike in interest rates (to combat inflation) and expectations of an impending worldwide recession. At the other end of the spectrum, Saudi Arabia and the UAE have not only performed well, but also been two of the best performing markets worldwide this year.
YTD 2022, the ADX, Tadawul All Share Index (TASI) and Dubai Financial Market (DFM) indices have advanced 14.8%, 4.7% and 6.0%, respectively, whereas S&P 500, Dow Jones and FTSE 100 have retreated 17.0%, 13.7% and 2.0%, respectively.
The top three MENA indices have grown materially in the last 12 months, while S&P 500 and Dow Jones have witnessed a slump during the period.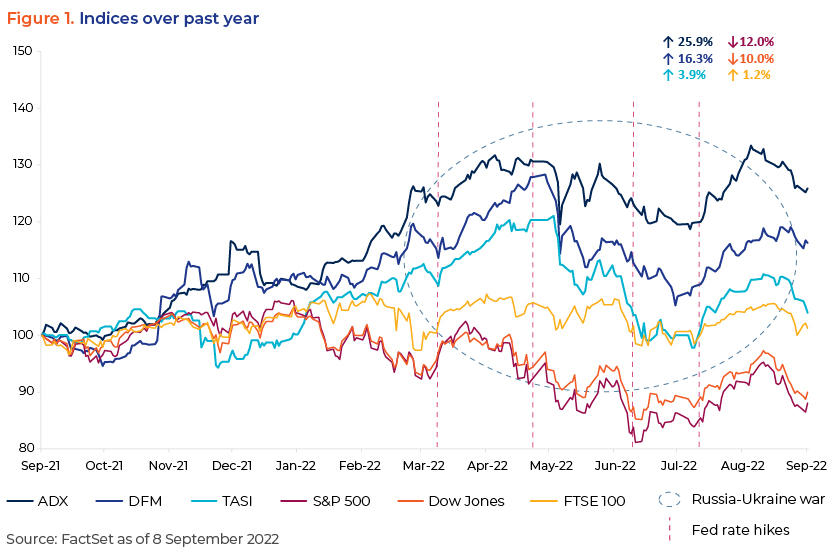 Catalysts that may drive Middle Eastearn markets to perform better in the long term are:
Increasing IPOs

Escalating foreign direct investment (FDI)

Soaring energy prices

Favourable government policies
1.Increasing IPOs
The Middle Eastern markets have overtaken their European counterparts when it comes to IPO proceeds in 2022. European IPO activity in 1H22 saw the issuance of USD4.9bn, whereas ADX, DFM and TASI cumulatively raised USD11.5bn during the period. The last time the Middle East beat Europe after 2009 was in late 2019, when Saudi Aramco's IPO recorded the world's largest offering.
IPOs on Tadawul alone have raised USD8,679.8m so far this year. DFM has witnessed the largest IPO in the EMEA since 2019, with Dubai Electricity & Water Authority (DEWA) raising a total of USD6,077.6m. DEWA share offering was tripled after seeing the global interest.
Borouge – a joint venture between ADNOC and chemical producer Borealis – raised USD2,004.9m through ADX listing. Borouge secured seven cornerstone investors on the first day of its IPO.
One company listed on Tadawul (Alamar Foods Co.) and DFM (TECOM) each in the past month, with the total proceeds at USD780.5m.
In 2022, the Saudi and UAE markets have raised a total of USD19,605.7m (see Figure 2 for listings). The recent listings were not just limited to the traditional energy or financial sector. 2022 listings include a pharmacy chain (Nahdi Medical), a food delivery app (Jahez) and real estate firms (TECOM and Retal Urban Development Co.)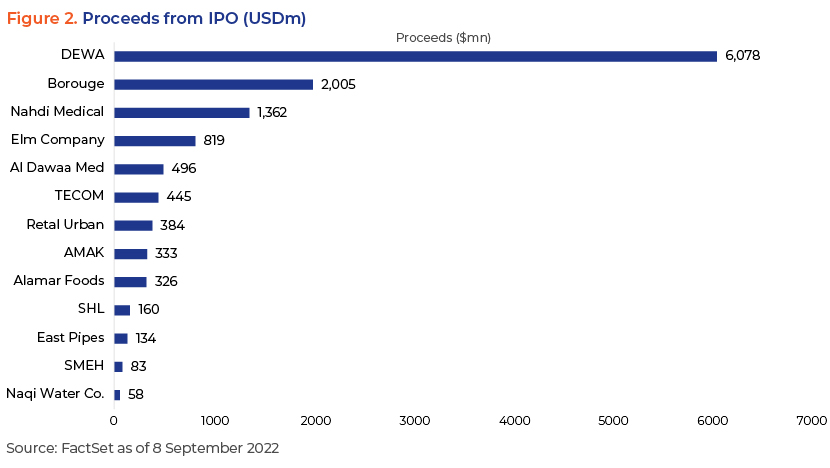 Recently, ADX revealed its rebranded Growth Market (earlier called Second Market), with a market capitalisation of AED62bn, encouraging start-ups, family businesses and early-growth companies to join capital markets through direct listing. FAM Holding announced in April 2022 its plan to list on the Growth Market. Prior to the rebranding, EasyLease, Stallion Group and Response Plus Holding listed shares on ADX's Second Market in December 2020, June 2021 and September 2021, respectively.
2. Escalating FDI
Over the last year, Saudi Arabia, the UAE and other Gulf economies have brought several reforms to attract foreign investment. According to Franklin Templeton, more than USD7bn of foreign capital flowed into Middle East stocks in March 2022. Investors running funds worldwide are shifting focus to the Middle East from countries that were once the top performers.
As a response to the swelling foreign interest, three major companies listed in the UAE increased their foreign ownership limits in April 2022:
Aramex PJSC became the first company listed on DFM to increase its foreign ownership limit to 100% from 49%.

National Marine Dredging Company, which was averse to foreign ownership earlier, permits foreign buyers to own up to 49% equity.

Arabian Scandinavian Insurance has received all the necessary approvals to allow foreigners to own 49% capital.
The practice is expected to have a ripple effect in the region.
3. Soaring energy prices
Oil-producing nations, especially Saudi Arabia and the UAE, are handling the above-mentioned crises better than non-oil-producing nations, buoyed by the recent ramp-up in oil prices, leaving the regional investors with additional funds to deploy in the markets.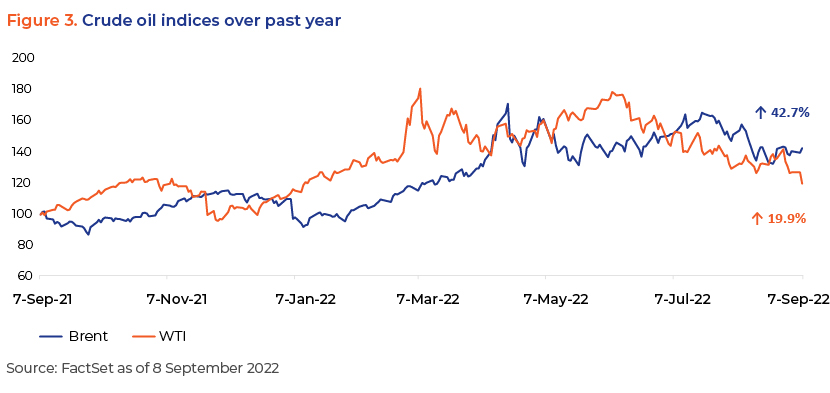 4. Favourable government policies
The Middle East governments are bringing in regulatory changes to encourage companies to go public. This is one of the many policies designed to bolster financial exchanges. The Saudi and UAE governments, in particular, have announced major economic overhauls and are investing the IPO proceeds to jump-start the non-oil sectors.
Saudi Arabia, while cutting its reliance on fossil fuels, is shifting its focus on the private sector. Saudi Crown Prince Mohammed bin Salman wants Tadawul to become one of the world's largest equity markets. The IMF has projected Saudi's economy to expand 7.6% y/y in 2022 and 3.7% y/y in 2023.
The nation is pushing rigorously to become a technology hub to lure domestic and international investors.
The Central Bank of UAE expects the economic growth of the country at 4.2% y/y in 2022. The growth is likely to be anchored by elevated energy prices and greater demand for goods and services as the COVID-19 pandemic eases. The UAE expects USD150bn in FDI by 2030.
Conclusion
The robust foundation of MENA equity capital markets is aiding them in setting record IPOs when developed markets are scrambling and barely surviving, thanks to the Russia-Ukraine war.
Saudi Arabia's and the UAE government's push for IPOs and FDIs, booming energy prices and rigorous competition have culminated in inflow of money into MENA markets. Each market in the region has more listed companies and cover a much wider spectrum of industries than before. Many more IPOs are in the pipeline in the region, namely VPS Healthcare, Al Ajaji Group and Saudi Arabian Logistics.
Growing inflation, softening oil prices and/or global economic meltdown could threaten the good times in MENA markets. Having said this, recent developments in financial markets and Saudi Arabia's and the UAE's outlook to become the world's largest equity markets will likely help the two nations overcome these roadblocks and remain the bellwethers worldwide.
How Acuity Knowledge Partners can help
Through our investment banking practice, we help banks and corporate finance advisers across the Middle East leverage our research and analysis services on mergers and acquisitions, capital markets and Islamic finance to achieve their objectives. We have partnered with leading investment banks in the Middle East since 2013, helping them scale up their coverage while reducing overall costs and time-to-market through access to a large talent pool.
Explore our investment banking solutions for the Middle East and see how you can benefit.
Sources
---
What's your view?
---
About the Author
Anshuli is a part of Investment Banking division at Acuity Knowledge Partners, currently supporting clients in the Middle East region across areas such as M&A, Capital markets, structured finance. She has completed PGDM in finance specialization from BIMTECH and has prior experience of approx. 1.5 years in a boutique investment banking firm.

Blog
Munis expected to shine soon....
Overview of municipal bonds and types Municipal bonds (or munis) are debt instruments is....Read More

Blog
IPO window waiting to reopen in 2023....
The IPO market almost shut down in 2022, when the market went from boom to bust as the Fed....Read More

Blog
The US IPO market after the pandemic....
US IPOs have been increasing since the pandemic, and the IPO market has been the strongest....Read More
Like the way we think?
Next time we post something new, we'll send it to your inbox