Download Blog
Published on February 15, 2023 by Anurag Jain
Introduction
Cryptocurrencies (or cryptos) are private digital currencies used as a means of payment or exchange and a store of value, and to power decentralised finance (DeFi) software projects on blockchains. Cryptos are global in nature and are mostly secured via decentralised computer networks, operating differently from fiat currencies such as INR, USD or GBP.
The term cryptocurrency was coined after several coins/cryptos entered the global market, the first being Bitcoin, launched in 2009.
According to Augusta Free Press, the number of cryptos dropped to c.10,000 globally in August 2022 from c.10,400 in February 2022. However, the exact number of cryptos trading in the market remains undetermined – the crypto market capitalization (MCap) aggregator Coinmarketcap.com has 22,140 listed coins, while CoinGecko.com has 12,862.
The top five cryptos (by MCap as of December 2022), which cover 75% of the market, are Bitcoin (BTC), Ethereum (ETH), Tether (USDT), USD Coin (USDC) and Binance (BNB).
The crypto market has witnessed significant swings, especially during the past one to two years. Below, we look at some of the factors that led to these fluctuations.
Historical performance of the crypto market
The global MCap of the 12,862 cryptos tracked across 623 exchanges by CoinGecko recorded a CAGR of c.12.9% during December 2013-December 2022.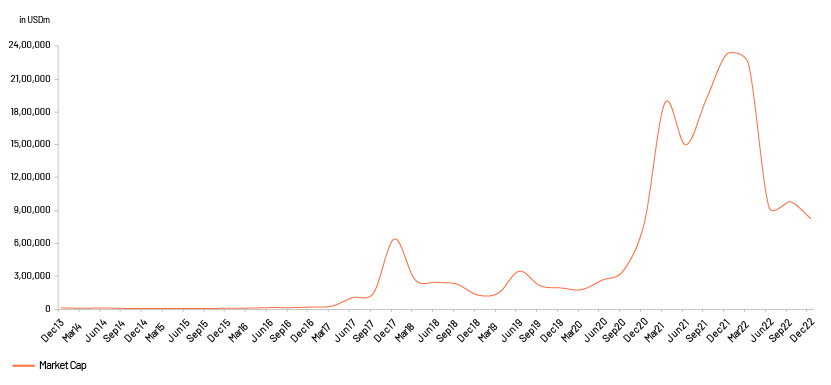 Factors impacting the market
While the pandemic did impact the growth of the crypto market, it was able to recover from the crisis, realising MCap of more than USD2tn at the start of 2022. However, the market has been shrinking again, reaching levels below USD900bn as of mid-December 2022.
Some of the factors that support or adversely impact growth in crypto prices and MCap are discussed below:
Sudden market movements: The Luna-Terra crash led to severe instability in the crypto market, with the TerraUSD and Luna dropping c.80% in May 2022, turning almost worthless. This has created fear among investors, and even aggressively bullish crypto investors are now apprehensive
Equity market movement: The crypto market is in some ways linked with the stock market; hence, a downtrend in the stock market may reflect in the crypto market as well. Many of the factors that affect stock prices could also affect crypto prices. In recent months, for example, dips witnessed in tech stocks, such as Amazon, Tesla and Apple, were followed by similar movements in the crypto market
Monetary/fiscal policies: While the US Fed now appears to be reining in its aggressive interest rate hikes – implemented to increase the cost of debt, slow down spending and control inflation – fears of a recession remain. The crypto market has also been witnessing a substantial dip, with investors panicking and selling assets
Crypto exchange movements: The decisions of crypto lenders or exchanges – where these currencies are traded – can impact the entire market. In June 2022, for instance, two exchanges, Celsius Network and Binance, froze crypto transactions and BTC withdrawals, respectively, as a result of the Luna-Terra crash
Regulatory challenges: Governments worldwide have been trying to regulate cryptos in their respective countries. While some countries are prohibiting the use of many of these currencies, others have been bringing in ways to regulate them. For instance, India is seeking to prohibit private cryptos in the country; it has also levied a 30% tax on crypto assets. Such decisions, when taken by any country, cause fluctuations in the crypto market
Statements/actions of renowned companies/people: The crypto market also sees fluctuations as a result of the statements and actions of globally known companies and people. Tesla's CEO Elon Musk, for example, stirred up the crypto market when he announced the company's plan to accept BTC as payment and then cancelled it later. As of July 2022, Tesla had sold 75% of its BTC holdings. That said, Musk has hinted at the possibility of the company accepting BTC again after due diligence on the energy consumed in the mining of the currency and the use of renewable resources
Recent events shaping the crypto market
1. The Ethereumtransition
The second-largest crypto, ETH, underwent a significant transformation when it changed its technology from a proof-of-work (PoW) protocol to a proof-of-stake (PoS) system. This transition, called 'the Merge', is expected to cut ETH's carbon emissions; however, it has affected the growth of both ETH and the overall crypto market.
Impact of the Merge on ETH
Cons

Replacement of miners with validators

Hit to ETH's MCap owing to "buy on rumours and sell on news" tendencies in the market following the Merge

Investor sentiment indicating readiness to dump ETH

Higher risk of hackers exploiting bugs in the code

Pros

Expectation that the Merge will encourage more investment in cryptos once the broader risk markets start to recover

Prospect of ETH surpassing BTC in MCap
Impact on global crypto market
Although crypto markets saw a slump after the completion of the Merge, market experts believe that it is a significant step towards the future usability of cryptos. While the Merge may not directly affect BTC and other cryptos, it may underpin the future of all crypto assets, given the growing focus of the financial industry on greener options.
2. US Federal Reserve (US Fed) rate hikes
While the US Fed is slowing interest rate hikes, its continued increases have put immense pressure on the crypto market, with MCap falling c.2.1% to USD907.3bn in September 2022. A continued increase in the rates would pose considerable headwinds for crypto assets going forward. In addition, the reactions of stock markets to the rate hikes have seen a positive correlation with reactions in the crypto market.
3. Top cryptos losing value
In 2022, BTC prices fell 75% to c.USD17,000 from an all-time high of USD69,000 in November 2021. Likewise, ETH prices dipped over 70%, coming in at c.USD1,200 as against its value of USD4,900 in November 2021.
4. Bankruptcy of exchanges and international risk of crypto loan defaults
FTX, a major crypto exchange based in the Bahamas, and its US branch FTX.US filed for bankruptcy in November 2022. Its founder Sam Bankman-Fried is currently facing fraud charges related to the use of c.USD10bn of customers' funds. The fallout of FTX's collapse may hit several other crypto firms, as their platforms have started witnessing large outflows.
In addition, defaults from miners on machine-backed loans have been rising owing to falling BTC prices and soaring energy costs.
Future of the market
After the crypto crash and other market conditions led to fear among investors in 2022, concern about the future of cryptos has grown. However, predictions still weigh in positive and negative possibilities, some of which we look at below.
BTC movement
According to The Times of India (TOI), the next halving event for BTC is scheduled to occur in April 2024

The four-year market cycle of BTC includes an accumulation (buying), an uptrend, distribution (selling) and a downtrend. While TOI believes the next accumulation is expected to begin in 2023, some experts believe that this could get deferred to 2024
Positive outlook
According to Time USA, interest in stablecoin regulation has continued to rise, especially following the recent Terra-Luna crash

A recent Analytics Insight article listed the cryptos that experts believe could outpace the market in 2023 and beyond – this included ETH, Cardano, Dogecoin, Uniswap, Shiba Inu, Solana, Binance Coin, Polygon, Filecoin and Polkadot

Punit Agarwal, founder of KoinX, a platform that allows the automation of crypto taxations, believes the development of new technologies that rely on blockchain and are applied to DeFi would bring benefits to the industry and associated people

According to Shivam Thakral, CEO of BuyUcoin, which is a crypto wallet and exchange platform, favourable macroeconomic conditions expected in 2023 and hints from central banks on the relaxation of monetary policies and interest rates could support the market. He also expects inflation to be a key factor and that the market could overcome the collapse of crypto giants and move towards a more mature phase on the back of healthy regulations and wiser investors

Marc Despallieres, Chief Strategy & Trading Officer at Vantage, believes that ETH could see a sharp rise in 2023
Negative/precautionary outlook
According to TOI, financial institutions are expected to temporarily reduce their involvement in cryptos in the near term owing to recent negative events in the market

CNBC reports that several industry players are predicting the collapse of thousands of digital tokens and a significant reduction in the number of blockchains in existence over the coming years

This prediction factors in the continued pressure on the crypto market and the race of different blockchain platforms for leadership in the industry

Scott Minerd, former Chief Investment Officer at Guggenheim, believed that while most crypto was junk, BTC and ETH were anticipated to survive
Conclusion
The crypto market had seen substantial investments and returns until 2021. However, it is currently witnessing a major upheaval owing to the factors we discussed earlier. With many of these conditions likely to persist over the near term, the market is swamped with varying predictions. While some analysts suggest that the market could decline further owing to volatility in macroeconomic conditions and stock prices, inflation and a possible recession that could last until 2024, some researchers are much more optimistic about the future of cryptos.
How Acuity Knowledge Partners can help
Acuity Knowledge Partners has 20 years of experience in supporting many of the world's leading investment banks, commercial banks and advisory firms. We are well equipped to help the investor community undertake research activities across different asset classes, including cryptocurrencies. Our analysts (MBAs, chartered accountants, CFAs) and credit analysis, compliance and investment banking experts function as an extension of the client teams by helping companies in the credit space globally, offering a wide range of solutions including portfolio monitoring, financial modelling and valuation, financial spreading, risk identification and mitigation and market research.
Sources:
https://www.coingecko.com/en/global-charts
https://timesofindia.indiatimes.com/blogs/voices/what-to-expect-from-crypto-markets-in-2023/
https://www.indiatoday.in/diu/story/future-of-cryptocurrency-whats-next-for-2023-2309157-2022-12-14
https://www.fortuneindia.com/investing/will-crypto-market-rebound-in-2023-heres-what-experts-say/110807
https://money.usnews.com/investing/term/cryptocurrency
https://crypto.com/research/2021-crypto-market-sizing-report-2022-forecast\
https://www.bbc.com/news/business-62246367
https://indianexpress.com/article/technology/crypto/the-great-crypto-crash-top-five-reasons-why-crypto-is-plunging-7971125/
https://www.businesstoday.in/crypto/story/dogecoin-tumbles-is-elon-musks-influence-on-cryptocurrencies-declining-342385-2022-07-22
https://www.coindesk.com/layer2/culture-week/2021/12/14/the-elon-effect-how-musks-tweets-move-crypto-markets/#:~:text=In%20the%20early%20stages%20of,of%20the%20world's%20richest%20man
https://www.businesstoday.in/crypto/story/crypto-markets-overview-what-to-expect-in-the-near-future-336690-2022-06-07
https://www.globenewswire.com/en/news-release/2022/05/25/2450546/0/en/Global-Cryptocurrency-Market-to-Grow-at-a-CAGR-of-12-2-in-the-Forecast-Period-BlueWeave-Consulting.html
https://www.fortunebusinessinsights.com/industry-reports/cryptocurrency-market-100149
https://www.analyticsinsight.net/top-10-cryptocurrencies-that-will-hit-new-highs-in-2023-and-beyond/
https://time.com/6177567/terra-ust-crash-crypto/
https://time.com/nextadvisor/investing/cryptocurrency/future-of-cryptocurrency/
https://www.analyticsinsight.net/top-10-cryptocurrencies-that-are-on-the-verge-of-a-major-breakout/
https://www.forbes.com/advisor/investing/cryptocurrency/crypto-market-outlook-forecast/
https://www.thomsonreuters.com/en-us/posts/wp-content/uploads/sites/20/2022/04/Cryptos-Report-Compendium-2022.pdf
https://complyadvantage.com/insights/cryptocurrency-regulations-around-world/
https://www.coindesk.com/tech/2022/09/15/the-ETH-merge-is-done-did-it-work/
https://www.euronews.com/next/2022/09/15/the-ETH-merge-has-big-implications-for-crypto-mining-and-BTC-what-to-know
https://www.coindesk.com/tech/2022/09/15/pivotal-ETH-merge-brings-sell-the-fact-price-move-in-crypto-markets/
https://www.coindesk.com/tech/2022/09/14/BTC-after-the-ETH-merge-experts-weigh-in/
---
What's your view?
---
About the Author
Anurag Jain is part of the Private Equity & Consulting team at Acuity Knowledge Partners. He has 9+ years of experience in research, and currently supports private equity clients with research assignments including initiation and thematic reports, economic updates, data research and company presentations. He holds a Master's degree in Finance

Blog
Pet humanisation in China: how dogs and cats are....
Introduction There are as many as 51m pet dogs and 65m pet cats in urban China. If distri....Read More

Blog
Impact of the metaverse on the financial world....
Augmented reality (AR) technology brings the digital world into our physical world, wherea....Read More
Like the way we think?
Next time we post something new, we'll send it to your inbox