Download Blog
Published on August 14, 2019 by Rajarshi Maulik
After the EU referendum, house price growth in the UK plummeted, reflecting serious concerns on the repercussions of Brexit on the UK housing market. Since the Brexit vote in June 2016, transactions in the housing space have also slowed sharply as buyers and sellers continue to wait and watch the uncertainty. Nevertheless, demand for new-build homes has remained strong on the back of the extension of the 'Help to Buy' scheme. To meet this strong demand, labor supply after Brexit will play a crucial role, as it is imperative that the builders get access to skilled labor from overseas. We believe the deadline of October 31, 2019, by when the UK has to leave the EU with or without a deal, therefore indicates a threat to the UK housing market. The possibility of a 'no-deal' Brexit means that the UK and the EU would be unable to reach a withdrawal agreement and that, as such, there will be no 21-month transition period as promised.
UK housing market since the Brexit vote
Annual house price rates of change (12-month percentage change) started to decline after the EU referendum in June 2016. The most recent data from the Office for National Statistics (ONS) shows that average housing prices in the UK increased a marginal 1.2% in May 2019, compared to an increase of 3.1% in May 2018 and 1.5% in April 2019. The lowest growth was witnessed in London, where prices fell by 4.4% in the year to May 2019.
Annual house price rates of change, UK all dwellings(y/y % change)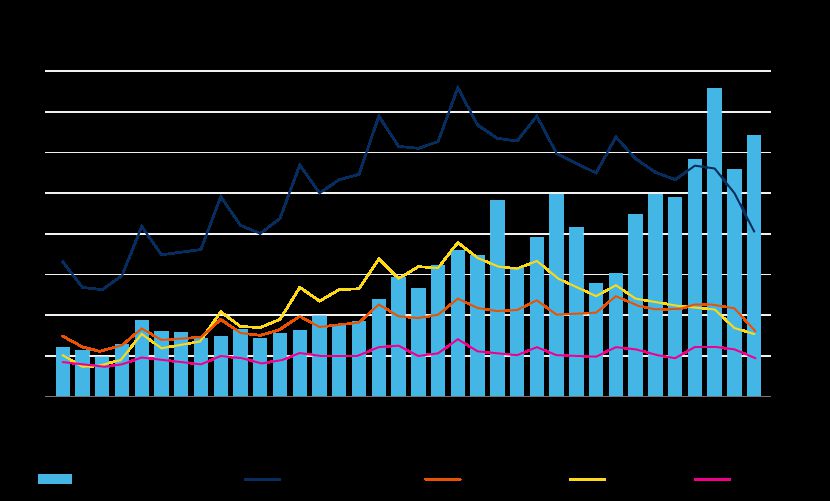 Source: Office for National Statistics
Transaction volumes, which indicate the number of property sales in a particular month, also declined. The latest data from HM Revenue and Customs suggests a 16.5% y/y drop in the number of residential property transactions in June 2019.
Sellers have also been disappointed by the tentative responses of buyers in the secondary market. Recent statistics indicate that it is taking sellers longer to sell their homes than in previous years. In January 2019, the average time for a property to sell was at a record-high 77 days. Sluggish transactions underscore the concern surrounding buying a home in the run-up to Brexit.
Consequences of a 'no-deal' Brexit
Newly appointed Prime Minister Boris Johnson has a mandate to lead the UK out of the EU by October 31, 2019, with a better Brexit deal than his predecessor's. The likelihood of a 'no-deal' Brexit has prompted the UK to hold a buffer of GBP2.1bn (USD2.6bn) to ensure that the country is ready to leave the EU with or without a deal.
We believe that a 'no-deal' Brexit will leave the UK in a worse position, with the following likely to occur:
UK economic growth to slow

Disposable income to reduce due to inflation

Fear of job losses as companies possibly move out of the UK

Currency depreciation
The Bank of England (BoE) has cut the UK's real GDP growth forecast for 2019 and 2020 to 1.3%, from 1.5% and 1.6%, respectively. This is BoE's weakest annual growth forecast since 2012, reflecting a major concern.
For the housing market, the uncertainty surrounding Brexit has made buyers wary, resulting in sluggish demand. In July, the Office for Budget Responsibility forecast a c.10% decline in housing prices by mid-2021 in the event of a 'no-deal' Brexit. We believe the resulting lower disposable income and job insecurity will weigh heavily on the housing market.
Given the current scenario, we believe a 'no-deal' Brexit is the most likely outcome. The UK government, under the leadership of the new prime minister, is likely to take the following steps to offset its impact:
General tax cuts to stimulate consumer demand

Providing tax incentives to corporates to encourage them to stay invested rather than leave the country

Providing financial aid packages to sectors that are most likely to be affected
We further believe that prospective home buyers are likely to remain cautious going forward and consider job security, wage growth and interest rates before purchasing a house in the UK.
Acuity Knowledge Partners provides offshore underwriting support to UK-based banks in lending to UK-based social housing entities. Our credit managers have a deep understanding of the UK housing market and are able to provide prudent views in underwriting paper to facilitate better decision making by origination and credit risk teams.
Sources
---
What's your view?
---
About the Author
Rajarshi Maulik has 16 years of experience in commercial lending, investment banking and equity research. In his 9+ years at Acuity Knowledge Partners, he has worked with some of the largest banks in Europe. He is an expert in the Banking and UK housing sector and part of the commercial lending team at Bangalore delivery center.

Blog
Outsourcing trade finance operations – a strat....
In today's globalised economy, trade finance plays a crucial role in facilitating internat....Read More

Blog
Why effective covenant monitoring is essential f....
In 2020, the global economy suffered from the effects of the pandemic such as supply-chain....Read More

Blog
Alternative data-powered machine learning modell....
Introduction The two most common challenges banks face in acquiring new customers for len....Read More

Blog
Will 2022 test the resilience of UK banks?
There are c.344 banks in the UK; they include international and private banks, and 52 buil....Read More

Blog
German banks – Are they prepared to face ma
German banks are facing challenges amid increasing corporate insolvencies and deterioratin....Read More
Like the way we think?
Next time we post something new, we'll send it to your inbox