Download Blog
Published on January 10, 2022 by Dilakshi Wijesinghe
While it could be argued that 2021 has been more stable and less unpredictable than 2020 for digital marketing in the asset management space, marketers are still facing the effects of the pandemic-led disruption. Currently, there is more demand than ever for digital marketing, owing to rapid growth in technology, regulatory changes and an increase in industry audience expectations. This has led to uncertainty on what 2022 might bring for the digital marketing domain as crafting digital marketing strategies becomes more and more complex. There are, however, certain trends that we believe will dominate the digital marketing space based on the decisions made by advertising platform giants.
Goodbye to the Cookie
In January 2020, Google announced its decision to eliminate third-party cookie tracking from its search engine Google Chrome by 2022 to support user-demand for privacy. While this change is likely to be delayed until 2023, it would have a huge impact on effective ad targeting, making it considerably more difficult for advertisers. Moreover, this change is currently being adopted by other browser technology companies, such as Apple and Firefox, as they are blocking cookie tracking or limiting the cookie's lifespan to a week.
A recent study by Gartner estimates that 80% of marketers are likely to abandon their personalisation efforts by 2025. According to a survey conducted by Accenture, 71% of the audience is not comfortable with advertisers' ability to gain access to personal information about them or their family that they did not share directly. Nearly 30% of the audience was of the opinion that brands have become 'too personal' and 69% mentioned that they would reconsider continuing their relationship with these brands because of this.
Rise of artificial intelligence (AI)
As a result of the decision to eliminate third-party cookie tracking, AI in digital marketing will take on a more aggressive form. Digital marketing strategies that do not leverage AI technologies will miss out on opportunities presented by web traffic reports, keyword recommendations for better organic digital presence and predictions of user behaviour. This will affect the company's sales funnel significantly. For businesses to feature high up in search results or to target the right audience without tracking, marketers will need to use AI and look into optimising the use of web analytic tools.
With the help of AI applications, digital marketers can process billions of data points available across multiple digital marketing platforms that will fit the direction of the brand. Using this data, AI applications can process and provide predictive analytic insights for marketers to optimise the conversion funnel. However, the data is speculative and must be thoroughly studied before implementing them into marketing strategies.
Metaverse – the 'next big thing'
With Facebook officially rebranding itself as 'Meta' on 28 October on all company-owned platforms (including Facebook, WhatsApp and Instagram), company CEO Mark Zuckerberg introduced the group's key product – metaverse – an on line 3D virtual space that will allow users to teleport instantly as a hologram, enabling them to be present at places, including office, concerts or events, without physically commuting.
Based on Google Trends data gathered over the past four months, the graphs below show a growing interest of internet users and corporates in augmented/virtual reality-based platforms.

Given this, demand for virtual and augmented experiences is expected to grow rapidly. By further analysing the data, the following search queries have been ranked as the top five trending search queries and top five rising search queries on metaverse. This is a great indicator of audience's interest and willingness to embrace the next digital era.

Growing interest in metaverse currency and early-user readiness to invest in virtual real estate, such as Earth 2.0, present a unique opportunity for the financial industry. As the world moves towards 'remote' working and as the asset management industry accepts digital communication, digital marketers need to look into opportunities to incorporate augmented reality and virtual reality into their strategies.
Zero-click search
With the growing use of voice assistants, such as Alexa and Siri, voice searches have become increasingly popular among the audience, contributing to the rise in 'zero-click searches'. This allows users immediate access to information without visiting a website, blog post or advertisement. According to a study conducted by SimilarWeb, zero-click search results increased by 65% (made up by 47% of desktop and 77% of mobile device search results) in the last one year.
Below is an example of the most common type of zero-click search attempt made by the audience in the asset management space: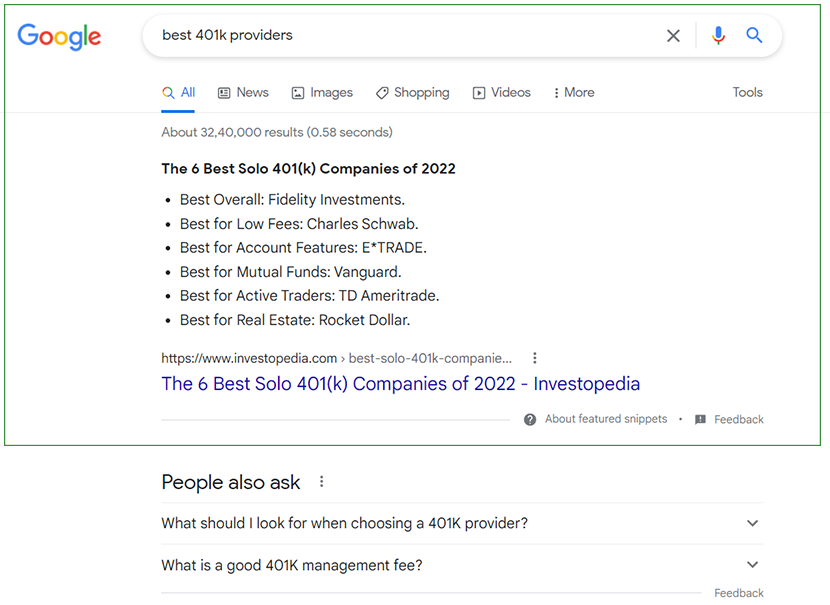 To take advantage of this rapidly growing trend, asset management companies need to ensure that their web content is optimised for featured snippets. Marketers can also take advantage of zero-click searches by optimising brand resources with appropriate keywords and metadata to help them rank higher in search results. See our insight paper on Content Marketing Trends for ways to optimise content for voice search.
Bonus trend of 2022: Scoring
Although this is not a new concept for lead generation-based sales and marketing, introducing propensity models – a statistical scorecard that is used to predict the behaviour of prospectors – formulated with machine learning will provide valuable insights to user segments. This will allow marketers to focus on digital advertising efforts and divert their attention to those aspects where leads are guaranteed (or with more possibility of acquiring). Click here to learn more about lead scoring solutions provided by Acuity Knowledge Partners.
Conclusion
Due to ever-changing technologies, confidentiality laws and audience expectations, asset management industry marketers are expected to navigate swiftly through the fine line between personalisation and compliance. Therefore, it is important to be flexible and keep pace with the changing market conditions, stay on top of the wave of customers' demand and interest, and choose the right digital marketing trends that work best for the client.
Sources:
https://www.forbes.com/sites/forbescoachescouncil/2021/12/07/twelve-digital-marketing-trends-for-2022-and-how-to-take-advantage-of-them/?sh=5f7c192d7138
https://advisor.morganstanley.com/the-irvin-and-bevack-group/documents/field/i/ir/irvin-and-bevack-group/Vr%20ar%20metaverse%20alphacurrents.pdf
https://merehead.com/blog/top-5-digital-marketing-trends-make-business-successful-2022/
https://www.accenture.com/_acnmedia/pdf-110/accenture-see-people-not-patterns.pdf
https://markets.businessinsider.com/news/stocks/metaverse-investing-virtual-world-land-sales-jefferies-facebook-meta-sandbox-2021-12
https://www.gartner.com/en/marketing/research/gartner-marketing-predictions-trends
https://www.gartner.com/en/articles/5-impactful-technologies-from-the-gartner-emerging-technologies-and-trends-impact-radar-for-2022
---
What's your view?
---
About the Author
Dilakshi Wijesinghe is a Delivery Lead within Fund Marketing Services vertical at Acuity Knowledge Partners and has over 8 years of experience in digital marketing, Search Engine Optimization & data analytics. She has experience creating digital marketing strategies using market insights, competitive intelligence, SEO & web analysis, digital advertising, and similar assignments for our FMS clients. Her previous experience includes tenures with startups, advertising agencies, and corporates, where she focused on paid advertising, SEO, web and data analytics, as well as growth hacking and autonomous product development.

Blog
Advantages of having a remote executive assistan....
"They're troubleshooters, translators, help desk attendants, diplomats, human database....Read More

Blog
Metaverse – the financial services sector's ....
The metaverse appears to be among the most exciting investing themes for the next decade. ....Read More

Blog
Leveraging search engine optimisation/paid ad
With the recent shift from traditional marketing avenues to digital marketing platforms, a....Read More
Like the way we think?
Next time we post something new, we'll send it to your inbox