Download Blog
Published on April 12, 2022 by Gaurav Sharma and Surbhi Joshi
The Russia-Ukraine crisis has led to a major shock in the energy sector, with significant pressure on the world to impose as many sanctions on Russia as possible. The US has already banned Russian oil and gas imports, and Europe is announcing plans to reduce its reliance on Russian gas.
However, with the Europe Union (EU), it is easier said than done. The region relies on Russia for c.46% of its gas supplies (including liquefied natural gas, or LNG) and imported around 152.8bcm of gas from Russia in 2021; the remainder was from countries such as Norway, Algeria and, Libya and others.
With domestic production falling steadily and consumption remaining steady, the region would have to consider a number of options when phasing out its reliance on Russian gas.
Figure 1: EU – the domestic production and consumption gap1

In 2021, the EU's gas imports from Russia were more than double its overall LNG imports. The region imported 67.32bcm of LNG, of which c.20% came from Russia, making it the single most important exporter to the region. 13
Figure 2: EU's LNG imports vs gas imports from Russia2,2 3

Russian gas also plays an important role in maintaining the region's storage levels; all additional gas goes into storage, helping manage any high demand during winter.
The EU's gas storage levels have currently hit a bottom, with merely 26% full as of 05 April 2022, below the three-year average. Any disruption to Russian flows could significantly reduce the already low storage levels, reducing the region's ability to meet demand when the heating season starts (in less than seven months)

Global response to Russia 18
In response to Russia's aggression towards Ukraine, both the US and the EU have imposed sanctions against Russia.
The US and allies banned Russian banks from SWIFT payment systems

Germany halted the Nord Stream 2 approval process, and the US imposed sanctions on Nord Stream 2 AG, which is planning to file for insolvency under the Swiss legal framework

Oil and gas majors such as Shell and BP exited stakes in Russian projects

President Biden banned US imports of Russian oil, gas and coal
However, the bigger questions are whether the EU can totally move away from Russian gas, and what the possible roadmap for achieving this would be.
Can LNG supply offset the halt of Russian gas flows to the EU?
Constraints to global LNG availability 7, 8, 9, 10, 11
The global spike in LNG demand after the pandemic-related slump, along with the highest number of long-term deals in 2021 and few FIDs in the past two years, has led to limited spare capacity.
Growth in LNG supply in 2022 from key exporters Qatar, Australia and the US is expected to be a mere 6% to 246MTPA from 232MTPA in 2021, according to Bloomberg. The 14MTPA or 19.31bcm growth in supply accounts for only 13% of average annual supply of Russian gas to Europe (in the event all new supply is shipped to Europe).

Supply limitations from top exporters:
In 2021, there was a surge in long-term contracts from Asian buyers with the US, which could limit the scope of the US supplies getting shipped to Europe

In addition, a Qatari minister announced that most of Qatar's volumes are tied to long-term deals with Asian buyers and only 10-15% of its volumes could be diverted to European buyers in the event of need.

Supply from Australia remains uncertain, according to Credit Suisse, despite assurances from the country's ministers. Production plants are already running at full capacity amid high LNG prices, and LNG producers will likely sell surplus LNG volumes to the highest bidders, most often Asian customers. Producers also need to keep Australia's domestic gas market on the east coast well supplied.
Bloomberg expects Asia's LNG demand to grow by 5% in 2022, with China's imports increasing by 10%, driven by its economic recovery and a push to switch from coal to gas, to meet its climate change-related targets. Europe would need to compete with Asian buyers, which would be difficult.
However, higher spot prices, driven by a disruption in Russian supply in both the Pacific and Atlantic Basins could lead to a destruction in gas demand in both regions. Nevertheless, the record-high prices of oil and coal would make the switch to either of these challenging.
Europe's regasification capacity has limitations, too12, 13, 14, 15,16
Europe's LNG import capacity (excluding Turkey) stands at around 152.50MMTPA or 12.7MT/month. The region has limited available capacity to absorb extra supply from exporters in the event Russian flows are disrupted.
Spain, which accounts for 29% of the region's import capacity, can export pipeline gas only to France and has limited connection to the rest of northwest Europe

The UK, which accounts for 23% of import capacity, is already running at maximum capacity and does not receive physical Russian flows

Germany, which received 34% of Russian gas supplies in 2020, has no direct access to LNG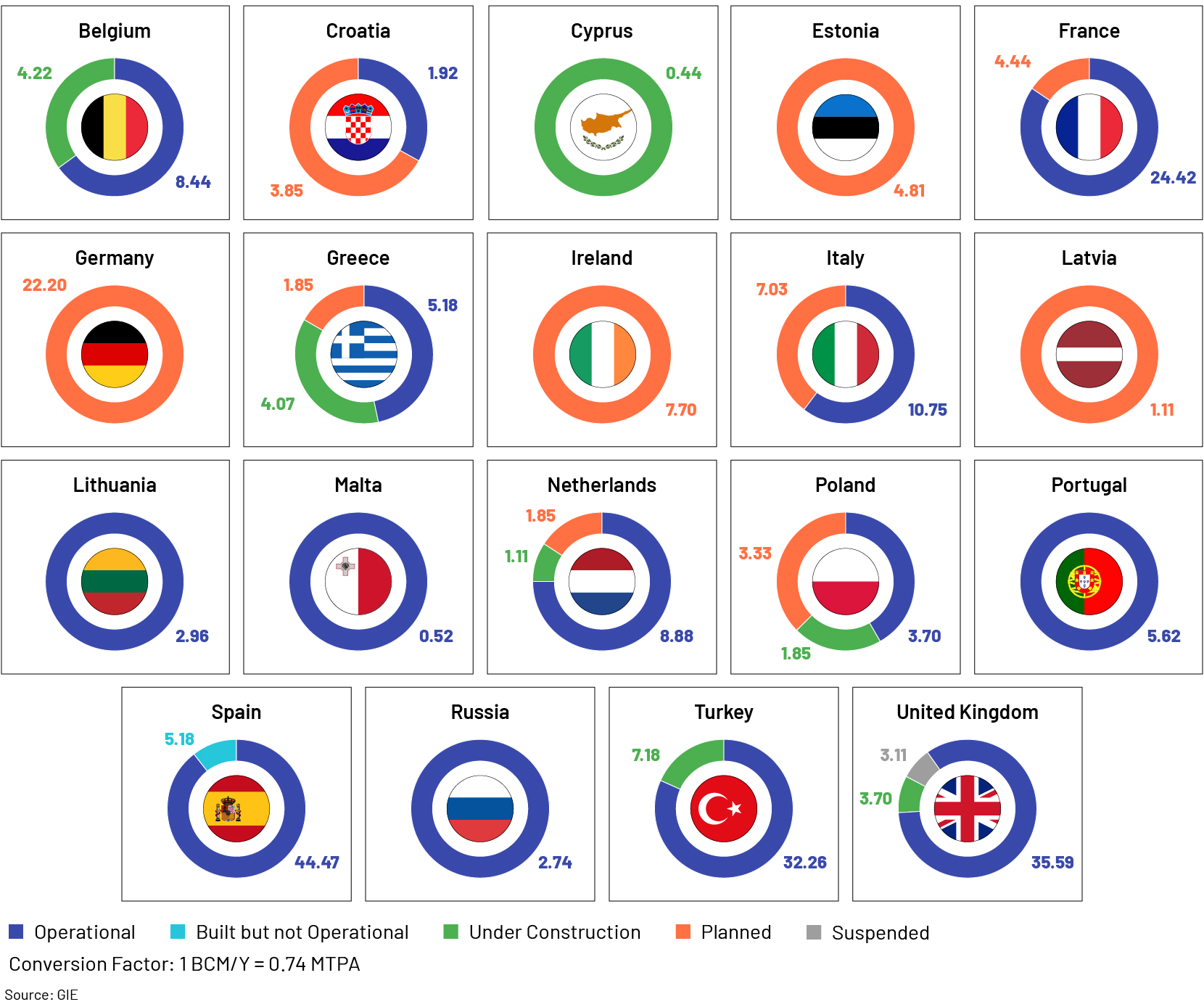 EU's roadmap to reduce dependence on Russia's exports5, 6, , 27
The EU compiled REPowerEU, a proposal to reduce the purchase of Russian gas by two-thirds before end-2022.
The EU will make a legislative proposal by April 2022 to target filling 90% of gas storage tanks by 1 October each year

The EU is already speaking with countries such as Algeria, Azerbaijan, Egypt, Israel, Japan, Korea, Nigeria, Norway, Qatar, Turkey and the US to obtain gas via pipeline or LNG

The region plans to produce 35bcm of bio-methane by 2030

Other steps include creating a hydrogen accelerator, investing in energy efficiency in residential and commercial areas to save 25bcm of gas a year and accelerating the rollout of renewables

The International Energy Agency (IEA) plans to reduce reliance on Russian gas, enter no new gas supply contracts with Russia and replace around 30bcm of gas through non-Russian supplies.
The EU has already started exploring options to procure gas/LNG and reduce its dependency on Russian supplies:
EU and US plans to work together for procuring 15 bcm of LNG supplies in 2022 as the region seeks to cut Russian gas by two-thirds in 2022 and end all fossil fuel imports by 2027

Germany signed long term energy deal with Qatar

In addition, Slovenia has also initiated talks with Qatar over a potential supply deal in near future
Difficult options facing Europe19, 20, 21, 22, 23, 24, 25
As it plans to reduce its dependence on Russian gas, the EU has to work on a number of areas:
Infrastructure spending:

Limited additional supply of LNG globally and the various issues surrounding the use of LNG regasification infrastructure make it difficult for the EU to replace Russian gas immediately. However, it is taking steps to resolve these.

Snam, Italy's leading infrastructure operator, is accelerating infrastructure spending, focusing on a new Spanish subsea pipeline and LNG receiving route from Spain to Italy

GNL Rovigo, Italy's largest LNG terminal, operated by Adriatic LNG, has submitted plans to increase its capacity to 9bcm a year from 8bcm

Germany, which receives 40% of its gas from Russia, has announced plans to build its first LNG terminal and develop another terminal to the west at Wilhelmshaven. It has also agreed to a gas deal with Qatar to help end dependence on Russia

Increase domestic supply:

Norway and the UK, the region's largest gas producers, have taken the following steps.

Equinor has announced plans to increase production by 1.4bcm from its Norwegian fields Oseberg and Heidrun

The UK's Treasury has decided to encourage banks/lenders to fund North Sea oil and gas projects

The region is also contemplating delaying the closure of the Groningen gas field, largest gas field in the region. The risk of earthquakes remains a key limitation if the Groningen gas field continues to operate

Increase output from other fuels:

In the event the EU plans to replace energy derived from Russian gas with energy derived from other sources, we believe it has to increase energy output (assuming increase from single source) from oil by 24% or coal by 83% or nuclear by 80% or hydro by 161% or renewables by 70% in the region's energy mix (analysis based on BP statistical data). However, there are several headwinds challenging increasing generation from alternative sources:

Higher coal generation is a possible scenario to adopt in the event of disruption, but if Russian coal is also banned, a shift to coal would be difficult, as Russia is a key supplier of high-quality coal to Europe.

Countries would have to delay phasing out nuclear generation

Record-high oil prices, with US banning Russian oil and Russia being a key oil exporter to Europe, make it less possible to increase the share of oil in the energy mix

The uncertainty and volatility around significantly increasing the share of output from hydro and renewables in the energy mix makes reliance on these green sources a risky option
The shift will require making tough decisions. The EU would have to prioritise energy security over energy transition as net zero goals take a back seat. The move towards coal and oil would delay reaching carbon-reduction targets, but these may be needed to be viewed as transition fuels while the region steps up investment in cleaner energy.
---
What's your view?
---
About the Authors
Gaurav has close to 14 years of experience working across oil and gas value chain. He has varied experience working on various strategic research projects involving market intelligence, competitive intelligence, market sizing models, industry benchmarking and market entry strategy. At Acuity Knowledge Partners, Gaurav is leading a team to support a major LNG player in various strategic research projects. He holds a MBA degree in Oil and Gas Management from University of Petroleum and Energy Studies and a BE degree in Mechanical.
Surbhi has close to 4 years of experience in oil and gas sector, with a major focus on LNG and upstream. At Acuity Knowledge Partners, she supports a leading LNG player in various strategic research projects involving market intelligence and competitive intelligence. Surbhi holds a MBA degree from University of Petroleum and Energy Studies and also B-tech degree in Chemical engineering.

Blog
Oil and gas market pulse: June 2023....
The OPEC+'s efforts to prop up oil prices – including Saudi Arabia's announcement of....Read More

Blog
Oil and gas market pulse: May 2023....
Oil prices remained under pressure in May 2023 as macroeconomic concerns such as the prolo....Read More

Blog
Oil market pulse: October 2023
The Brent oil price, which has rallied since July 2023 due to production cuts by OPEC+, fa....Read More

Blog
Oil and gas market pulse: August 2023
The average oil prices in August 2023 rose to USD85.1/bbl from July 2023 average price of ....Read More

Blog
Oil and gas market pulse: July 2023
The oil market rebounded sharply (up c.15%) in July 2023, as OPEC+ output cuts started to ....Read More
Like the way we think?
Next time we post something new, we'll send it to your inbox