Technology integration into SUPPLY CHAIN MANAGEMENT
The pandemic has disrupted the supply chain management process across industries, and the situation is only expected to worsen. The pandemic-induced shift in buyers' and sellers' preferences towards digital methods has driven growth in supply chain-related technologies. A number of companies are reported to be modifying their supply chain capabilities to maintain operations amid this crisis and ensure growth.
• Key participants are now focusing on integrating smart solutions with supply chain management to optimise the process and gain a competitive advantage. These smart solutions have a wide range of applicability across supply chain processes – from planning supply chain projects to delivering the product.
• Smart supply chain solutions are based on emerging technologies, including AI, cloud, blockchain and IoT. Implementing these solutions in supply chain processes yields several benefits, including cost efficiencies and the ability to manage governance and compliance, avoid delay and prevent fraudulent activity.
Key Takeaways
• Cloud adoption in supply chain management helps optimise the process by integrating data from various sources and analysing it to identify risks and opportunities, enhancing collaboration among related parties via connected systems and improving inventory management.
• IoT collects data from several devices, including internal company sensors and connected products with end users, to provide supply chain managers with an understanding of consumer requirements and expectations.
• AI has gained significant popularity for making the entire supply chain management process simpler and more accurate. It reduces the staff requirement, critical for companies wanting to reduce costs and errors.
• Blockchain technology adoption is evolving in supply chain management. It helps gain end-to-end visibility and decentralised information and achieve accuracy in processes, reducing the need for invoice auditing programmes.
---
Author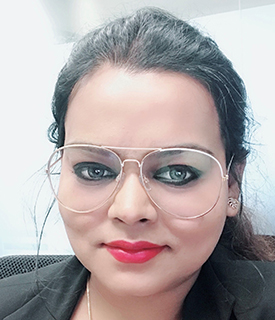 Shreya
Delivery lead
Shreya is a Delivery Lead in Acuity Knowledge Partners supporting consulting & corporate clients, across sectors. She has a nearly 9+ years of rich experience in business advisory & consulting, deal strategy, industry mapping, market analysis/sizing, competitive benchmarking, among others
She also attended several technology oriented international conferences including Cloud Expo Asia, RSA Conference, DevOps India Summit, Forgerock Identity Day and many others
Shreya is a Certified PMP (Project Management Professional) accredited by the PMI (Project Management Institute). She holds a MBA degree in International Business from University of Petroleum & Energy Studies (Dehradun)
Technology integration into SUPPLY CHAIN MANAGEMENT

Your file will start downloading automatically
If it does not download within 1 minute,