Download as PDF
Published on November 13, 2019 by Prashant Gupta
Global venture capital (VC) investment surged again in 2018, surpassing USD250bn for the first time in a decade. Companies in the US continued to dominate global investment activity, receiving more than 50% (c.USD132bn) of total investment. VC funding to companies in the Asia Pacific region grew to over USD90bn, but the global share decreased slightly due to significant growth in the US. In Europe, VC funding increased marginally to just over USD24bn, but its global share dropped below 10%.
The number of new unicorns increased sharply to over 94 in 2018 (from 53 in 2017), of which the US accounted for 53, almost twice the number of new unicorns in Asia (26) and five times the number in Europe (10). VC investment maintained its momentum in 1Q 2019, with USD53bn of funding across 2,657 deals and the number of new unicorns reaching 23.
While VCs are funding startups from all industries, which industries are capturing their attention the most, and in what new and dynamic businesses are VCs investing?
Most VCs target sectors that are less crowded in terms of investments and have high return potential. Emerging sectors that appear attractive include cybersecurity, robotics, food delivery, transportation, artificial intelligence (AI) and machine learning, biotech, healthtech, fintech, and traditional industries ready for disruption. The artificial intelligence (AI) remains attractive, with categories such as neuroscience, oncology, gene therapy, and medtech continue to give positive momentum.
It is worth noting that the software sector continues to account for the largest share of VC funding, with large capital flows pouring into core software and SaaS companies. More than USD100bn was invested in the sector in 2018, covering all stages of investment.
However, other businesses are also drawing attention. Transportation is another hot investment sector, attracting VC funding across its segments such as self-driving, smart-trip technologies, new energy vehicles, and ride-hailing services. We also expect AI to continue to attract significant investment, primarily because of its limitless applicability across industries and functions. Fintech firms remain one of the most attractive areas of investment in emerging markets, particularly in underbanked or unbanked countries with high populations. Pharmaceuticals and biotechnology have also seen an increase in investments. Over USD20m was invested in pharma and biotech startups in 2018.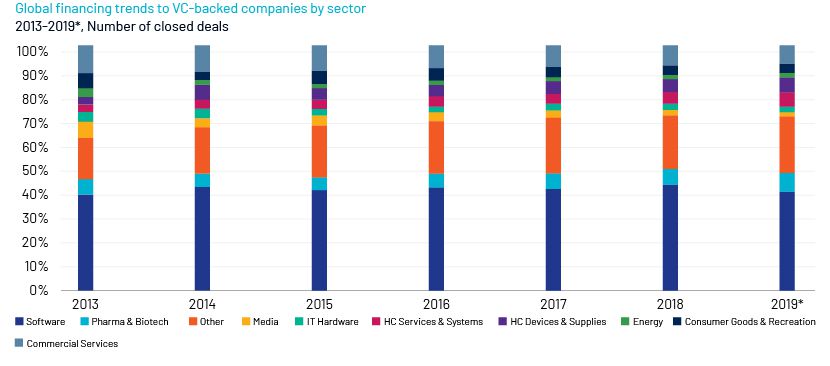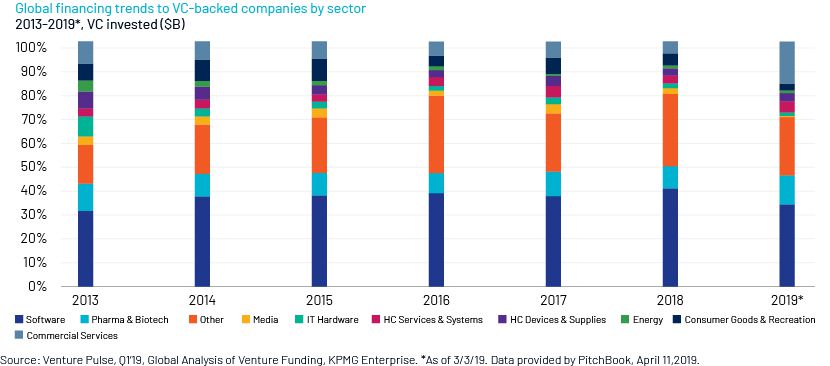 As the companies in these sectors continue to prove value and provide solutions relevant to their stakeholders, we expect the sectors to grow and remain hot areas for VC investment. Investing in companies with growth potential is a great opportunity to generate higher returns. However, identifying the right opportunity has been a challenge, primarily due to high multiples, a scarcity of attractive targets and strong competition. Finding the right company in the right sector at the right price is the biggest challenge for investors.
At Acuity Knowledge Partners, we have dedicated teams of highly qualified analysts, who helps clients stay abreast of new businesses attractive for investment, the latest market trends, and disruptive industry transformations that would affect existing players. This includes screening companies, conducting deeper diligence and more meaningful valuation studies, and devising strategies to approach selected targets.
Source:
Q1'19 edition of KPMG Enterprise's Venture Pulse
1Q 2019 Pitchbook-NVCA Venture Monitor
---
What's your view?
---
About the Author
Prashant is part of Private Equity & Consulting team and has been with the company for over 11 years. He has a total work experience of over 16 years and has rich exposure working on a variety of research and analysis assignments serving clients ranging from top asset managers, PE firms to bulge bracket investment banks.
He has extensive experience working on assignments covering in depth end to end credit analysis covering capital structure analysis, corporate structure analysis including guarantees and structural subordination case, covenant compliance analysis, financial modeling & valuation, asset recovery analysis, relative value analysis of HY bonds, amongst others.
Prashant holds an MBA in Finance and a Bachelor's degree in Engineering (Electronics). He is also a CFA charterholder.

Blog
Flexible and low-cost model for expanding resear....
Executive summary A host of factors are making China's A-share market attractive to glo....Read More

Blog
Private debt gaining traction as an asset cla
Investors globally continue to shift away from traditional asset classes towards alternati....Read More

Blog
SPACs were hot in 2020 and are hotter now!
Special-purpose acquisition companies (SPACs) have become a notable trend in the IPO world....Read More
Like the way we think?
Next time we post something new, we'll send it to your inbox