(Re)Imagine
The Official Blog of Acuity Knowledge Partners
The late-stage growth market: A sweet spot?

Download as PDF
Published on August 13, 2019 by Prashant Gupta
The changing environment for late-stage private companies seeking strategic funding to move to the next level of development before an IPO may create potential investment opportunities for VC firms.
In the past few decades, the VC industry has grown significantly, with its annual fundraising hitting an all-time high in 2018. VC funding raised globally reached a remarkable USD254bn in 2018 compared with USD174bn in 2017, with the US market continuing to account for most (c.53%) of the investments, according to KPMG report Venture Pulse published on January 15, 2019. Additionally, companies have been staying private for longer. The average age of VC-backed companies going public increased to 6.4 years over 2002-18 from 4.6 years over 1990-2001, according to PitchBook-NVCA report Venture Monitor. As a result, they are often more mature when they tap the primary market for further funding requirements.
Owing to the entry of new capital providers, increased investors' interest, and more companies opting to stay private for longer, the focus has now shifted to specific stages of a company's lifecycle, with late-stage companies in particular continuing to attract funding, leaving early-stage deals to take a hit.
Private companies have been using private capital not only to strengthen their balance sheets but also to gain financial flexibility to tap new markets, launch new products, and choose the right time to go public. Traditionally, VC funds have invested in such companies in the early stages of their lifecycles, expecting potentially greater returns. However, early-stage deals are usually riskier, and it could take longer to earn returns from investing in them than in late-stage companies, which are more mature and have high returns potential with lower risk and require a shorter time to generate returns. As late-stage companies often require substantial capital to accelerate growth before or for an IPO or sale, investors could help them grow and subsequently cash in on their growth potential.
The market has also witnessed an increase in the median deal size of late-stage companies in recent years, continuing to outpace angel investing and early-stage financing, confirming increased demand for such financing from both investors and companies.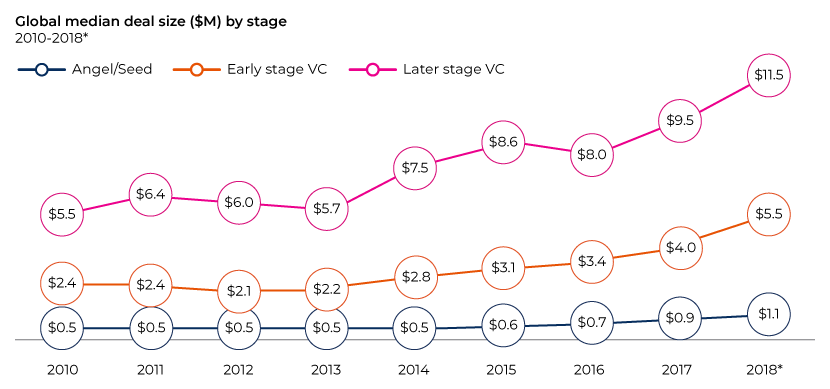 Source: Venture Pulse, Q4'18. Global Analysis of Venture Funding, KPMG Enterprise
Although the number of deals has dropped globally for the third year in a row, investment in late-stage deals has increased consistently pushing up the overall investments.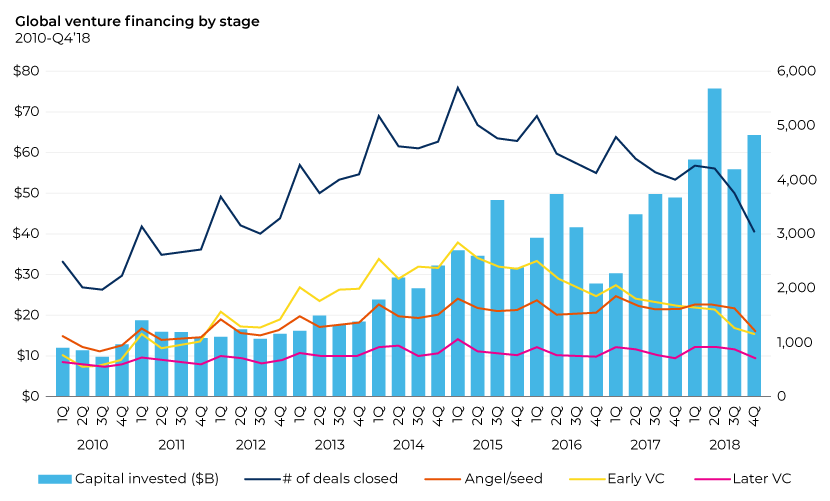 Source: Venture Pulse, Q4'18. Global Analysis of Venture Funding, KPMG Enterprise
Investment in late-stage companies could perform well if the market recognizes and reward these companies for their growing businesses, often through a successful IPO. Nevertheless, even when IPO activity is not sturdy, these companies could be attractive targets for an established organization looking to expand their product or service base or widen their reach. Therefore, we believe such late-stage growth companies could be a potential sweet spot in today's market.
Investors with the right experience and skill set may be able to identify such companies; however, this requires extra effort and significant resources, putting pressure on the investment team, as it limits the bandwidth available for deal execution. Acuity Knowledge Partners can help ease some of this pressure and share the load of the investment team.
Our PE/VC experts provide cost-effective one-stop solutions to help companies find good deals, conduct deeper due diligence, carry out more meaningful valuation studies, set up effective monitoring processes, and access strategic research experts to work closely with their portfolio companies.
Sources:
KPMG Venture Pulse: Global and regional trends in VC

PitchBook-NVCA Venture Monitor: US VC ecosystem
---
What's your view?
---
About the Author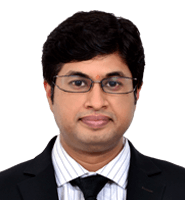 Assistant Director, Private Equity
Prashant Gupta has 13 years of experience in Investment Research domain. In his 8+ years at Acuity Knowledge Partners, he has managed several investment research projects. Currently, he is a part of Strategic Research & Consulting practice and supports consulting clients in their research assignments. Prashant holds an MBA in Finance and a Bachelor's degree in Engineering (Electronics). He is also a CFA charterholder.
Comments
devinder sharma
18-Aug-2019 03:27:33 am
Dear Sir, your views are very informative and path breaking for most of the investors looking for the investment in the area. But it his rather pretty difficult to recognise a good company. the rate of the failure is more than it should be. And it is difficult to varify the claim of the VC.
---

Blog
Face off with PE co-investment
Co-investment has become a very popular alternative structure for investors seeking invest....Read More

Blog
Global private equity: The good, the bad, and
The global private equity (PE) industry has been very successful in the past five years: m....Read More

Blog
Where is the venture money moving?
Global venture capital (VC) investment surged again in 2018, surpassing USD250bn for the f....Read More


Like the way we think?
Next time we post something new, we'll send it to your inbox