Download Blog
Published on May 3, 2023 by Amit Kumar
Immuno-oncology therapy
The discipline of immuno-oncology (IO) is one of the most recent advancements in our comprehension of cancer biology. IO therapy is a biological treatment where cancer is treated through stimulating the body's immune system to eliminate cancer cells. This branch of cancer research investigates the relationship between a developing tumour and the immune system. Studies demonstrating the immune system's capacity to identify and reject tumours through a mechanism known as cancer immunosurveillance serve as the foundation for IO research. Clinical research has shown that a small percentage of cancer patients have tumour-infiltrating T cells, which are associated with a better prognosis. This has been observed in a wide range of cancers including breast cancer, renal cell carcinoma, melanoma, ovarian cancer and gastrointestinal stromal tumours. IO therapy has undergone enhanced changes since its discovery, through advances in biomarker studies, clinical trial designs and technological advancements in the field of healthcare sciences.
Rapid development of IO therapies for a number of cancers has changed the landscape of cancer treatment worldwide. IO therapies include monoclonal antibodies, checkpoint inhibitors, cytokines and cell therapies. The IO market is currently dominated by checkpoint inhibitors (CTLA-4, PD-1 and PD-L1), as they were the first market entrants. In 2011, the Food and Drug Administration (FDA) approved the first checkpoint inhibitor, anti-CTLA-4 antibody Yervoy (ipilimumab), as treatment for late-stage melanoma. PD-1 and PD-L1 checkpoint inhibitors have become standard treatment for many types of cancer and are used as first-line treatment for melanoma, lung cancer and renal cancer. PD1-targeting agents Keytruda (pembrolizumab) and Opdivo (nivolumab) have a marked presence in cancer treatment.
Keytruda was approved in 2014 by the FDA for advanced, drug-resistant and inoperable melanoma. More indications have been added every year since then, including head and neck cancers, non-small-cell lung cancer and metastatic urothelial carcinoma. Although most conditions for which Keytruda is approved require the cancer to be resistant to previous treatment, Keytruda has been approved as a first-line drug for treatment of metastatic non-small-cell lung cancer. Before Keytruda was approved, Ipilimumab was the standard treatment for melanoma, but Keytruda demonstrated ~30% of overall response rate. Similar results were demonstrated for other indications, making Keytruda a blockbuster and establishing Merck in the oncology market space
Opdivo was first approved in 2014 for the treatment of patients with unresectable or metastatic melanoma and disease progression following Ipilimumab and if BRAF V600 mutation is positive. Opdivo is indicated for the treatment of several other indications including ESCC, RCC, oesophageal cancer, adenocarcinoma of the gastroesophageal junction, Hodgkin's lymphoma, melanoma, liver cancer and gastric cancer. Opdivo has demonstrated an overall survival rate of ≥30% in the treatment of mostly approved indications. Opdivo is one of Bristol Myers Squibb's (BMS's) top-selling products.
Most of the development in the field of immunotherapy has focused on the T-cell area. Innate immunity targets and drugs (e.g., natural killer cell-targeting therapies) are evolving and emerging as potential candidates for next-generation anti-tumour drugs. Research institutions and pharmaceutical companies have increased investment in IO combination treatment development, with more than 200 mechanisms under investigation.
Global IO market forecast and segmentation
The global IO drugs market reached a value of nearly USD70.59bn in 2022; this is expected to grow at a CAGR of 15.4% to USD81.46bn in 2023, and at a CAGR of 13.7% to USD136.15bn by 2027.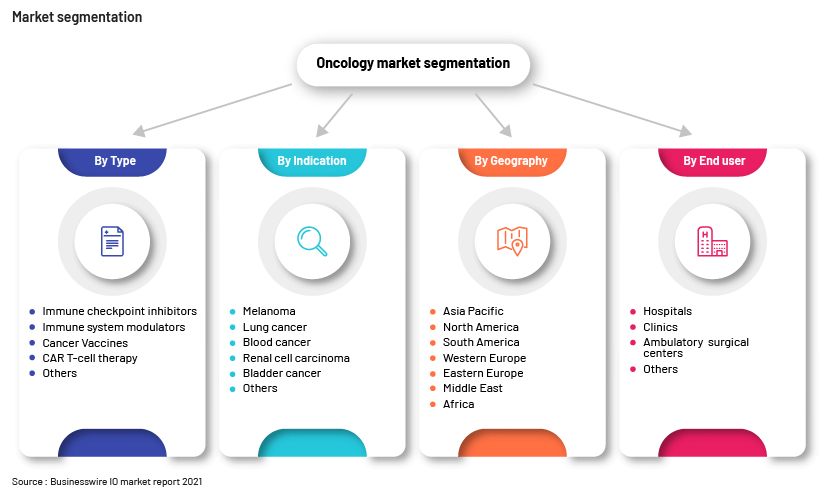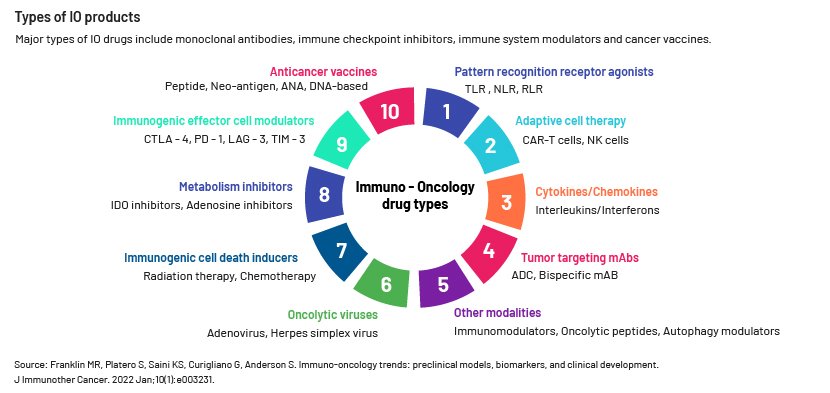 Leading IO therapies
Keytruda (PD-1 inhibitor), manufactured by Merck & Co., is among the top immunotherapy drugs in the market. It treats melanoma, Hodgkin's lymphoma, metastatic non-small-cell lung cancer, etc.

Keytruda alone generated 1bn in sales for Merck in 2019. With about 1,000 reported active clinical trials currently considering Keytruda, Keytruda is forecast to double worldwide sales by 2024.

Following Keytruda, other IO drugs include BMS's Opdivo, Roche's Tecentriq and AstraZeneca's Imfinzi.

IO agents available in the market with the strongest performance are PD-1 checkpoint inhibitors. PD-L1 checkpoint inhibitors rank second in terms of worldwide sales based on mechanism of action. With 43bn in sales in 2019, the PD-L1 inhibitor market is projected to grow to USD10.5bn by 2024.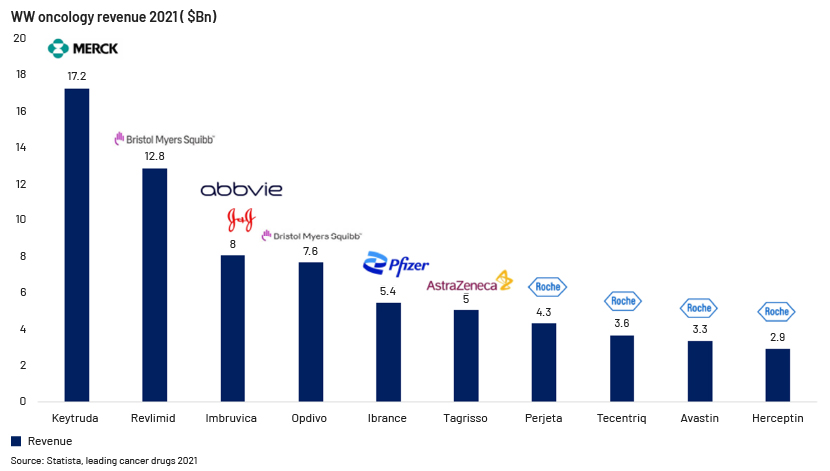 Competitive landscape in IO
The global IO market is expected to reach USD140bn by 2024. Based on type of cancer, lung cancer dominates the IO market, with several companies and research institutions focusing on new therapeutic approaches, making its contribution to the worldwide IO market critical.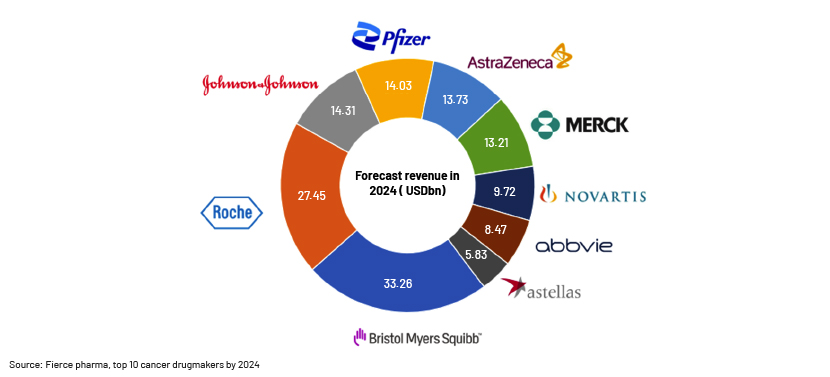 BMS, Roche, Johnson & Johnson, Pfizer and AstraZeneca are expected to hold the largest market shares in oncology drugs in 2024

Merck's Keytruda has earned more than USD17bn. The other oncology products among the top five are Revlimid, Opdivo, Imbruvica and Ibrance

Roche had four products among the 10 highest-grossing products in 2021; it expects to hold a large share of the oncology market in the coming years
Current clinical trial pipeline
The global IO pipeline included 2,756 active products as of April 2022, a 36% increase from 2021

There is continued development of non-T cell therapies including NK cell, dendritic cell, stem cell and other myeloid derived cell therapies, with most growth in NK cell therapy, up to 55% in 2022 compared to 2021

CAR-T therapeutics continue to dominate the cell therapy pipeline, with growth of 24% since 2021
Current challenges in cancer immunotherapy
Factors that drive the markers responsible for increasing immunity must be prioritised so that dominant drivers/markers can be identified and targeted for treatment along with organ-specific tumour immune contexture and drivers of primary versus secondary immune escape.
Multiple steps are involved in assessing the effectiveness and efficiency of immunotherapy combinations. Therefore, improving integration of preclinical and clinical trials, particularly with enhanced preclinical models and better understanding, is critical.
Biomarkers are the most important element when it comes to precision/personalised medicine development. Due to a lack of education and access to co-diagnostic testing platforms, appropriate clinical evidence is not available to physicians to take a decision in the case of precision/personalised treatment.
Regulatory endpoints for cancer immunotherapy have been designed since the discovery of products such as nivolumab, durvalumab, pembrolizumab, atezolizumab and avelumab. With the development of next-generation IO therapies, there is a need for improved and novel regulatory endpoints to smooth the clinical trial and drug approval process.
The widespread use of combination therapies can make clinical trial design more complex, especially if no combination partner is currently approved or if clinical trials require acquisition or additional costs for the combination partner. The introduction of these combination therapies is expected to increase treatment costs, which may require new models for working with payers and demonstrating cost-effectiveness.
Growth drivers and restraints
Growth in the initial period since the launch of IO drugs was due to increased prevalence of cancer, economic growth of developing nations, increased healthcare expenditure by authorities and increased R&D in the healthcare sector.
The market was restrained by the high cost of IO therapies, side-effects and toxicities related IO therapies, limited healthcare access, pricing regulations, high R&D costs and patent expiration of drugs. 
Opportunities in the IO market
There were an estimated 1.9m new cancer cases in the US in 2022, according to the American Cancer Society. The trend is similar in other geographies; this spike in incidence would result in growth of the IO market in the coming years.
The discovery of neoantigens encoded by cancer mutations, advances in cell therapy, improvements in vaccine development and novel advances in biotechnology are promising.
Cancer treatment is being transformed, with conventional cancer treatments being integrated with immunotherapeutic agents. As of May 2022, 797 drugs were being studied in over 5,000 clinical trials.
Since the discovery of immune checkpoints such as PD-1 and CTLA-4, there have been advancements in the overall survival of patients across multiple tumour types. The development of immune checkpoint inhibitors plus oncogene-targeted therapy has been a key area of interest in the field of IO combination treatments.
Cell therapy is new area of exploration in IO, as it is more effective and safer than existing conventional treatments. 
 Key strategies and outlook
Expanding accessibility: There have been advancements in the different areas of IO, providing the best of therapies, with good clinical efficacy and safety. Pharmaceutical companies are working to increase accessibility of these treatments globally. Due to anticipated patent loss in the near future and the entry of biosimilars, this would make treatment more affordable.
Investments in R&D: In July 2021, the Cancer Research Institute announced it had awarded more than USD28.5m in research grants and fellowships during the 2021 fiscal year ended 30 June 2021. Such investments support the launch and expansion of platform studies including the PORTER (prostate cancer), AMADEUS biomarker and REVOLUTION (pancreatic cancer) studies testing novel immunotherapy combinations for treatment.

 Trial development: As more pharmaceutical companies start investing in oncology, competition for key targets has become fierce. It is estimated that c.80% of new modalities will reach their goals with either one marketable therapy or ≥ 4 clinical competitors. Increased competition has shortened development cycles, and competing therapies emerge quickly after initial launch. Success in this environment requires exploring new and novel development paradigms, including greater attention to clinical evidence from the past.

 Increase in strategic partnerships: Companies in the immunotherapy space are collaborating to leverage each other's expertise, strategic in enhancing the development of investigational drugs.

Personalised and precision medicine: Personalised/precision medicine in Io uses evidence derived from genetic, immune, metabolomic and proteomic profiling to extract prognostic information for each individual and design-suitable treatment. By using biologic databases, computational methods and genetic studies, progress is being made in the areas of personalised and precision medicine.

Combination therapies: Most IO drugs (such as Keytruda, Opdivo, Yervoy and Tecentriq) are currently approved alone or as part of the first-line treatment regimen. If IO monotherapy fails in treatment, a combination of IO therapies is suggested most often. There is not highly effective second-line treatment option after immunotherapy fails. Hence, there is a need to conduct studies with different IO targets (T-cell immunoglobulin mucin 3, T-cell immunoglobulin, killer immunoglobulin-like receptor, and V-domain immunoglobulin suppressor) with conventional IO therapies such as PD-1, PDL-1 and CTLA-4.

Cell and gene therapies: Cell and gene therapies have breakthrough potential to change the landscape of cancer treatment. Therapies have longer durations, more complex treatment protocols and more complex therapies given market The cell and gene therapy spaces require fundamental shifts in healthcare paradigms and business models, including delivery systems with incentives and an access model that captures long-term benefits.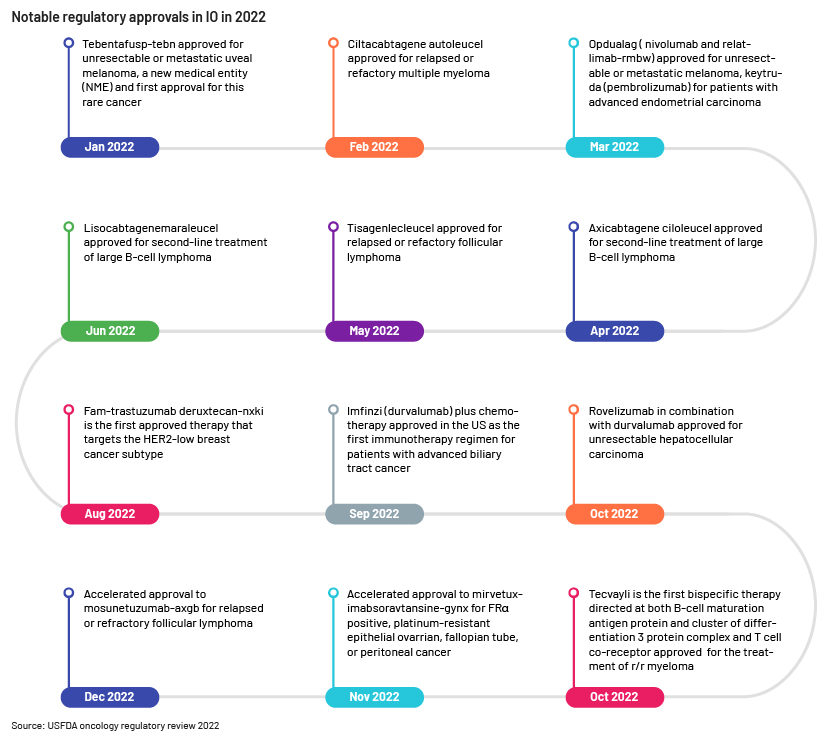 Conclusion
Cancer treatment was dominated by IO therapies in the past decade. There is substantial improvement and enhancement in survival seen with checkpoint-modulating immunotherapies, changing the standard of oncology care. The possibility of curing cancer by functionally turning it into a manageable chronic disease or by effectively eradicating the disease is a prospect for researchers. The various modalities are under investigation, including cytokines, CAR-T cell therapies, checkpoint modulation, cancer vaccines, BITEs, bi-specific/tri-specifics antibodies, oncolytic viruses and immune cells – considered to be better than conventional therapies such as PD-1, PDL-1 and CTLA-4 inhibitors. Advanced developments in diagnostics and predictive biomarkers are required to help the next generation of immunotherapeutic agents. Improvements in analytical diagnostic tools and production costs, and the application of novel technologies are continuing to push the boundaries of clinical trial studies. The outlook for research depends on the development of reliable predictive markers and the best infrastructure for individualised treatment and novel therapeutics.
How Acuity Knowledge Partners can help
We are a leading provider of high-value research, analytics and business intelligence services to life sciences, biopharma, MedTech and healthcare consulting firms.
We provide bespoke research support on market entry and due diligence, portfolio management, licensing and acquisition, go-to-market strategy, opportunity assessment, regulatory landscaping, product launch analysis, market access and therapy area assessment, indication prioritisation, market research and forecasting, pipeline analysis and benchmarking and competitive intelligence.
Sources:
---
What's your view?
---
About the Author
Amit Kumar has more than 5 years of experience in pharma and healthcare consulting and advisory services. He currently provides assistance to the Life sciences consulting team at Acuity Knowledge Partners and aids healthcare corporate and consulting clients with scientific, clinical, and commercial insights. He is proficient in competitive intelligence, opportunity assessment, therapy area assessment, clinical trial analysis and scientific conference coverage. He encompasses knowledge of using proprietary databases such as Evaluate Pharma, AdisInsight, Pharmaprojects, Datamonitor and Bloomberg etc.
Prior joining Acuity Knowledge Partners, Amit Kumar had worked for Johnson & Johnson and ZS Associates,..Show More

Blog
PE&VC sector continues to face headwinds....
Private equity and venture capital (PE&VC) firms face strong headwinds in the form of ....Read More

Blog
Oncology Market Research....
Oncology is considered to be the most dynamic area of therapy in terms of innovation, cons....Read More

Blog
Telemedicine trends....
Telemedicine is ubiquitous – the new standard of service in all healthcare settings, shi....Read More
Like the way we think?
Next time we post something new, we'll send it to your inbox