Download Blog
Published on February 7, 2022 by Parnika Gopal
Just a few years ago, the entertainment industry welcomed the concept of on-demand video consumption. Today, OTT, SVoD (subscription video-on-demand), cord-cutting and streaming have all become mainstream, entering nearly every urban household globally.
The SVoD market's growth has been driven by multiple channels such as mobiles, tablets and smart TVs, supporting SVoD's accessibility. SVoD providers are emphasising largely on technology innovation to improve end-user experience.
Current state of global SVoD market:
Digital TV Research Limited – founded by Simon Murray in 2011 – publishes over 25 reports on the television segment every year and has more than 400 clients in over 130 countries. It estimates global SVoD subscriptions to touch 1.5bn by 2026.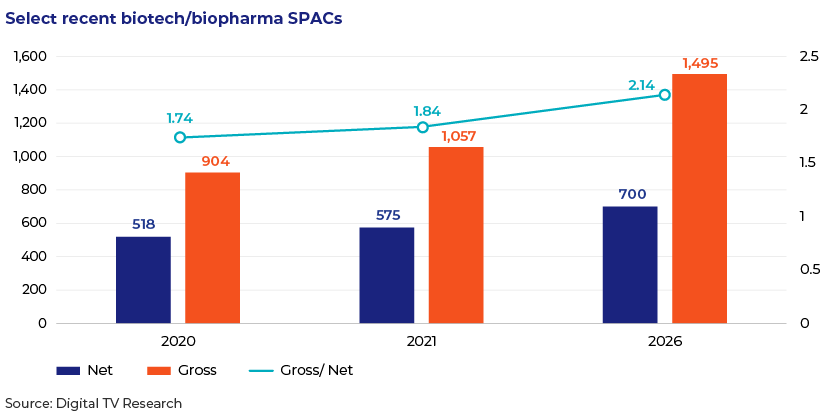 Strategy Analytics helps clients develop defensible, distinctive strategies to operate in complex technology markets. It has domain expertise in connected cars, intelligent homes, smart devices, IoT, media and strategic components. The company estimates worldwide SVoD subscriptions at 769.8m in 3Q20, compared to 552.1m a year ago – c.40% annual growth. This was due largely to COVID-19-induced lockdowns, which led to a surge in OTT consumption as people were confined indoors and had few or no options of alternate sources of entertainment.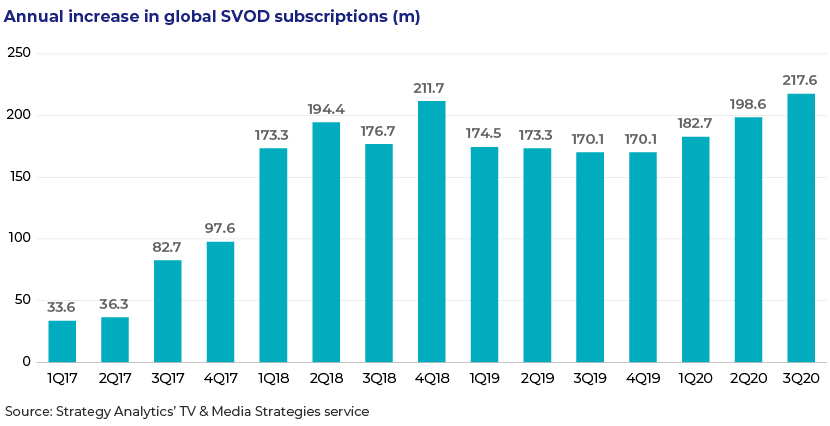 Pay-Tv contraction and growing OTT trend:
While the streaming market grows, traditional pay-TV subscriptions continue to erode (c.67% of homes in the US, of which 75% subscribe to at least one streaming service). As per Forbes, an average household in the US has at least three SVoD subscriptions. This can be attributed to additions such as Crown Family Media Networks, Turner Sports, ESPN and AT&T, which have seen strong traction across the nation. According to Media Partners Asia – the leading name in advisory, research and consulting services across the telecom, media, entertainment and sports industries in Asia Pacific – SVoD is picking up pace in Asia Pacific, growing 34% y/y in 2020 to USD16.3bn in revenue, with China making up a 58% share.
The global SVoD market has witnessed massive growth, due to a number of factors at play at the same time, such as growth in demand for content as smart devices grew exponentially. Another major growth catalyst has been COVID-19-led lockdowns. A survey by InMobi (a mobile advertising technology company that enables brands, publishers and developers to engage with consumers through contextual mobile advertising) suggests 46% viewers have increased their online content consumption, while another survey by Hammerkopf (provides research reports on technology trends to keep enterprises updated with on technology and market shifts and help them make strategic decisions) has unearthed a shift in OTT consumption primetime to 7:00 pm onwards from the earlier 10 pm-12 am.
First-mover advantage – majority market share scooped away by Netflix and Amazon Prime Video:
Market leaders, including Netflix and Amazon Prime Video, have witnessed exponential subscriber growth. Worldwide, total Netflix subscribers stood at above 100m in 2017 and crossed 200m by end-2020. Statista (which facilitates fact-based business decisions by providing a simple-to-use and affordable global business-data platform) estimates c.50m Amazon Prime Video subscribers in North America in 2020 (vs c.23.6m in 2016).
The latest entrants include ViacomCBS and NENT Group's ad-supported Pluto TV across Sweden, Denmark and Norway, popular Indian studio Yash Raj Films' OTT service (expected to be called YRF Entertainment), Warner Media's CNN+ news service (which recently released advertisement-supported NBC News Now) and Flipkart's new video streaming service.
The fresh entrants have been striking the right chords for success:
Technology advancements in OTT services, spectrum auction and government push for TV digitalisation, and telecom-media mergers all have helped OTT evolve as a popular means of video consumption, heightening the demand in developing economies.
Customer retention is key to all business strategies:
Today, focus on customer engagement is driving the SVoD market. Customers pay for artificial intelligence–based recommendation systems that deliver experience through customised content designed to match their location, moods and preferences. Another common tactic is to not let a customer switch platforms once a programme ends. Adding a 'Next episode' button, automatically playing a similar genre or trailers of freshly added content when a customer ends a show, mobile notifications, etc. have worked for some names, while others have yet to adopt this strategy.
Success story – how Disney+ made it big in record time:
The much-awaited streaming service hit the bull's eye in terms of successful launch strategy. It opened with a wholesome library carrying content for a devoted audience of animated classic films, such as those produced by Pixar labels, Lucasfilm Magic and Marvel Spectaculars. It also procured the release rights for highly anticipated film premieres such as Hamilton, Mulan and Pixar's Soul. Lastly, Disney+ heavily capitalised on the timing of its launch. Not only did it capture the 'pandemic-led stay-at-home' viewership, but also did not have to compete with theatrical release rights. To quantify its success, the streaming service had over 118m global subscribers in November 2021, having launched in late 2019.
How Acuity Knowledge Partners can help
At Acuity Knowledge Partners, we provide strategic research and consulting services on how global media and streaming corporates can tap the right opportunities in their domain. We support research on tracking technology developments, industry analysis, competitor benchmarking and market sizing for media companies that are increasingly becoming technology-driven amid continually-evolving market dynamics.
Sources
Forbes: Which SVOD Streaming Services Made the Grade In 2020
BusinessWire: Strategy Analytics: Video streaming subscription growth sets new record as Disney+ and pandemic continue to drive demand
C21 Media: SVOD surges in Asia Pacific
Television Business International: Global SVOD subs to hit 1.5 billion within five years
Statista: Number of Amazon Prime Video subscribers worldwide from 2016 to 2020, by region
WSJ: Disney+ Streaming Service Reaches More than 100 Million Subscribers
Comparitech: Netflix Statistics that define the company's dominance in 2021Stat ViacomCBS, NENT Group Team to Launch New Pluto Service in Nordics - Variety
New CNN+ streaming service to launch in the first quarter of 2022
Flipkart rolls out video service on its Android app to take on Amazon Prime
NBC News Now ad-supported streaming service launches
Yash Raj Films to Launch Indian Streamer with USD67 Million Investment
HBO Max and HBO Hit 73.8 million Subscribers, Topping Company Forecast - The New York Times (nytimes.com)
---
What's your view?
---
About the Author
Currently works at the Technology domain within the Strategy Research & Consulting practice at Acuity, and handling key projects in industry research, company profiling, market sizing, product profiling, competitive benchmarking, and customer segmentation analysis from scoping till delivery stage. Has worked across multiple technology segments – Payments, consumer tech, digital gaming, AI and media
Comments
07-Feb-2022 01:23:45 am
A well researched and professional article.
---
Like the way we think?
Next time we post something new, we'll send it to your inbox