Download Blog
Published on May 23, 2023 by Karan Arora and Parushi Kalra
Sustainability, ESG and green financing were the trends in 2022, as evidenced by the unprecedented deal numbers. Ageing demographics and the "energy transition" are likely to have a significant impact on the global infrastructure sector in 2023. Investments in 2022 were driven by inflationary pressures; we expect these pressures to continue this year.
In terms of global project financing activity, North America had a busy first half in 2022, with the value of projects increasing by 133% to USD53.8bn from USD23.1bn in 1H 2021; volumes were similar. The telecommunication sector saw a boom in 1H 2022 with a sharp c.154% increase in project finance loans over 1H 2021.
What is project finance?
Project finance is a financing method that involves funding the development of a specific project, typically with the goal of maximising the economic and social benefits of the project. Project finance has increased in popularity in recent years as a method of financing large-scale infrastructure projects, as it enables investors to share the risks and rewards of the project with the sponsors. It also creates value by funding cost reduction, providing financial flexibility, maximising leverage ratios, providing risk management and reducing corporate taxes amid market volatility.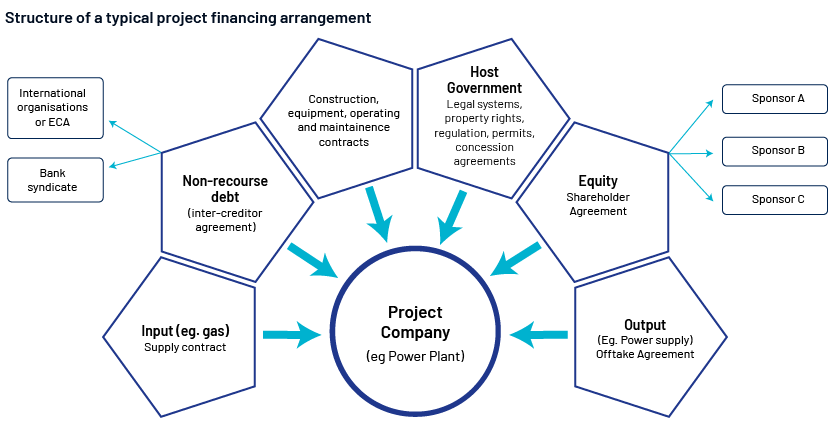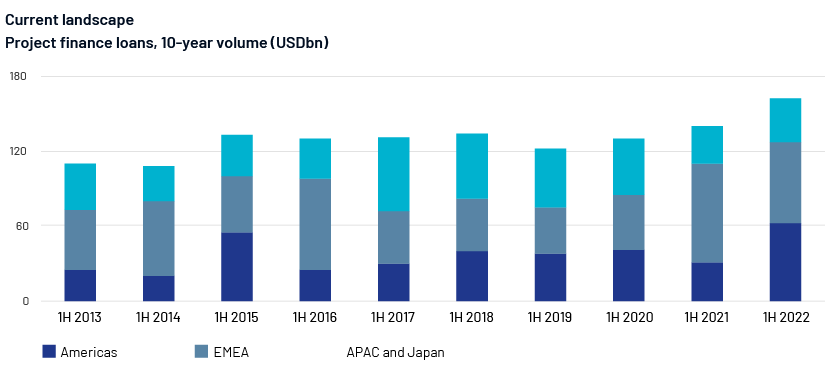 Project finance loans in the Americas in the first six months of 2022 totalled USD62.5bn from 150 deals, a 90% increase from the same period in 2021. EMEA project finance loans totalled USD64.7bn from 142 deals in the first six months of 2022, a 21% decrease in proceeds compared to the same period in 2021. Project financing for APAC and Japan in the first half of 2022 reached USD35.1bn from 89 deals, up 19% from the same period in the previous year.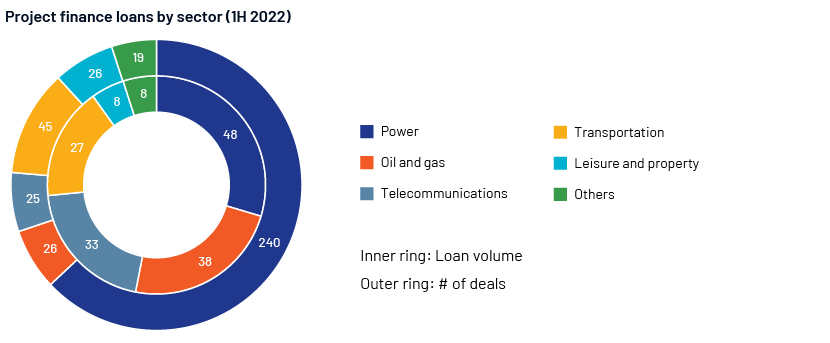 Global project finance loans in the power sector amounted to USD48bn, with 240 deals in the first half of 2022, 17% lower than in 2021. Oil and gas sector loans contributed USD38bn, with 26 deals in total in 1H 2022, 36% more than in 2021. Telecommunications sector loans increased by a sharp 154% from 2021, amounting to USD33bn. The mining sector also showed an increase, of 167% from 2021, with loans amounting to USD4.6bn.
Deals in 1H 2022:
The top three deals in the first half of 2022 related to the oil and gas, telecommunications, and transport sectors, respectively. The largest was Venture Global Plaquemines, with a USD9.5bn project in the US; the second largest was Open Fiber SpA, with a USD8.1bn project in Italy and the third largest was NewYorkTransportationDevCorp, with a USD6.6bn project in the US.
Forces driving project finance:
Risks and challenges:
The pandemic resulted in temporary disruptions to demand and operations, ultimately leading to revenue losses for PPPs. There were delays in construction schedules because of the shortage of supplies. S&P Global says that with a BB+ rating in the initial stages and a BBB rating in the operational phases, the default rates for rated project finance structures are because of exposure to input or output, followed by technology risk and counterparty risk. Infrastructure objectives must be met with low-carbon, climate-smart infrastructure, but there is a yearly financing gap of trillions of dollars. Through 2030, the Asian Development Bank (ADB) projects that approximately USD1.7tn will need to be invested annually in infrastructure throughout Asia. The difference between availability and demand for infrastructure capital is growing.
Outlook
Trends in 2023:
Major developments shaping the future:


Sources:
---
What's your view?
---
About the Authors
Karan has been working with Acuity's investment banking team since 2018. He has over 10 years of work experience in the financial services industry with domain expertise in financial research, modeling and business valuation. At acuity, he has experience of closely working with partners / directors of boutique advisory clients, advising them on modelling, valuations, and M&A projects. He also supported various clients on asset/project finance modelling assignments across power generation, renewable energy and infrastructure sectors. Karan is a CFA charterholder from CFA Institute, USA and holds a master's in business administration from IIPM, Delhi and a Bachelor of Commerce from University of Delhi.
Parushi joined Acuity in September'22 and has over 7 years of experience in reviewing, validating, and developing project finance models. She has hands-on experience in independently structuring models in discussion with onshore clients across diverse sectors such as power generation, renewable energy, and infrastructure sectors. Parushi is a Chartered Accountant from ICAI and Bachelor of Commerce from Rajasthan University.

Blog
Impact of ESG on the public finance sector....
Introduction Environmental, social and governance (ESG) factors are an additional set of ....Read More

Blog
Impediments to ESG investing in emerging markets....
Since the pandemic, there has been a concerted effort to look at economic growth through a....Read More

Blog
Overcapacity in steelmaking a speed breaker in d....
Global overcapacity in steelmaking has been a topic of serious discussion recently. Global....Read More

Blog
Financing the net zero transition
Around three-quarters of greenhouse gas (GHG) emissions today are attributed to energy use....Read More
Like the way we think?
Next time we post something new, we'll send it to your inbox