Download Blog
Published on July 21, 2023 by Parushi Kalra
Around three-quarters of greenhouse gas (GHG) emissions today are attributed to energy use, with pre-industrial temperatures being 1.2°C higher, on average, worldwide. Investment required in new infrastructure to achieve global climate targets is likely to total USD9.2tn through 2050, according to a McKinsey & Co. report. We analyse GHG emissions by sector below: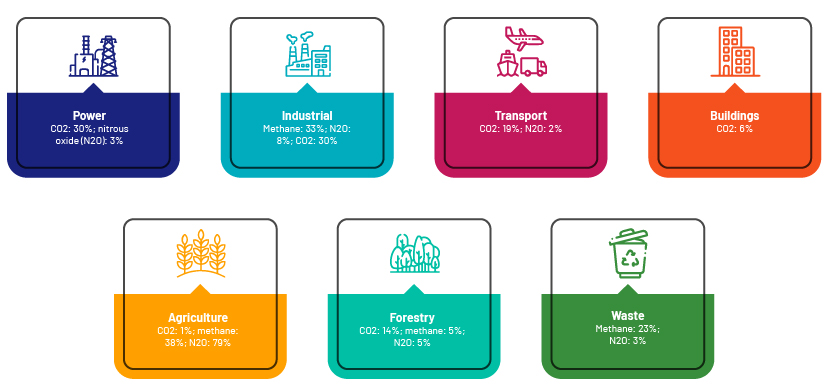 What are 'net zero emissions'?
When all emissions produced by human activity are squared out by removing CO2 from the atmosphere, net zero emissions will be achieved. A two-part strategy would be needed to achieve net zero: limiting emissions because of human activity and offsetting any leftover emissions by an equal amount of carbon removal.
In the 2015 Paris Agreement, nations committed to limiting global warming to 1.5°C. The 2021 UN Climate Change Conference (COP26) is a focal point.
Governments' and banks' contributions to finance net zero
The US Department of Energy launched the Hydrogen Shot initiative aimed at reducing the price of hydrogen in 10 years to USD1/kg. President Biden signed the Bipartisan Infrastructure Act in November 2021, which included USD9bn in financing for hydrogen. To help the Hydrogen Shot initiative, the Inflation Reduction Act (IRA) was implemented with its clean energy and production tax credits schemes.

The Offshore Electricity Infrastructure Act 2021 passed by the Australian government came into effect in 2022, establishing a system for granting exclusive rights over ocean and seabed regions to evaluate the viability of developing, building, running and maintaining an offshore renewable energy project.

The National Green Hydrogen Mission, which would initially cost USD2.4bn, was launched by the Indian government in January 2023, aiming to increase green hydrogen production capacity to at least 5 million metric tons (MMT) annually.

The National Green Hydrogen Strategy was launched by the Egyptian government, and eight framework agreements for the development of green hydrogen and ammonia projects totalling USD83bn were inked.

In 2Q23, global government spending on clean energy investment support reached USD1,343bn vs USD714bn in 2Q22. Annual spending on clean energy across sectors globally reached USD1,440bn by end-2022.Source: https://www.iea.org/

Mitsubishi UFJ Financial Group, Inc. (MUFG) joined the Net-Zero Banking Alliance (NZBA) in June 2021 with the objective of holding net zero funded portfolios by 2050; based on research, it needs to establish intermediate goals to be achieved by 2030 or sooner.
Forces driving project finance in net zero ambition targets:
The heavy-duty transport sector accounts for 25% of global CO2 emissions; this could double by 2050, being characterised by heavy working costs, given the costly inputs for generation (e.g., hydrogen). The sector requires large capital injections to scale up innovative solutions to a level at which they could compete against existing high-emission options.

Investment required to reach the International Energy Agency's (IEA's) "Net Zero by 2050" scenario is likely to increase three times by 2030. The annual investment required for breakthrough decarbonisation technologies may increase 10 times by 2030. The charts below depict the investment requirements by 2050 by sector and technology:Source: https://www3.weforum.org/docs/WEF_Financing_the_Transition_to_a_Net_Zero_Future_2021.pdf
More than 40% of the reduction in global GHG emissions in 2050 will be attributable to technologies currently under development. Modern, cutting-edge technologies are needed for industrial decarbonisation, including green ammonia, sustainable aviation fuels (SAF), green hydrogen and carbon capture and storage (CCS). This is where transition finance would come in.
Project finance opportunities by sector
Annual investment of USD0.8-1.1tn is required in the following sectors where clean energy could replace traditional counterparts:

The rise of ESG investing:
A cross-border financial market infrastructure (FMI)-driven strategy could accelerate growth of the sustainable finance market by up to 2.5%, according to PwC's Scaling the Sustainable Finance Market report (September 2021). This would result in an additional USD25tn being raised by the market by 2030.

The cost of clean energy technologies (wind, solar, battery storage, etc.) has fallen in recent years due to technological improvements, economies of scale, increasing supply-chain competition and increasing developer expertise.
Source: https://www.pwc.com/gx/en/issues/esg/financing-net-zero.html
Since the European Investment Bank (EIB) issued the first green bond in 2007, green bonds designated for climate and environmental projects have evolved quickly.Source: https://www.pwc.com/gx/en/issues/esg/financing-net-zero.html
Major developments in 2022-23:
Energy storage: With an estimated 387GW of new energy storage capacity to be installed globally from 2022 to 2030, the global market for energy storage is forecast to continue expanding. 4bn was allocated to the energy storage market in 2022.

LNG: The Port Arthur LNG project in Jefferson County, Texas, financed by Sempra Infrastructure Partners, reached a final investment decision (FID) in March 2023 after signing a USD6.8bn term loan. Banks such as MUFG and JP Morgan provided some of the deal's significant leads.

Green hydrogen: L&T put into operation a 380kW alkaline electrolyser-based green hydrogen plant in Hazira in August 2022. A 3 ton-per-day green hydrogen facility, being built by GAIL in India's Madhya Pradesh, is expected to be operational in FY24.

Fibre: Austria has big plans for the roll-out of fibre across rural areas, and Meridiam is poised to contribute significantly to financing these plans after partnering with Magenta Telekom in 2022. The JV partners want to have invested more than USD979m by 2030.

CCS: The CinfraCap partnership, involving Nordion and Göteborg Energi, Preem, St1, Renova and the Port of Gothenburg, is a singular endeavour. It aims to make Gothenburg the first in the world to develop shared infrastructure for the shipping, storing and transport of liquefied carbon dioxide produced on an industrial scale using CCS technology.

Electric vehicles: Vietnamese automaker VinFast won a USD135m climate funding package to build the nation's first completely electric public transport bus fleet and national electric-vehicle (EV) charging network.
Challenges and risks

Takeaways
The sector has significant appetite for intelligent partnerships between private and public capital sources, although the transition is likely to be complicated. It is imperative to take quick, substantive and structural action to capitalise on this.
How Acuity Knowledge Partners can help
Our support areas cover a broad spectrum of end-to-end project financing assistance, including but not limited to clean energy financial modelling and audits, regular benchmarking studies, portfolio and document reviews, tax modelling, underlying asset summaries and analysis, combining our expertise in sustainability, governance, risk management and quantitative solutions.
By conducting thorough due diligence, risk assessment and project evaluation, we help investment banks and advisory companies understand the project results expected and the risks involved; this helps expand their energy finance practices, contributing further to their net zero goals.
Sources:
---
What's your view?
---
About the Author
Parushi joined Acuity in September'22 and has over 7 years of experience in reviewing, validating, and developing project finance models. She has hands-on experience in independently structuring models in discussion with onshore clients across diverse sectors such as power generation, renewable energy, and infrastructure sectors. Parushi is a Chartered Accountant from ICAI and Bachelor of Commerce from Rajasthan University.

Blog
How electric vehicles threaten the ESG ecosystem....
According to the International Energy Agency (IEA), 10.3m electric vehicles (EVs) were sol....Read More

Blog
Evolving role of executive management in integra....
"Corporate responsibility" is a term coined in the 1950s, when American economist Howa....Read More

Blog
Project finance – outlook for 2023
Sustainability, ESG and green financing were the trends in 2022, as evidenced by the unpre....Read More
Like the way we think?
Next time we post something new, we'll send it to your inbox