Download Blog
Published on July 28, 2023 by Prachi Murarka
Global overcapacity in steelmaking has been a topic of serious discussion recently. Global crude steelmaking capacity was estimated at 2,460 million metric tonnes (MMT) in 2022, with an average direct carbon intensity of 1.4 tCO2/t steel. Capacity utilisation fell an average 77-78% in 2021 and 2022. In 2022, due to the decrease in steel production as an impact of the Russia-Ukraine war, capacity utilisation remained at 77.1%. This is likely to be a concern amid growing global steelmaking capacity, which is projected to increase faster than growth in steel demand.
Estimated steelmaking overcapacity
Global steelmaking capacity has increased for a fourth consecutive year and is expected to increase further by 166MMT from 2023 to 2025. This translates into an increase of 6.75% in the next two years while global steel demand is projected to rise 2-3% by 2025. This would further widen the gap between steelmaking capacity and steel demand, resulting in overcapacity in the steel sector.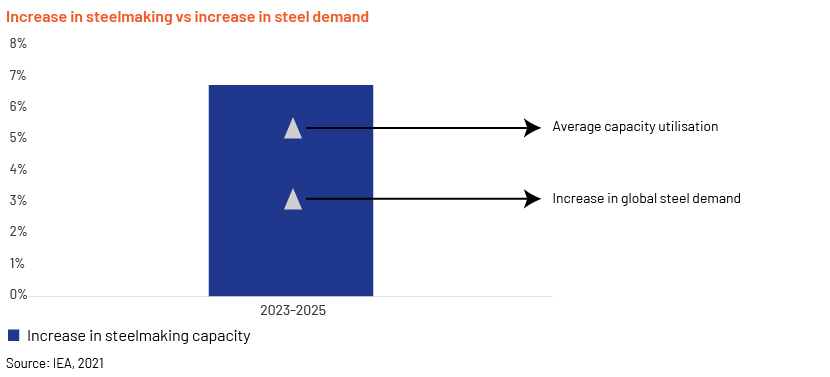 Decarbonisation scenario for steelmaking
With a number of countries having pledged to become net zero by 2050, decarbonisation in the steel sector should have been on a trajectory compatible with this commitment, but it is not even close. More than 90% of global steelmaking capacity is in countries that have committed to become net zero by 2050. It seems very unlikely, therefore, that this more than 90% of global steelmaking capacity could be fully decarbonised in the next 27 years.
Another mismatch is between commitment at the country level and commitment at the corporate level. Commitment of corporates to achieve net zero emissions (NZE) by 2050 accounts for only 50-60% of global steel production, while commitment of countries is above 90%. This gap in commitment would be visible in initiatives taken at the corporate level not being in line with commitments at the country level. This would require government intervention in the respective countries, forcing corporates to adopt decarbonisation techniques and become net zero within the stipulated deadline through initiatives such as imposing a carbon tax.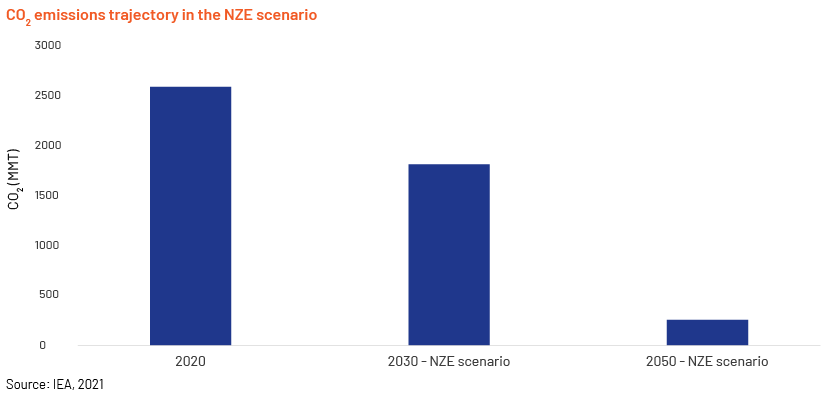 Achieving net zero carbon emissions in 90% of global steelmaking capacity by 2050 implies a 30% reduction in carbon emissions by 2030 and 90% by 2050.
Current production of low-carbon-emitting steel from production processes such as scrap electric arc furnace (EAF) processes accounts for only 20% of global production; this is far from the goal to achieve 100% net zero emissions by 2050. Reaching 100% zero carbon emissions from any production process would require a structural shift, which would be very cost-intensive, discouraging companies from agreeing to such investment.
With basic oxygen furnace (BOF) plants accounting for nearly two-thirds of global steelmaking capacity and estimated to account for not less than 50% of additional capacity in the coming years, very-carbon-intensive production processes are likely to dominate globally; this is a major concern. BOF processes are not compatible with achieving net zero carbon emissions unless equipped with a carbon capture, utilisation and storage (CCUS) facility, which companies are now becoming familiar with.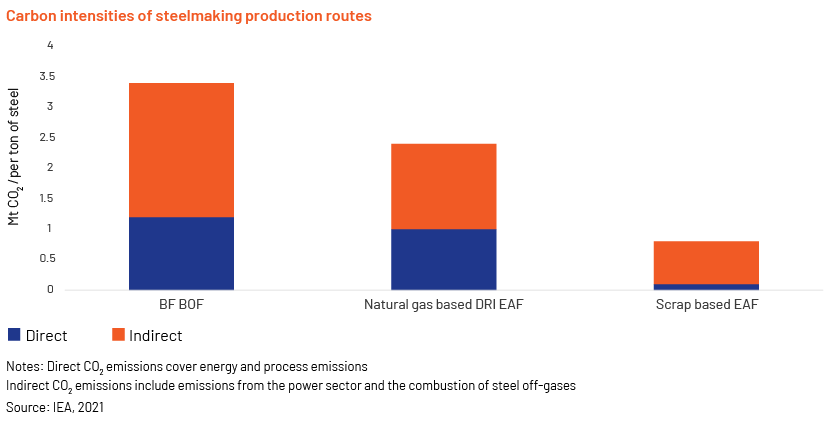 Another possible way to decarbonise the steel sector is to impose a carbon tax. Some countries and regions, such as the US and Europe, have declared imposing carbon taxes and cross-border carbon taxes, and others are in discussions to implement them in the coming years. Through carbon tax, companies will be pressured to adopt decarbonisation techniques and reduce carbon emissions in production processes to avoid paying hefty taxes. Countries belonging to the European Union are implementing a cross-border carbon tax from 2026; any export of steel products to these countries will be subject to payment of carbon tax. Companies are starting to adopt technologies such as green and blue hydrogen, electrolysis, CCUS, fuel switching, renewable energy and logistics efficiency to reduce their carbon footprint. On the demand side, material efficiency and circular economy are key drivers contributing to emission reduction.
How will overcapacity affect the decarbonisation journey?
The challenge of decarbonising current steel capacity, together with capacity increasing year-on-year leading to significant overcapacity in steelmaking, calls for a global response. With the gap between capacity increase and demand increase widening year-on-year, it is becoming more difficult to decarbonise global production by 2050.
Increasing steel capacity with lower capacity utilisation and a slow decarbonisation process are global challenges that need to be addressed immediately. There is a need for collaboration and partnership between companies internationally to research and test different technologies to decarbonise the steelmaking process. There have been reports of a number of such collaborations this year aiming to reduce carbon emissions and help fulfil a country's net zero commitment. However, commitment to net zero emissions alone is not enough; ambitious action is also needed. Companies need to set both long-term and intermediate emission reduction targets in line with a focused net zero roadmap, which would help track progress. There is no "one-size-fits-all" approach here. It requires customisation, as the approach would differ from company to company.
Conclusion
Despite seeing progress in a number of companies and countries, the trajectory of steel decarbonisation is currently not compatible with the net zero carbon emissions commitments of countries for 90% of global steel production to be net zero by 2050. The production route to reducing 90% of the carbon emissions currently covers only 20% of global output. Adopting a technology that will produce no carbon emissions would require a structural shift and heavy investment. Each company needs to have an intermediate and long-term target to achieve net zero, with a dedicated roadmap and a tailored approach to decarbonisation. The issue of excess capacity in steelmaking also needs to be addressed if this transformation is to be sustained. Decarbonising the steel sector and overcapacity are global challenges that require a global response through collaboration and partnership.
How Acuity Knowledge Partners can help
We are a leading provider of high-value research, analytics and business intelligence. We help corporate clients from diverse sectors understand strategy; we understand the operational concerns and challenges they face and assist them with decision making. We offer customised solutions, including market and competitive intelligence, benchmarking and analysis, strategy research, due diligence and industry analysis. We help steelmakers identify suitable decarbonisation technologies in line with their size, products, manufacturing processes, regions of operation and scalability, and provide a cost-benefit analysis.
Sources:
---
What's your view?
---
About the Author
Prachi is a postgraduate in management from NIA, Pune. She specializes in corporate sustainability with 4 years of experience in ESG research-based projects across various domains. Prior to Acuity, she has worked with a ESG research provider where she was responsible for designing customized scoring parameters for a set of indicators and ensuring timely delivery of quality research. At Acuity, she is working as a part of corporate and consulting team and works on projects related to developing ESG strategies, roadmaps, frameworks, and reports for clients across energy sector.

Blog
How electric vehicles threaten the ESG ecosystem....
According to the International Energy Agency (IEA), 10.3m electric vehicles (EVs) were sol....Read More

Blog
Evolving role of executive management in integra....
"Corporate responsibility" is a term coined in the 1950s, when American economist Howa....Read More

Blog
7 common mistakes corporates make when incorp
Corporate sustainability is the concept of incorporating environment, social and governanc....Read More
Like the way we think?
Next time we post something new, we'll send it to your inbox