Download Blog
Published on February 16, 2023 by Manish Jha
India and ASEAN were the bright spots in the global automotive sector last year. With the effects of the pandemic waning, GDP growth and private consumption have recovered, helping to drive demand and giving carmakers the confidence to introduce new models to the market.
The improvement in the semiconductor supply chain has also enabled original equipment manufacturers (OEMs) to increase output to meet pent-up demand. The market's growth driver has shifted from inexpensive entry-level cars to SUVs (more frequently bought by affluent consumers due to their higher price points), leading to an increase in sales values.
India's electric-vehicle (EV) sector has picked up pace rapidly, with 100% FDI possible, coupled with new manufacturing hubs and an increased push towards improving charging infrastructure. Government subsidies and policies [with the respective production-linked incentive (PLI) schemes] supporting more discounts for locally manufactured electric two-wheeler vehicles, along with boosting localised advanced chemistry cell (ACC) battery production, would also drive growth going forward.
Experts believe the inflection point for India's EV sector has been reached already. The country's battery electric vehicle (BEV) market has started showing signs of growing from the bottom up, as evidenced by the increase in the number of buyers of electric two-wheeler vehicles.
The change in consumer attitude towards electrified two-wheelers has been influenced mainly by the incentives offered under the Faster Adoption and Manufacturing of Hybrid and Electric Vehicles in India (FAME) II scheme, which has been instrumental in the shift towards clean mobility by making electric two-wheelers more affordable. The success of the FAME II scheme can be broadly gauged by the fact that purchases of 469,315 EVs were supported through demand incentives amounting to about INR18.69bn. Incentives have been approved for 6,315 electrical buses and 2,877 EV charging stations, to be endorsed in 68 cities across 25 states/Union Territories. Fifty OEMs, both start-ups and established manufacturers, have registered and revalidated their 106 EV models. There are 1,576 charging stations sanctioned to be set up on nine expressways and 16 highways.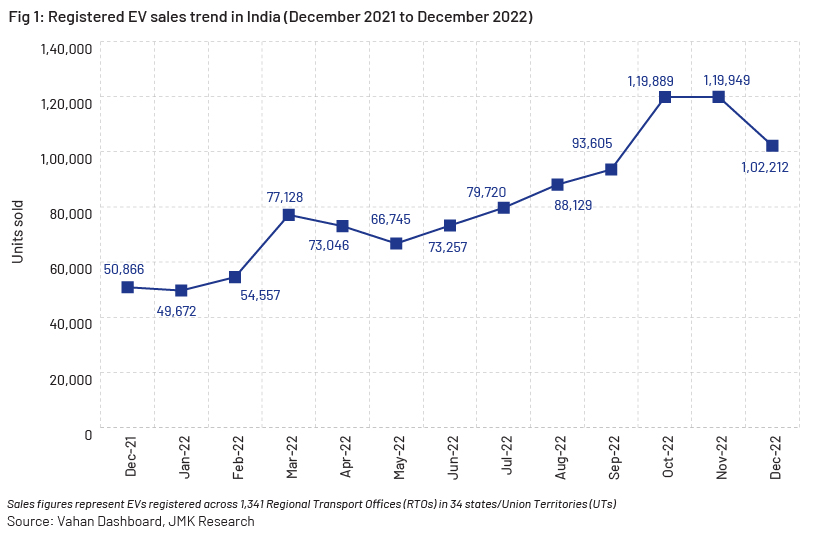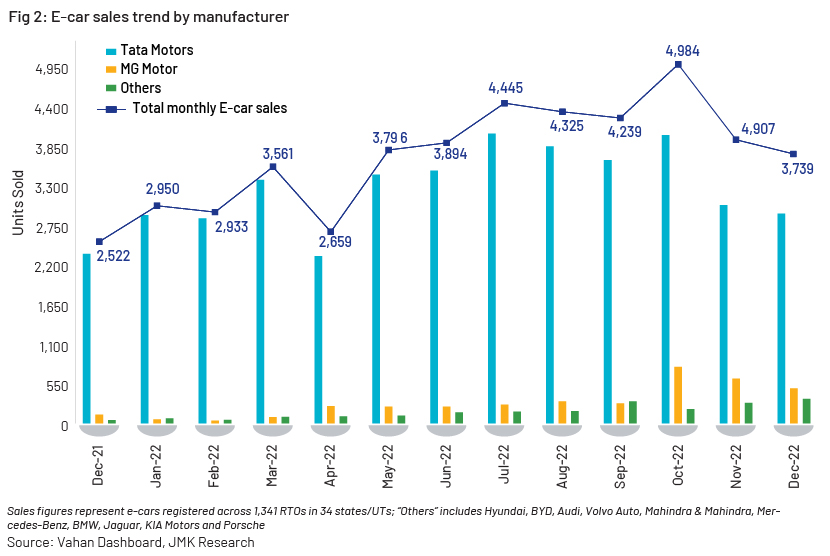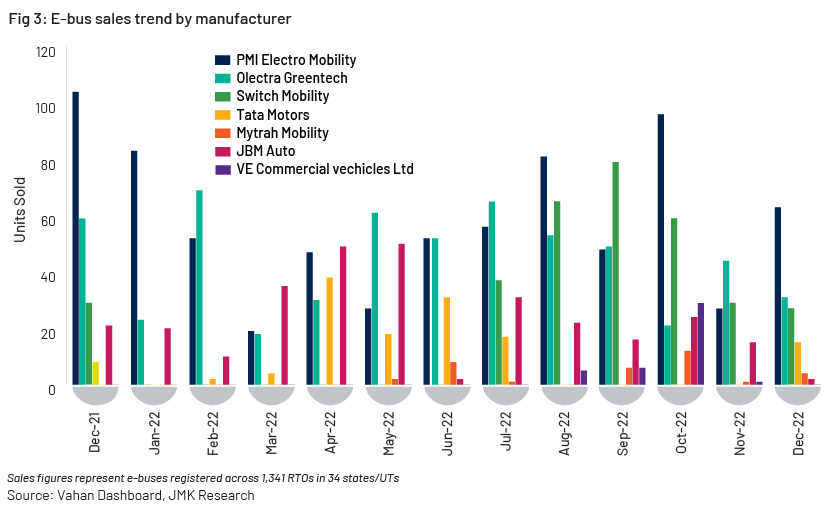 However, given the fact the FAME II scheme is scheduled to expire on 31 March 2024 and is unlikely to be extended further (the first phase was extended in June 2021 by two years), some slowdown may be expected in electrified two-wheeler sales.
Despite the expiry of the incentive structure, we believe the recent momentum in the electric two-wheeler market would serve as a catalyst for the electrified passenger vehicle (PV) segment. This optimism is powered by the fact that as buyers of electric two-wheelers move up the economic ladder, they would gravitate towards A- and B-segment PVs and be more open to purchasing BEVs.
The electric PV segment may also get a boost from recently launched EV models, for example, the Tata Tiago BEV with an introductory price of a little over USD10,000 (just USD800 higher than the top model of the conventional Tiago variant). This is within a price range similar to that of many internal combustion engine (ICE) equivalents already available in the market. Major OEM players such as Tata Motors, Mahindra & Mahindra and Hyundai have big plans for India's BEV space, and we could safely assume that the Indian BE PV market would make significant strides by the middle of the decade, from just 4,600 units in 2020 to 207,000 units by 2025 and 590,000 units by 2030 (an increase in PV volume by 5.5% in 2025 to 13.5% in 2030).
In summary, the scope for growth in India's BEV market rests on capital available to OEMs, battery manufacturers and charge-point operators, and improvements to existing infrastructure. India's EV ambition would need an estimated annual battery capacity of 158GWh by FY30, presenting large investment opportunities for investors and requiring the government to implement policy support measures. Several states have adopted EV-specific policies to attract investment and make EV adoption a more viable proposition for the consumer.
How Acuity Knowledge Partners can help
Our global automotive research team has been providing buy- and sell-side clients with tailor-made solutions on the EV sector. They are knowledgeable about the broader new-energy vehicle (NEV) sector and provide fundamental research and analysis across developed and emerging markets. Our offshore teams help their onshore counterparts by handling tasks across the value chain and providing the bandwidth necessary for them to focus on high-value-add tasks.
Sources:
---
What's your view?
---
About the Author
Manish Jha is a part of Investment Research team at Acuity Knowledge Partners. He has around seven years of work experience supporting global sell-side clients on Equity Research including building financial models, initiating coverage reports, thematic reports, ad-hoc data research, and earnings review. Manish holds Post Graduate Diploma in Management with specialization in Finance from IIIT, Pune.

Blog
Oil and gas market pulse: June 2023....
The OPEC+'s efforts to prop up oil prices – including Saudi Arabia's announcement of....Read More

Blog
Oil and gas market pulse: May 2023....
Oil prices remained under pressure in May 2023 as macroeconomic concerns such as the prolo....Read More

Blog
Wellness industry trends – 2023
The wellness market has been around for a while. From the days of Jane Fonda's workout t....Read More

Blog
Shouting from the rooftops
Recent Trends In 2022, the real estate owners have increased focus on sustainability and ....Read More

Blog
Commercial real estate trends 2022
Commercial real estate trends 2022 Each year brings fresh uncertainties, surprises and el....Read More
Like the way we think?
Next time we post something new, we'll send it to your inbox