Download Blog
Published on September 11, 2023 by Nishant Mishra
Key takeaways
Robust economic growth, an increasing middle-class population and tourism present an opportunity for India to become an international hub

The government's focus on infrastructure upgrades and expanding fleet size by Indian airlines such as IndiGo and Air India –are the icing on the cake

Delhi Airport emerges as the ideal candidate to become India's first international hub
Higher traffic and improved airport infrastructure tell India's aviation growth story
A decade and a half back, airline  sector experts rejected outright any chance of India becoming an international hub. Not just the analysts, the sentiments were shared by the CEOs of the world's major airlines. However, things have changed for the better in recent years.
The number of airline passengers (both domestic and international) in India surged to a staggering 204m from 2010 to 2019 (pre-pandemic), representing remarkable growth of 2.6x. India is now the third-largest aviation market in the world, behind China and the US, and passenger numbers are expected to reach 400m by 2027 and half a billion by 2030. Air traffic is expected to grow 7% annually through 2041, requiring c.2,210 new airplanes over the next two decades versus just c.700 currently, according to Boeing's latest forecasts.

The world is looking at India for business, trade and travel
Robust economic growth (the IMF forecasts 5.4% growth in FY23 and 6.3% in FY24, among the fastest- growing major economies), being the world's most populous country (accounting for one-sixth of the world's population) and an increasing middle-class population (>30% of a population of 1.42bn, as of 2021) present a tremendous growth opportunity, with the need for a good international hub. Lured by the fast-growing economy, leading multinational companies have entered India in a big way. Multinational companies require air connectivity to all corners of the world, enabling trade and globalisation of production and supply chains. Moreover, with a growing economy, India's middle-class population has higher disposable incomes, able to afford air travel (almost 100% of India's international tourists travel by air vs 54% globally). A recent study by the World Bank estimates India's share of middle-class population to double to 61% by 2046, while super-rich households will grow 5x to 9m households over the period.
A good international hub in India would encourage more international airlines to expand their operations and offer more direct and efficient routes, saving both time and money for customers.
Keeping in mind the strong growth prospects, Indian carriers are expected to order an additional 1,000-1,200 aircraft over the next two years to cater to growing demand (source: CAPA). This is over and above the recent historic order of IndiGo's 500 planes (all narrowbody and the largest-ever single aircraft purchase by any airline globally from Airbus) and Air India's 470 planes plus 70 options from Airbus and Boeing to be procured over the next decade. Air India's orders also consist of widebody aircraft (which operate on medium-, long- and ultra-long-haul routes), enabling the Indian carrier to fly to more destinations with attractive pricing points for Indians and Southeast Asian passengers flying to Europe and the US. Indian carriers' order book is now at the top of the list, accounting for a more-than-6% share of the sector backlog, the second largest only to the US's (source: Barclays). However, India's commercial fleet of around 700 aircraft (one aircraft for every 2m passengers vs 50,000 in mature markets such as the US), although up from 400 in 2013, is still smaller than some of the world's largest individual airlines.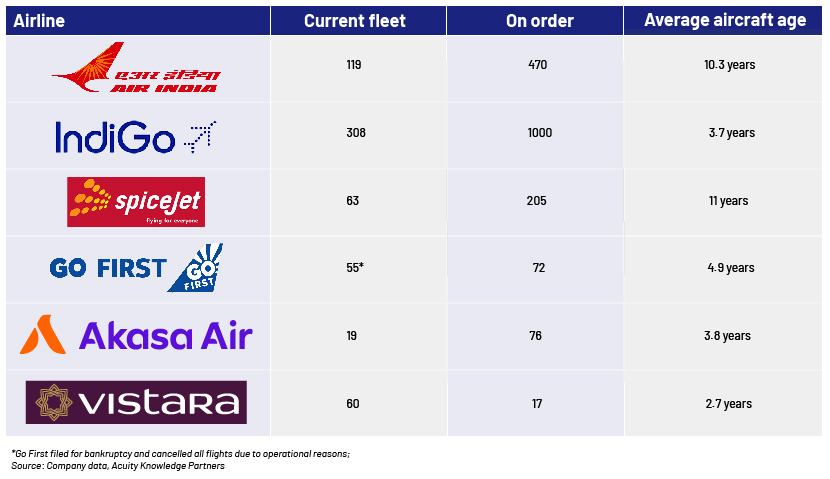 Indian diaspora the largest in the world – a readymade market
India boasts the largest diaspora, with c.32m Non-Resident Indians (NRIs) and People of Indian Origin (PIOs) residing outside India (source: Ministry of External Affairs). Additionally, with 2.5m migrating every year, the country is one of the biggest sources of travellers. Most Indians fly via the Middle Eastern (ME) hubs of Dubai, Abu Dhabi and Doha, relying on the major Gulf carriers Emirates, Etihad and Qatar Airlines, which have been the de facto national airlines for Indians for more than two decades.
Indian airports, especially the Delhi, Mumbai, Bengaluru and Hyderabad Airports, have emerged as the biggest challenge to the ME international hubs, as they are strategically located. 30-50% of the world's population can be reached within five to eight hours by air (including Dubai, Hong Kong, Singapore, Malaysia, the Maldives, Bali and Thailand), providing Indian airports a unique geographical advantage for international travel.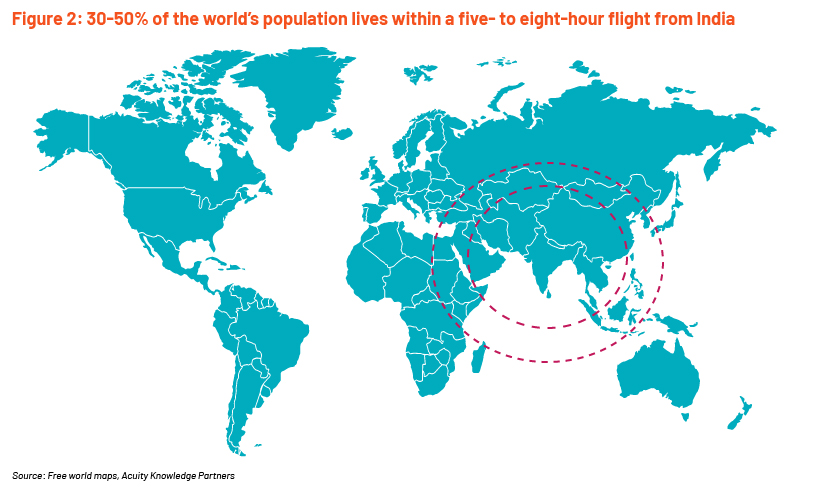 Travel and tourism sector's contribution to GDP to grow
India's travel and tourism sector is forecast to grow at an average of 7.8% annually from 2022 to 2032 to USD457bn (7.2% of the total economy), compared to 6.7% economic growth in the country [source: World Travel & Tourism Council (WTTC)]. Before the pandemic, the sector accounted for 7% of GDP (USD212bn) in 2019; this fell to just 4.3% (USD124bn) in 2020. The government has taken a number of initiatives to boost the sector, including building better infrastructure and providing better air connectivity through UDAN, its regional connectivity scheme; e-tourist visas for citizens of 163 countries, up from 44 in 2018 (to be increased to about 180); and e-medical visas, which have helped increase tourists to the country. It has also launched a 24x7 multilingual tourist helpline (called Atithi Devo Bhava) and provides the tourism sector a 100% FDI and GST rate cut. India is one of the world's seven largest economies in terms of tourism and among the top three in terms of medical tourism, according to the WTTC. It is expected to overtake Germany as the world's third-largest travel and tourism market by 2032.

Government to drive infrastructure upgrades and regulation
The government plans to spend USD12bn by 2025 on building new airports and renovating existing ones to accommodate higher passenger traffic (expected to grow sixfold to c.1.1bn by 2040) and boost regional connectivity. The number of airports in the country increased from 74 in 2014 to 147 in 2022 (including 29 international airports). The government aims to have 220 airports operational by 2025. Currently, India's six major airports (Delhi, Mumbai, Chennai, Kolkata, Bengaluru and Hyderabad) have the capacity to handle c.192m passengers per annum; this is expected to reach 420m in the next few years. With the current expansion plan, Delhi Airport's capacity will grow from the current 70m to 100m passengers by the end of 2023.
After the success of its first round, the government again plans to privatise a total of 25 airports (with annual traffic of more than 0.4m passengers) until 2025 under the National Monetisation Pipeline.

Delhi an ideal candidate to become India's first international hub
Currently, four Indian airports (Delhi, Mumbai, Bengaluru and Hyderabad), with their world-class infrastructure, are actively attracting long-haul traffic and acting as "hubs". As India is a vast country in terms of both size and population, it could easily have multiple hubs, as Europe does, rather than just one.
To start with, the Indian government plans to establish Delhi's Indira Gandhi International Airport (IGIA) as the country's first international aviation hub. It is India's busiest and the most popular transit airport for South Asian travellers and served 65.33m passengers in FY22-23, including 15.65m foreigners (27.5% of India's total international traffic), and operated 0.44m flights (c.1,200 flights daily), including 91,000 international flights. The airport has direct connections to more than 142 domestic and international destinations in six continents.
The IGIA's catchment area (70% of Indian airports fall under Delhi's catchment area) has a good mix of business and tourist destinations, positioning it as the most preferred airport for international airlines planning to start operations in India. The airport has a major market share of air traffic volume to the Middle East, Europe, Asia and the US. The airport is also the country's and South Asia's largest cargo airport, with annual cargo handling capacity of c.2.0m metric tonnes.
Delhi Airport ranked ninth and was the only airport in South and Southeast Asia to enter the group of the world's 10 busiest airports by passengers handled in 2022, according to Airports Council International (ACI). It was ranked the 13th busiest in 2021 and the 16th busiest in 2020.

To become future-ready, the airport is undergoing major expansion under the Phase 3A project, slated for completion in 2023, which would see an expanded Terminal 1 (T1) that is three times bigger than the current facility (from 60,000 sqm to 169,000 sqm), with increased aircraft parking spaces (from 55 to 82), 13 entry gates (from 8), nine baggage carousels (from four), able to handle 40m passengers (from 20m currently) and with departures and arrivals under one roof. Apart from T1, a fourth runway (the only Indian airport to have four runways, increasing its flight-handling capacity to well over 100 flights an hour) and a dual elevated cross-taxiway (which will reduce taxi time for aircraft from 9km to 2km) are also planned. After completion of Phase 3A expansion work, Delhi Airport will be the only Indian airport able to handle 100m passengers per annum. The new terminal would be accessed by a dedicated high-speed metro line and a six-lane approach road from the city centre.
Sources:
---
What's your view?
---
About the Author
Nishant Mishra [Associate Director, Acuity Knowledge Partners (Acuity)] has close to 18 years of work experience in investment research, including 14 years at Acuity, with a focus on the transport, utilities, capital goods and energy sectors. With expertise in both equity and fixed income research, he currently leads teams that provide research support to European buy- and sell-side clients. The work involves building detailed financial models, distressed debt analysis, writing initiation reports and assisting clients with investment decisions for investment-grade, high-yield and distressed-debt companies in developed and emerging markets. He acts as a single point of contact for clients and ensures the team delivers high-quality output in line with SLAs. He holds a Master of Business Administration (Finance) and a Bachelor of Business Administration.

Blog
Wellness industry trends – 2023....
The wellness market has been around for a while. From the days of Jane Fonda's workout t....Read More

Blog
India budget 2023: Walking the tightrope of fisc....
The latest budget continues to prioritise growth and fiscal consolidation, with high....Read More

Blog
Foreign automakers – not much to lose from
Key takeaways Most international auto companies have stopped their operations in Russ....Read More
Like the way we think?
Next time we post something new, we'll send it to your inbox