Download Blog
Published on July 18, 2022 by Ambarish Srivastava
Venture capital investing is a very demanding activity, with functions ranging from fund marketing, due diligence, deal evaluation, deal making and monitoring to exit strategies. These functions, in turn, comprise a number of tasks.
Harvard Business Review conducted a study in the 1990s to understand how venture capitalists spend their time and prioritise these functions.
What the study found
In 1998, Harvard Business Review published a report on "How Venture Capital Works", an in-depth analysis of the sector and how venture capitalists apportion their time.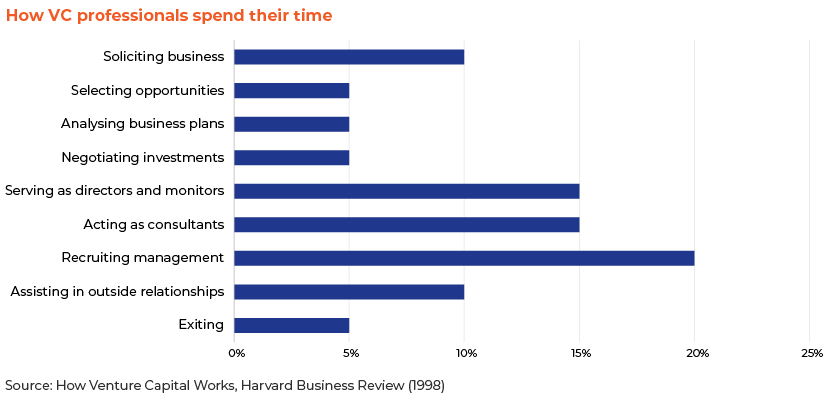 The analysis noted that professionals typically spent c.40% of their time studying their portfolio companies and c.30% on deal-related activities.
What Acuity Knowledge Partners (Acuity) found
Two and a half decades later, Acuity conducted a landmark survey of private equity and venture capital (PE&VC) operations and found a change – time allocation had evolved over the years. Deal sourcing and due diligence activity now account for 42% of venture capitalists' time, portfolio-related activities for 32% and ESG considerations for c.6%.
The survey also showed that there are now more areas of focus and, assuming these professionals worked the same number of hours as in the 1990s, the time spent on each activity has declined.
Although the survey did not explicitly request information on the involvement of senior management (at venture capital firms, although it checked their involvement in the overall PE&VC sector), the results also revealed that they are very engaged in deal sourcing and due diligence activity.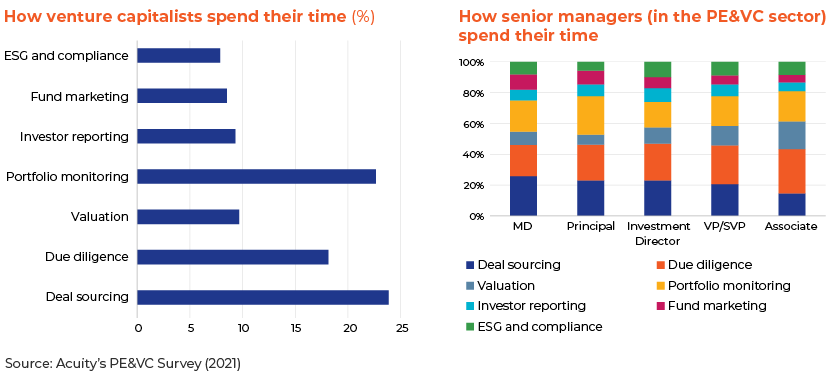 What has changed since the 1990s?
Time is precious, with more areas and activities to focus on, such as the following:
Increasing size of funds: The average size of a fund was USD20m in the 1980s; it was 10x this in the late 1990s. It is many times this now.

Increasing number of investments: Historically, a group of general-partner managers would manage a limited number of deals. As venture capitalists started to play a larger role in startup ecosystems, the number of deals began to increase. However, when their bandwidth reduced, so did their role in mentoring startup companies.

Increasing knowledge: With general partners becoming less knowledgeable than entrepreneurs as knowledge and technology advanced, they found it difficult to keep abreast of developments. The role of a "virtual" CEO was created during the 1990s as venture capitalists' ability to assist portfolios became limited.

Increasing pressure on limited-partner relationships: Reporting requirements and regulatory scrutiny are much higher than they were two or three decades ago, resulting in more work and requiring increased commitment.
Venture capitalists need support
As pressure on time increases, the VC sector urgently needs to augment capacity, not only to handle more tasks, but also to execute current tasks efficiently and proficiently.
How Acuity Knowledge Partners can help
We provide venture capitalists with end-to-end services across the entire spectrum of activities, augmenting their bandwidth. Our support ranges from identifying targets to evaluating deals, while we also assist with clients' in-house operations.
Sources:
How Venture Capital Works, Harvard Business Review (1998)
PE&VC Survey (2022), Acuity Knowledge Partners
---
What's your view?
---
About the Author
Ambarish Srivastava is an Associate Director within Private Equity practice at Acuity Knowledge Partners and has about 13 years of experience in business research, analysis and consulting. He focuses on leading deep-dive strategic projects, due-diligence support, issue-focused trend analysis and similar assignments for our PE clients. His previous experience includes tenure with startups, Big Four and consulting organizations, where he focused on industry studies, price forecasting, company analysis, macro-economic studies, and other strategic engagements.

Blog
The Federal Reserve's trajectory – side-trac....
The bank run that resulted in the collapse of Silicon Valley Bank (SVB) derailed the US fi....Read More

Blog
Can the neobank model be value-accretive to bank....
Neobanks, a new generation of financial institutions that operate exclusively in the digit....Read More

Blog
Private equity: macroeconomic influences to d
Since the global financial crisis, the private equity and venture capital (PE&VC) sect....Read More

Blog
Trends in private equity in 2022
In the private equity and venture capital (PE&VC) space, 2021 was a sort of "templat....Read More

Blog
The rise of SPACs: Private Equity's new fro
Although special-purpose acquisition companies (SPACs) have been around for three decades,....Read More
Like the way we think?
Next time we post something new, we'll send it to your inbox