Download as PDF
Published on by Prashant Gupta
There seems to be much confusion about the roles and workings of business accelerators and incubators. Many use these terms interchangeably, when, in fact, they have distinguishing factors. Both accelerators and incubators aim to support startups – to grow and scale up – but in their own ways.
Incubators and accelerators groom startups by providing guidance and mentorship using slightly different methods. They serve different types of startups at different stages of the business cycle to achieve different outcomes. Incubators typically assist startups at the idea stage, whereas accelerators assist startups that have passed this stage. Incubators nurture startups by offering the necessary tools and advice – from providing office space, business skills training, and mentorship to access to financing and professional networks and other valuable resources necessary to build and grow a business from scratch. Incubators generally provide longer-term support (which may even span several years) and are more open-ended in duration. However, most incubators typically do not offer their own in-house technology or product development support; nor do they provide funding.
A startup that has used the services of an incubator is expected to have incorporated its business, formed a team, gained a good understanding of the market, and developed some kind of prototype or product. At this stage, it would require a certain expertise and support to devise a business plan to grow the business, to develop a product or technology, and conduct initial market testing. This is where it needs further guidance and where the services provided by an accelerator come in to help it develop institutional strength, vision and strategy.
Accelerators are cohort-based programs that provide customized mentorship, education and training tailored to early-stage startups to further grow and scale up their business or technology. The accelerator's focus is on speedy growth and resolving organizational, operational, and strategic problems. A business acceleration program usually runs for three to six months and ends with a "Demo Day", when the startup gets a chance to pitch to prospective investors. Accelerators also provide access to investors; they usually offer some level of pre-seed or seed investment as well, in return for an equity stake in the business. Accelerators normally focus on one specific industry or technology, offering more specialized resources for a startup from within their cohorts, whereas incubators tend to provide a broad range of resources for such companies. After such a program, a startup is typically ready and may consider raising another round of funding (for example, series A funding) or probably approaching another accelerator with a more specialized, industry-specific program to further develop and grow its business.
Indeed, an accelerator's and incubator's services overlap, as the following image shows, probably explaining much of the confusion that exists.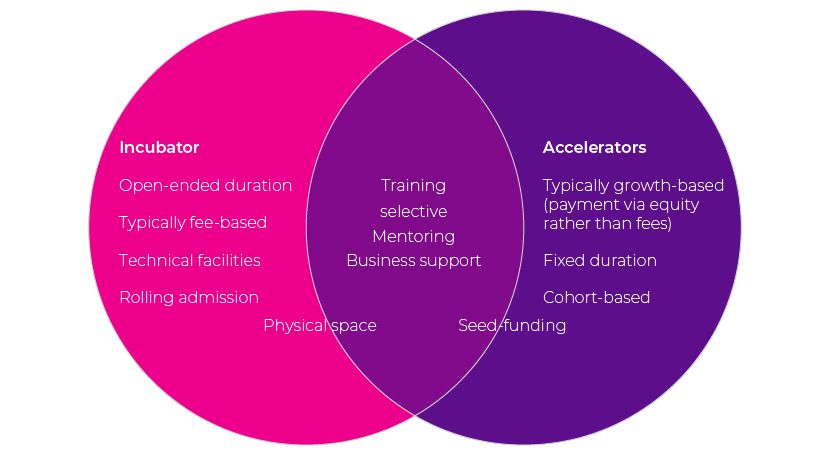 In essence, incubators help companies 'stand and walk', while accelerators teach companies to 'run'. Be it an early startup or an established organization, both incubators and accelerators are important for fostering and boosting growth, which in turn boosts a country's economic growth.
Acuity Knowledge Partners supports both new-age and established organizations to scale up their operations and leverage partnerships to sustain growth. We have dedicated teams of highly qualified analysts, who work with clients in strategy research assignments, including target identification and evaluation, market monitoring, competitor strategy analysis, peer benchmarking, and financial modeling.
Source: Business Incubators and Accelerators: The National Picture, dated April 2017
---
What's your view?
---
About the Author
Prashant is part of Private Equity & Consulting team and has been with the company for over 11 years. He has a total work experience of over 16 years and has rich exposure working on a variety of research and analysis assignments serving clients ranging from top asset managers, PE firms to bulge bracket investment banks.
He has extensive experience working on assignments covering in depth end to end credit analysis covering capital structure analysis, corporate structure analysis including guarantees and structural subordination case, covenant compliance analysis, financial modeling & valuation, asset recovery analysis, relative value analysis of HY bonds, amongst others.
Prashant holds an MBA in Finance and a Bachelor's degree in Engineering (Electronics). He is also a CFA charterholder.
Comments
09-Nov-2021 08:46:15 am
Thanks for sharing, Its amazing. As we know The tech advancements of today allow you to get insights on what's going wrong in your processes, workflows and operations and take corrective measures accordingly, X-Byte is launching its super-exclusive Tech Accelerator program to help and guide all the aspiring business owners out there to scale their operations and grow their venture.Keep those posts coming!The right set of examples attached to every app type makes it easy to understand and relate to the technology in deep.This is much help for future developers. Thanks for this! Know more here: startup accelerator vs incubator
---

Blog
Trade Finance Trends 2023 – Farewell to a bump....
Following the steep decline in 2020, when global trade was hit by the COVID-19 pandemic, i....Read More

Blog
A new dawn for fixed income assets following an ....
After a dismal 2022, fixed income investors have a lot to look forward to in 2023, a....Read More

Blog
Finding opportunities in the SaaS industry....
Finding opportunities in the SaaS industry – the top-down approach Software as a servic....Read More

Blog
Private debt gaining traction as an asset cla
Investors globally continue to shift away from traditional asset classes towards alternati....Read More

Blog
SPACs were hot in 2020 and are hotter now!
Special-purpose acquisition companies (SPACs) have become a notable trend in the IPO world....Read More
Like the way we think?
Next time we post something new, we'll send it to your inbox