Download Blog
Published on December 7, 2021 by Ramesh Punugu
Asset managers have substantially underperformed the S&P 500 index over the past five years. The top-10 listed asset managers appreciated 10% per year, on average, during this period compared with the S&P 500 that has returned over 20% annually.
We highlight five key trends to watch for in 2022:
Trend #1: Industry profit pools remaining flat as cost-cutting measures lag fee compression (despite AuM growth)
Profit pools for the global asset management industry have remained flat recently despite healthy organic flows and AuM growth thanks to strong market performance. Industry costs have increased at a faster pace than revenue because of pressure on fees and a shift of assets away from actives to passives. We expect this trend to continue, as the industry has struggled to cut costs aggressively despite industry consolidation.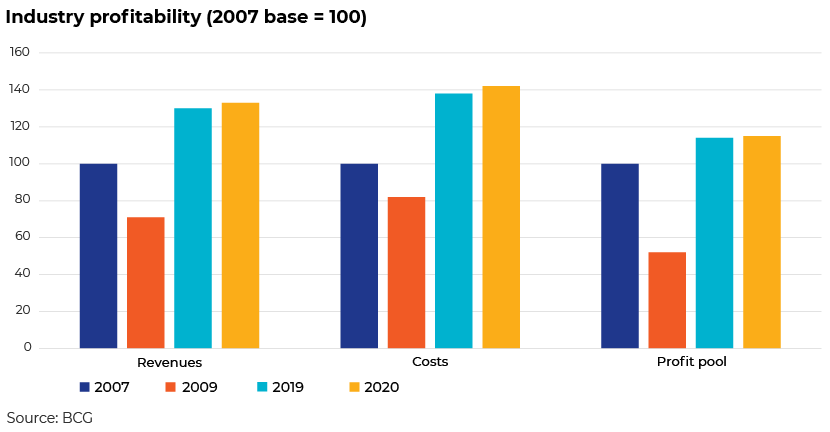 Trend #2: Asset owners likely continue to allocate more assets to passives and private markets
The global industry's AuM is likely to continue to accelerate the shift towards passives on one side and private markets on the other as asset owners allocate investments strategically to drive the most value from asset managers. Alternatives present the most attractive revenue opportunity for asset managers, with its share in the industry revenue pool increasing from 42% in 2020 to 46% in 2025. The share of revenue from passives is likely to remain flat despite significant increases in AuM as fees remain depressed.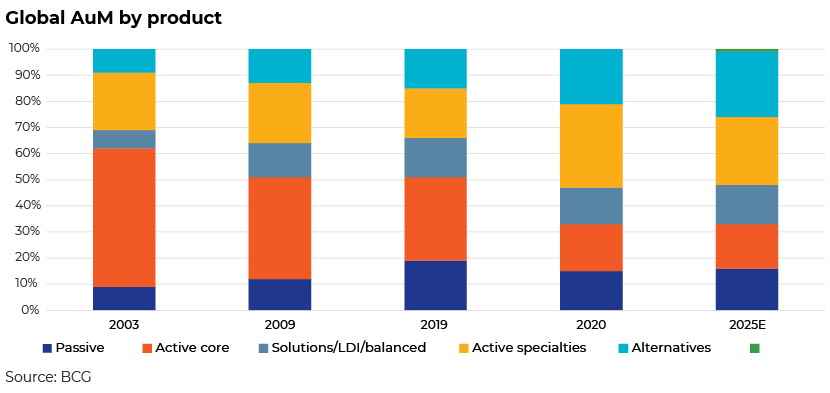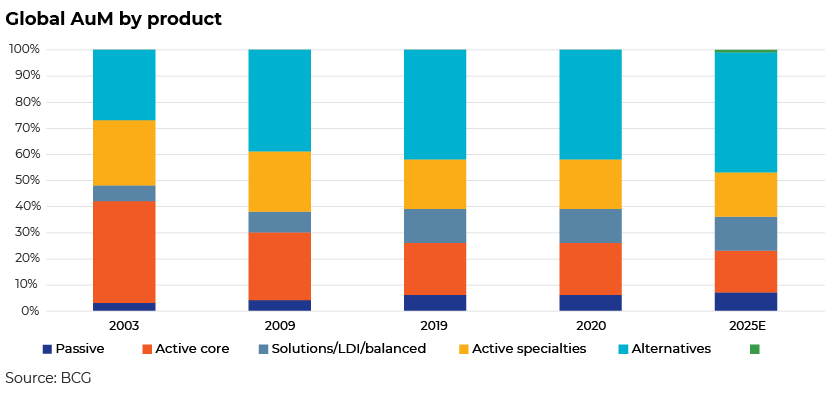 Trend #3: Fixed income may see a turnaround in 2022 as global central banks normalise policy
Fixed-income investors have had a difficult 2021 as excess central bank-driven liquidity pushed real yields deeper into negative territory. We expect the fixed-income market to recover in 2022 as global central banks normalise policy and as yields and credit spreads improve. Forward-looking investors are leveraging Acuity Knowledge Partners' (Acuity's) global fixed-income research capabilities to prepare for a turn in the credit market cycle.
Trend #4: Emerging-market equities outperforming developed-market equities
Developed-market equities have outperformed emerging-market equities in 2021. The underperformance in emerging markets was primarily due to the lacklustre performance of Chinese equities because of the regulatory crackdown on internet companies and the woes of China's property sector. We expect this trend to reverse going forward as Chinese equities present an attractive opportunity from a valuation perspective. However, investments in Chinese equities remain a challenge for global investors because of limited research coverage and quality, the high costs of a trained talent pool and language constraints to cover these markets from global financial centres. Global asset managers and investment banks leverage Acuity's on-the-ground research capabilities (more than 150 analysts in China) to drive innovation and efficiencies in their investment research processes and maintain a sustainable edge.
Trend #5 – Asset managers continue to embrace offshoring to drive front-office efficiency and innovation
Front-office offshoring by global asset managers has accelerated in recent years as they look to reduce costs and drive operational efficiencies across functions. Several asset managers have collaborated with Acuity to drive efficiencies across research (equities, fixed income, quants, ESG), sales and marketing, compliance and technology/data functions. For these clients, Acuity sets up dedicated teams of associates (with backgrounds in Finance, Accounting, Economics, Technology) from its delivery centres in South Asia (India, Sri Lanka), China (Beijing) and Costa Rica (San José) who work as virtual extensions of client teams delivering high-end knowledge-based services to asset managers globally. Asset managers have been able to lower costs, enhance operational flexibility and improve time to market by leveraging these services.
---
What's your view?
---
About the Author
Ramesh has over 20 years of experience in global capital markets – research and investment banking.Prior to joining Acuity Knowledge Partners, Ramesh worked with the offshore research and analytics units of Crisil and iGate, managing sell-side research and investment banking teams for global clients. He started his career as an investment banker at Ind Global Financial Trust (currently part of Ernst & Young's corporate finance practice in India), advising companies on M&A and capital raising. He holds an MBA and a bachelor's degree in Technology.
Comments
13-Jan-2022 03:13:38 am
Because of China-U.S. trade war and the COVID-19 pandemic , many multinationals has felt the need to diversify supply chains outside of China. This has given rise to the "China plus one" strategy, in which multinational firms are moving to other countries, in addition to China. India, Malaysia, Vietnam can be benefited due to this.
---

Blog
M&A activity to keep revenue streams open....
While M&A activity remained muted in 1H 2023 due to market uncertainty and volatility,....Read More

Blog
Strategizing to Mitigate Pressure on Margins....
Investment banks and advisory firms have been pragmatically exploring ways to improve oper....Read More

Blog
Automation critical for productivity enhancement....
Client demands are ever-evolving and amid these challenging market conditions that have be....Read More

Blog
Spotlight on gold: Is pandemic-related volati
A brief look at the history of goldCivilizations most likely first learnt about the existe....Read More

Blog
Asset Management Industry – Trends to Watch
This year has been a strange and uncertain one for the global economy. While there were kn....Read More

Blog
Investment Research – Creating On-the-groun
Emerging markets present a sizable opportunity to global investors to create alpha. Accord....Read More
Like the way we think?
Next time we post something new, we'll send it to your inbox