Download Blog
Published on September 28, 2021 by Sreenath Kesavan
We have seen a number of developments in Afghanistan recently, after the US announced withdrawing its troops from the country. The Taliban took over Kabul almost immediately, resulting in chaos. While most of us are aware of the country's violent geopolitical history, much more seems to be at stake in terms of its immense mineral wealth. Vast deposits of iron, copper and other minerals are scattered across the provinces, according to studies carried out by the United States Geological Survey (USGS). Countries such as China appear to be interested as they take their next economic/technological leap while trying to achieve their climate change-related goals. If Afghanistan's new government can stave off a civil war and achieve some degree of international legitimacy, it could attract foreign direct investment (FDI) to aid in the development of the country.
Afghanistan's mineral wealth beckons, with big risks.
US intelligence and the USGS discovered large untapped mineral deposits in Afghanistan in 2007, which included rare earth elements [1.4 million metric tons (MMT)]. This was in addition to estimates of vast copper, iron and other mineral deposits. The value of these minerals has been pegged at an eye-popping USD1-3tn, attractive enough for any mineral-resource developer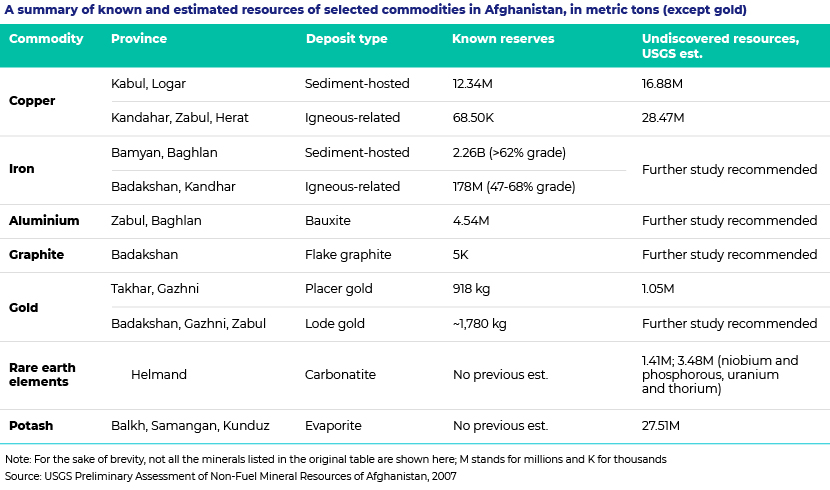 Although Afghanistan's mineral reserves are attractive, extracting them would be very expensive and difficult due to the terrain, the lack of relevant infrastructure, physical and security risks and the lack of domestic labour with the necessary technical skills. For instance, Metallurgical Corp. of China Ltd and Jiangxi Copper Company Ltd, two of China's state-owned companies, won an USD3bn bid to mine copper at Mes Aynak, one of the largest untapped high-grade projects in the world, in 2007. The mine has not seen any commercial output to date due to the reasons mentioned above.
China attracted to Afghan mineral wealth
Access to Afghanistan's large mineral resources would further China's aspiration to become a global superpower, offering a long-term play for China's next economic/technological leap by 2030-40 in terms of next-generation electric vehicles, batteries, green tech and renewable infrastructure. It would also fulfil China's green ambitions by helping it offshore highly polluting mining, refining and processing activities that China can ill afford domestically. For instance, China's 14th five-year plan targets reducing energy intensity (energy consumption per unit of GDP) by 13.5% and CO2 emission intensity (CO2 emissions per unit of GDP) by 18% by 2025.
China seems to have been waiting for this moment, as evidenced by its friendly overtures to the Taliban leadership. China established diplomatic contact with the Taliban within five days of the Taliban taking control of Kabul on 15 August 2021 and has been maintaining communication and consultation since then.
The new government has a key role to play in developing the mineral legacy
Afghanistan has been called a "graveyard of empires", with the British, the Russians and now the Americans having failed to rebuild the nation. The new government could play a big role in establishing a stable government in Afghanistan and in developing its mineral wealth by attracting FDI, pending its ability to stave off a civil war and achieve some degree of international legitimacy. While this seems to be a tall order, China could play a pivotal role, given its strategic interest in the country. Will a new chapter of development be written in the Afghan story, or will it become another debacle? Only time will tell.
How Acuity Knowledge Partners can help
Global investment banks and asset managers leverage our sector-specific experience to rapidly increase internal analyst bandwidth and expand coverage. We set up dedicated teams of analysts (CAs, MBAs, and CFAs) to support our clients on a wide range of activities including idea generation, financial analysis, thematic research, building databases and regular sector coverage. Each output is customised, based on the client's requirement, and made available for their exclusive use. This ensures our clients a unique, sustainable edge.
Sources:
https://pubs.usgs.gov/periodicals/mcs2021/mcs2021-rare-earths.pdf
https://pubs.usgs.gov/fs/2007/3063/fs2007-3063.pdf
https://www.nytimes.com/2010/06/14/world/asia/14minerals.html
https://www.reuters.com/article/us-afghanistan-mining-idUSTRE69O3JP20101025
http://www.chinaembassy.org.sg/eng/fyrth/t1899785.htm
https://www.cnbc.com/2021/08/17/taliban-in-afghanistan-china-may-exploit-rare-earth-metals-analyst-says.html
https://thediplomat.com/2020/02/afghanistans-mineral-resources-are-a-lost-opportunity-and-a-threat/
https://www.reuters.com/world/russia-says-kabul-seems-safer-under-taliban-than-it-was-under-ghani-2021-08-16/
https://www.cnbc.com/2021/04/17/the-new-us-plan-to-rival-chinas-dominance-in-rare-earth-metals.html
https://edition.cnn.com/2021/08/18/business/afghanistan-lithium-rare-earths-mining/index.html
https://www.aljazeera.com/news/2021/8/24/as-us-exits-afghanistan-china-eyes-1-trillion-in-minerals
https://www.metalbulletin.com/Article/4004437/in-depth/Afghanistans-mighty-copper-reserves-remain-out-of-reach-even-for-China.html
https://www.carbonbrief.org/qa-what-does-chinas-14th-five-year-plan-mean-for-climate-change
https://www.thehindu.com/news/international/china-taliban-hold-their-first-dialogue-in-kabul/article36099458.ece
---
What's your view?
---
About the Author
Sreenath Kesavan is part of the Investment Research team at Acuity Knowledge Partners. He has spent more than seven years in his current role covering the U.S. steel industry at Acuity Knowledge Partners and currently supports sell-side clients with research assignments including initiation and thematic reports, economic updates, data research and earnings review. He holds an MBA in Finance from ICFAI University, Dehradun.

Blog
PE&VC sector continues to face headwinds....
Private equity and venture capital (PE&VC) firms face strong headwinds in the form of ....Read More

Blog
Pet humanisation in China: how dogs and cats are....
Introduction There are as many as 51m pet dogs and 65m pet cats in urban China. If distri....Read More

Blog
China – a promising wealth management market....
China has emerged as a highly-sought-after destination for wealth management services. B....Read More

Blog
Africa's natural resources sector attracts
Africa's natural resources sector attracts strategic investments Africa's rich natur....Read More
Like the way we think?
Next time we post something new, we'll send it to your inbox