The Indian Banking Sector Key Challenges Amid a Technology led Revolution
The banking sector in India is at a ground-breaking cusp, where traditional state-owned players are facing significant technology disruptions, while digital growth aided by newer technologies is changing consumer mind-sets. While problem loans are a key challenge facing the sector, the government is taking aggressive steps to shift the banking ecosystem to a higher plateau through promising developments in the Indian political, socio-economic, and regulatory landscape amid the government's efforts to heavily leverage the digital push into the financial services domain. Moreover, the banking ecosystem has now access to differentiated consumer data collection sources, not only resulting in a rapid rise of Fintech players but also aiding incumbent banks in making faster banking decisions.
Key Takeaways
• The Indian government is pro-active in eliminating stressed assets from the system.
• The tech-savvy Indian consumer has changed the face of retail banking.
• The road ahead for new banking players is lucrative, given the size of the Indian economy.
• India's macroeconomic fundamentals complement the government-backed self-sustaining digital revolution.
• Indian banks have true potential to operate as world-class financial institutions.
---
Author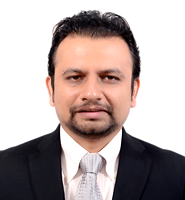 Maulin Thaker
Assistant Director, Commercial Lending
Maulin has over 12 years of experience across Equity research, Commercial Lending and Corporate finance/consulting. At Acuity Knowledge Partners, he is involved in Pre-sales efforts and special client projects along with thought leadership and marketing initiatives for the commercial lending vertical.
Prior to joining Acuity Knowledge Partners, Maulin was with an institutional equities team at New York based Brown Brothers Harriman for over 6 years, mainly providing US thematic-strategy research to global buy-side clients. He holds an MBA-Finance from Pace University – New York (USA) and is a qualified Chartered Accountant from India.
The Indian Banking Sector Key Challenges Amid a Technology led Revolution

Your file will start downloading automatically
If it does not download within 1 minute,