Are global investors still "a bull in the China tech shop"?
Introduction
Imagine a normal working Chinese citizen's day: wake up early, use DDT (a ride-hailing app) to take a taxi to office, pay through WeChat, find inspiration for lunch through Meituan (a food delivery app), browse Alibaba's Taobao after work or share interesting information on short video platforms. Our lives are already closely connected to the major platforms, and continued public consumption is driving profitability and growth of the major platforms.
Evolution of platform companies
In the decade after 1999, the emergence of two e-commerce giants, Taobao and Jingdong, set off China's online shopping boom. From 2008 to 2015 was a period of rapid growth for the platform economy, during which Taobao set off the "Double 11" shopping frenzy, while Meituan, founded in March 2010, continued to promote the digitalisation of the demand and supply sides of service and goods retailing. The year 2012 saw domestic travel giant "DiDi" also set off a wave of online taxi platforms. From 2015 to 2022, the number of mid-size platforms nearly tripled, and the market capitalisation of both large and mid-size platforms nearly more than tripled.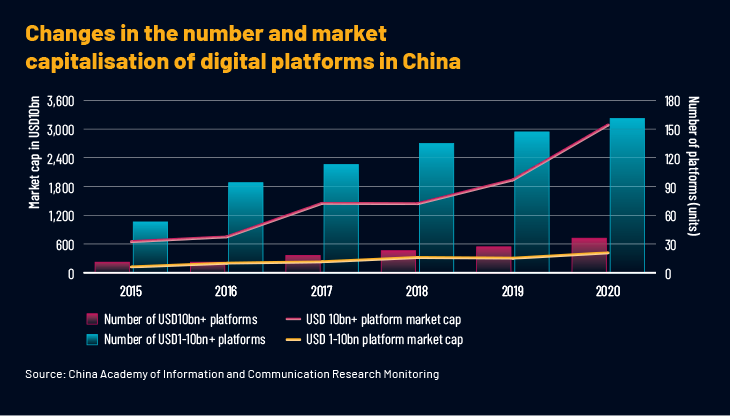 Conclusion
The platform companies are immensely important to China. The intense completion has led to unethical practices in the space but the country has proposed a series of policies to support and encourage the development of the platform economy and to use digital platform companies as an important channel to boost the national employment rate. In a perfect legal system and benign competition environment, the platform economy will likely continue to develop and achieve a quantitative to qualitative leap.
Acuity's Value proposition
We have been serving in Beijing for more than a decade, and our talent pool of bilingual analysts can help investors monitor the sector, translate policy documents, prepare sector and company reports and build financial models. They act as an extension of our global clients' research teams and keep money managers abreast of developments in China through meaningful and bespoke research.