New Insights
THE GREAT INDIAN LOCKDOWN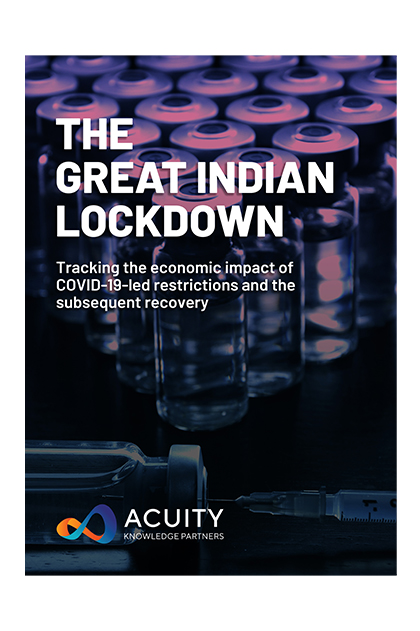 Thank you for sharing your Comments
Your file will start downloading automatically
If it does not download within 1 minute,

India's COVID-19 cases peaked in September 2020 and the vaccination drive kicked off in 2021. That said, a series of lockdowns (both pre-emptive and extended) and "unlock" phases hurt the economy in 2020. Even though the country has not witnessed a second wave, new strains of the virus combined with poor testing pose a threat for economic growth recovery. While we are seeing traction in recovery, it is too early to say whether the fundamentals are improving.
In this chartbook, we assess a mix of macro and alternative data to help understand the impact of the COVID-19 pandemic on the economy through easy-to-read illustrations that cover different phases of the lockdowns and unlocks. It also offers a unique representation of high-frequency proxy indicators to gauge economic uncertainty and recovery.
Acuity Knowledge Partners' Macro team will track developments in the Indian economy (covering the impact and recovery) in a series of fortnightly publications.
Key Takeaways:
The lockdowns (imposed to cut mobility to limit and delay the outbreak) have been relaxed and mobility is improving
Online activity thrived with over 1.3bn people under lockdown, but businesses are picking up pace
Activity changing gear in the new normal – recovering markets and trade, improving sentiment and a stabilising labour market. However, sustaining momentum remains a concern
Both the government and the Reserve Bank of India continue to undertake measures to revive the economy amid geopolitical tensions