Download Blog
Published on April 14, 2020 by Ankush Shaw
The disruptions caused by the novel coronavirus outbreak present a number of challenges and opportunities for the healthcare services space. We believe that in a post-COVID-19 environment, three key themes will shape strategy: (1) We expect disruptions and delays in clinical trials, slowing the pace of scientific breakthroughs and innovation. Consequently, the healthcare services space would see a modest slowdown in new requests for proposals (RFPs); we expect this to reverse by the last quarter of the year. (2) We also expect the otherwise strong biotech funding environment to witness a slowdown, primarily hurting small biotech firms. While most biotech companies have comfortable cash cushions to support innovation, the slowdown would certainly dent the overall pace of drug development. Nevertheless, as most of the innovation is driven by larger biopharmaceutical companies with stronger balance sheets, the space will likely be more resilient. (3) The biggest area to benefit amid all the negativity would be tele/virtual health platforms, with increasing use among patients, insurers and care providers. We believe tele/virtual health platforms are on a solid trajectory to have a long-lasting impact on healthcare delivery models and facilitate increasing use of technology and innovation across the healthcare value chain.
Delays in clinical trials delaying advancement of other potentially breakthrough medicines: The panic surrounding COVID-19 is causing patients recruited for clinical trials to refrain from visiting the hospitals and healthcare facilities conducting the studies, primarily due to fear of getting infected. This is negatively impacting patient enrolment and recruitment for studies involving potentially breakthrough medicines and therapies, delaying the entire drug-development process. In fact, drug makers across the board are either delaying current clinical trials or suspending planned ones. This has a negative impact on healthcare services companies, including contract research organisations (CROs) that the therapeutics companies outsource the drug-development process to. We expect this trend to disrupt the healthcare services companies' competitive landscape in the near term, especially as the race to discover a treatment or vaccination for COVID-19 is causing drug companies to shift focus away from other potential avenues.
Denting an otherwise robust biopharmaceutical funding environment: The biopharmaceutical industry's funding levels remain strong, with most biotech companies reporting cash and cash equivalents in their balance sheets enough to support innovation for at least the next two to three years. That said, it is important to understand that initial public offerings (IPOs) are the most important funding avenue for small and medium-size biopharmaceutical companies and hence, the primary growth drivers of the healthcare services industry. While we expect the funding environment to remain strong, it will surely be impacted by the current bearish undertone in the broader markets; we, therefore, expect small biopharmaceutical companies to hold off on IPO plans until the market has stabilised somewhat.
Tele/virtual health platforms finally getting the attention they deserve: Tele/virtual health platforms facilitate consultations with physicians from the comfort of one's home, primarily through methods such as video conferencing, chat, and text. This has essentially become the go-to avenue for patients amid the COVID-19 pandemic, primarily because of fear of becoming infected if they step out of their homes to visit a doctor. We note that the US has just emerged from a very strong flu season, when demand for telemedicine generally peaks. Teladoc Inc. (ticker: TDOC), one of the biggest and diversified telehealth companies, recently reported a significant increase in visit volumes. Fuelled by this unprecedented growth, the stock has basically been on a tear, with YTD returns of c.95%. Meanwhile, the S&P 500 Index has slumped c.24%. We believe telehealth is the next big thing in the healthcare space, as it could potentially change the healthcare delivery landscape. Recent regulatory and legislative changes have all been designed to favour healthcare delivery through telemedicine. Furthermore, as technological advancement continues to improve connectivity and patients get acquainted with using technology for healthcare needs, we expect telehealth to be one of the areas that benefit the most from this crisis.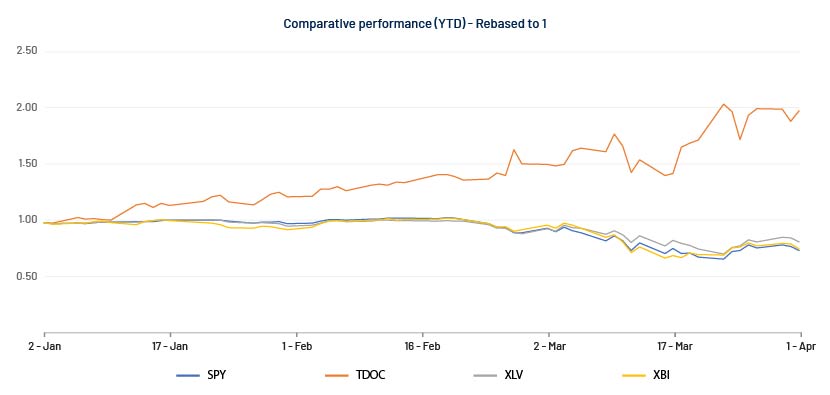 Note: SPY: SPDR S&P 500 ETF; XLV: Healthcare ETF; XBI: Biotech ETF
Source: Yahoofinance.com, Acuity Knowledge Partners
We believe COVID-19 will have a deep impact on how we do business around the world. Health Care Services will need to be more digitalized to adapt to this new normal of business as they rethink their strategy for 2020.
Here is where Acuity Knowledge Partners can help you navigate through these challenging times. We support global investors by helping them internalize more of their investment research process by building dedicated teams of research analysts at our delivery centers in South Asia, Beijing and Costa Rica. Our analysts (MBAs, chartered accountants, CFAs) work as an extension of the client team and provide support on various types of client-specified research assignments, including financial modelling and valuation, conducting background research, gathering primary and secondary data, preparing for company visits, and providing earnings-season support and a host of other value-added research.
Each research output we produce is customized for the client and reflects the client's proprietary and differentiated research process. This gives the client a unique, sustainable edge.
To help our clients navigate both the people and business impact of COVID-19, we have created a dedicated hub containing a variety of topics including our latest thinking, thought leadership content and action oriented guides and best practices.
Sources
---
What's your view?
---
About the Author
Ankush Shaw has 8+ years of experience in investment research with a focus on biopharmaceutical services, healthcare information technology, emerging markets, utilities as well as mutual funds and ETFs. Currently, he is working with a US based sell-side research firm, engaged in detailed financial modeling, news flow tracking and writing opinionated investment notes with a focus on equity research. Previously, he has worked with UK based buy-side firms, and a US based sell-side firm, providing actionable investment insights throughout the overall investment research value chain. He specializes in preparing detailed financial models, writing thematic as well as focused investment..Show More

Blog
US municipal not-for-profit healthcare companies....
Key takeaways Inpatient volumes are declining; hospitals are investing to meet in....Read More

Blog
Wellness industry trends – 2023....
The wellness market has been around for a while. From the days of Jane Fonda's workout t....Read More
Like the way we think?
Next time we post something new, we'll send it to your inbox