Download Blog
Published on April 26, 2023 by Priyanka Grover
Introduction
In this digital era and amid the plethora of competitive products, it becomes increasingly important for companies to make customers stick to their brand. Customer loyalty to brands has become more important than ever. To this end, companies are designing customer journeys to ensure multiple customer contact points – from assessing requirements to adding value post sale. This is the future of retail.
Technology was critical amid the pandemic for practical purposes such as expanding a brand's online presence, ensuring convenience to shoppers, and providing safer payment options such as contactless payment. It was all about creating a connected engagement with the customer. Customers are far more technologically oriented and comfortable shopping online now. The future of retail, therefore, lies in transforming the consumer and the market with 'technology advancement' and 'digital enablement.'
With increased digital transformation, e-commerce was already growing rapidly in the retail space pre-pandemic. But since the pandemic, there has been aggressive digitalisation by companies and the rapid growth in e-commerce has triggered major changes in consumers' shopping-related behaviour. These changes are here to stay. The pandemic accelerated the shift to e-commerce by five years, according to a study by IBM. Approximately two years ago, online purchases contributed 14% of total sales of a business. This was c.20% globally in 2021, about a 50% increase in a noticeably brief period.
Pandemic-induced changes in the retail sector:
Like other sectors, retail sector has experienced a great push to going digital. Not only retailers of essentials, but luxury goods retailers as well have moved to the online space. Approximately 90% of US jewellery retailers now have online platforms, according to Bain & Company's Global Diamond Industry 2021-22 report. US retail performed the best, with a 38% increase in diamond jewellery sales y/y in 2021-22. This was a result of efforts to address changing customer needs, increasing presence at places they like to shop. A large number of retailers optimised their brick-and-mortar stores; Tiffany & Co. engaged Beyoncé and Jay-Z to star in its "About Love" campaign. The movie 'House of Gucci' featured a large diamond jewellery wardrobe, one of the latest retail trends.
"Consumers are buying more online than before the pandemic." "While sheltering at home, they were disconnected from retail stores as gathering places, and they discovered new online shopping channels. Now, consumers are more open to online shopping, yet their attention is more fragmented, according to Coresight Research.
Consumers increased their trust in technology and digital platforms and adopted innovative ways to shop, during the pandemic, according to Deloitte Holiday Survey. While many consumers say they now feel more comfortable returning to stores, their preference for online channels remains higher than before the pandemic.
With such a major shift, retailers would have to adapt to the following trends in the retail sector: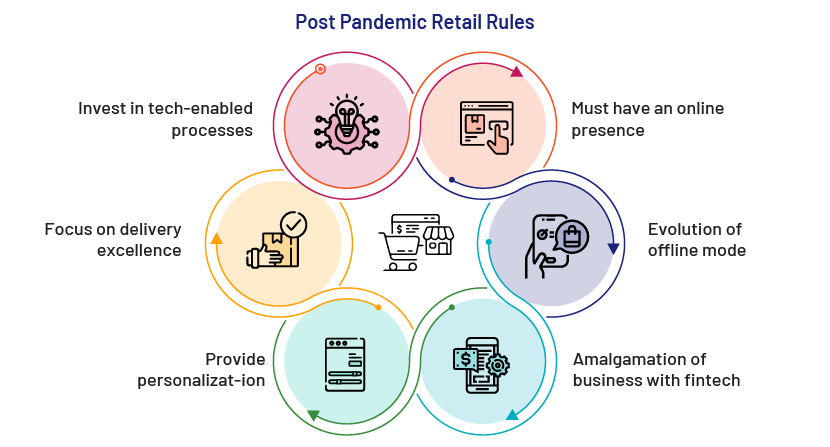 Retail trend #1: Online presence – a necessity
Successful retailers would adopt an omni-channel strategy and provide a seamless experience in both offline and online shopping. It is important that retailers have some sort of online presence. In line with the recent developments, it is also important to integrate the two channels. Customers may want to buy directly from the website or through a social media channel. They may want to check products, compare pricing, and check reviews online, before coming to the store to buy a product physically.
This also makes it important for retailers to optimise their marketing budgets and invest in social media influencers, with customers relying on their social media experts' opinions on whether to buy a product or not. Without an online presence, therefore, targets would be difficult to achieve.
Retail trend #2: Evolution of offline stores / experiential retail
The retail spaces will need to change post the pandemic. Customers now find it easy to shop online in case that is the only thing, they are looking for. However, going forward, customers will visit stores only if there are additional benefits of moving out to the store. Retailers may want to turn their stores into a complete leisure space, for customers to consider it as a day outing, including browsing, shopping, dining, and socializing. Tremendous growth has been observed in new business models such as "buy online, pick up in the store" (BOPIS), or curb side pickup models. Some of the key examples would be:
1. Nike's SoHo NYC store is one of the best examples of experiential stores. It is a 55K sq. ft. setup with facilities such as basketball half-court with adjustable hoops and digital video screens, soccer trial area, a customization shoe bar, helping shoppers personalize a pair of Nike Air Force 1s with touchscreens embedded into walls.
2. Another notable example is for Farfetch unveiling its "Store of the Future" (SOF) during its FarfetchOS conference in London in early 2022. Itis expected to include augmented reality shopping experience, emotion-scanning software, innovative payments solutions to bring together online and offline worlds.
3. While IKEA remains at the forefront of such experiences for customers, with hosting a sleepover in their Essex, UK store for one hundred lucky customers, way back in 2011.
Other changes that are key to this shift are transforming shop floor space into fulfilment centres. Companies have now been investing in functional layouts, clear wayfinding / signage, SKU reduction, etc. so convenience of the customer is met. "We know today's consumers expect shopping to be highly convenient, and perks like curb side pickup and same-day delivery have become run of the mill," says Josh Hanson, founder and CEO at Vertical Works and WORKSHOP
It has been researched that human as social beings prefer going out to visits stores, however, the retail stores must provide exciting reasons for customer to shop in-store. "Retailers must create a space, event or in-person experience that draws guests and differentiates the store from the online experience," says Brian Reno, a principal architect with Stantec in Chicago. This industry is bound to adapt their store designs and business models to match their consumer behavioural shifts, as shoppers want to make purchases easily with multiple options for ordering and pickup.
Also, another major change is populations shifting to less densely populated areas with the surge of working from home in majority of the organizations. This shift is forcing retailers to re-examine their store footprints and operations.
Retail trend #3: Amalgamation of fintech with retail
The retail industry is here to observe significant changes in the way people shop, so the experience is more convenient and faster. Providing options to customers for digital interaction with the retailer such as cashless payment solutions, invisible and autonomous stores offering reduced waiting times, biometric scanning, smartphones as POS, enhanced payments security, as well as access to finance for the unserved category of sellers and customers have become a trend.
There is a consistent rise in the customer expectations specifically towards the payment experience. According to the 2021 US Payment Trends Study, 85% of online shoppers would abandon their purchase if the checkout process were too long.
While there is a worrisome situation of survival among 50% of the UK retailers, 32% of them are looking to invest into their payment stacks. This is entirely because poor payment experiences cause the customers abandon a purchase. Tink – an open banking platform, found that 34% of consumers abandon their online purchases if they had to manually enter payment details or personal information at the check-out. Hence, in this era, fintech will always play a significant role in the success of retail sector.
According to Tim Nixon, CEO and Founder at Trolley.com, "Fintech solutions open the playing field for increased seller participation: expanding access to sellers in more countries, allowing pay-outs in local currency and removing excessive FX fees, helping marketplaces settle with their sellers in a timely manner, and removing barriers to entry—which can be as simple as supporting alternative ways to pay out a seller."
Retail trend #4: Personalization for customer stickiness
One of the other outcomes of the growth in ecommerce, accompanied by pandemic is - the increased consumer expectation. There is a lot of demand from customers for personalization of products. This has also been termed as 'hyper-personalization' requirements. The new age consumers tend to permanently shift to and be loyal to brands that know what they need.
Retail trend #5: Great delivery experience
Today, the shoppers have become used to the concept of 'instant deliveries.' While we have a Blinkit or a Zepto in India, there are names like Food Rocket and Instacart in the US. The market is now crowded. In busy schedules, shoppers find it very convenient to place orders online and get things delivered at the doorstep, within minutes or a few hours. In such a scenario, retailers and brands will have to adhere to the new trend and align themselves, so they are able to meet the service demand of the customers as well as evolve their business models to remain profitable.
This trend creates a surge in the adoption of 'Micro-retailing.' Having a wide presence has become crucial for retailers to meet the trend of instant deliveries. With micro-retailing, the retailer gets closer to the customer space and works better in terms of unit economics. This helps retailers save on the rising rentals, high CAPEX and OPEX to operate hypermarkets.
Retail trend #6: Enabling all retail processes with technology
Being tech reliant, has become necessary for all businesses to operate efficiently and profitably. Apart from an online presence, it is essential for retailers to devise and deploy an integrated solution to look at all distinct systems at one go - inventory planning, supply chain, POS, and delivery applications. Retailers must invest in such systems to solve retailer challenges, such as inventory mismatch at various junctions of the supply chain, expiry tracking, high pilferage, customer data and analytics, customized product solutions, cloud POS etc.
Technology systems will ease the experience for customer as well -from check-out free to touch-free shopping, merchandising to transactions, automatic replenishments, electronic rewards programs, contactless shopping, etc. Contactless Tech is necessary in Post-COVID Retail.
'Phygital' spaces – a merger of physical and digital retail, accompanied by VR and AI will be explosive.
Path Ahead:
Retailers and analysts both believe that technology does not have to be everything or nothing at all. The industry needs to move ahead with a fair balance of technology and human interface.
According to John Harmon of Coresight Research "Technology is best for providing convenience and information, and removing friction in the sales process, but service and experience from a human is the key advantage of physical stores over E-commerce."
Further it is advised to retailers that these services and experience should be replicated in the online mode going forward. The fusion of digital convenience and physical experiences will only accelerate in the future, which is what we can safely term as – 'Future of Retail.'
How Acuity Knowledge Partners can help:
Acuity Knowledge Partners is an influential player in the global market, offering expertise services to Consumer Retail and CPG companies navigate through emerging retailing trends, market landscape and competitive strategies. With a pool of talented professionals experienced in analysing consumer market risks, theme-based research and trend analysis, Acuity helps businesses and corporate clients identify market opportunities, customers, and competitors.
Sources:
---
What's your view?
---
About the Author
A Management Graduate with over eleven years of experience in Business Consulting and Business Advisory industry, having executed projects across multiple sectors including Financial Services, Information and Communication Technology, Telecom, Consumer Goods, Retail and Leisure

Blog
The UK CRE market – will it land on its feet?....
The UK's commercial real estate (CRE) sector is the second largest in Europe, following ....Read More

Blog
Pandemic-induced transitions in the US and Europ....
US A number of US retail companies, including Brooks Brothers, Lord & Taylor, Pier On....Read More
Like the way we think?
Next time we post something new, we'll send it to your inbox