Download Blog
Published on February 4, 2022 by Meha Thakur
The impact of the pandemic and how people responded to it have differed greatly throughout the world. Countries that instituted strict lockdowns, tested and maintained a track of their populations, and cautiously reopened their economies have rebounded faster than others, maybe unexpectedly.
So far, most emerging markets have been quick to respond to the pandemic's economic consequences, putting together extraordinary rescue packages for their hardest-hit industries and people. Most developing nations were able to return to global financial markets and issue fresh debt to satisfy their funding needs after a brief period of financial crisis in March 2020.
Emerging markets in 2021
Increased vaccine rollouts in developing countries accelerated their economic recovery in the first half of 2021. As per a report by S&P Global, recovery in emerging markets in Europe, the Middle East, and Africa (EM-EMEA) and Latin America—as measured by inflation-adjusted GDP (or real GDP)—was greater in the second quarter than it was predicted owing to speedier progress on the vaccination front in line with the easing of pandemic-related restrictions. Exports, particularly those connected to commodities, grew quickly, while service sectors sensitive to the pandemic did better than predicted in the conditions, and mobility indices continued to rise.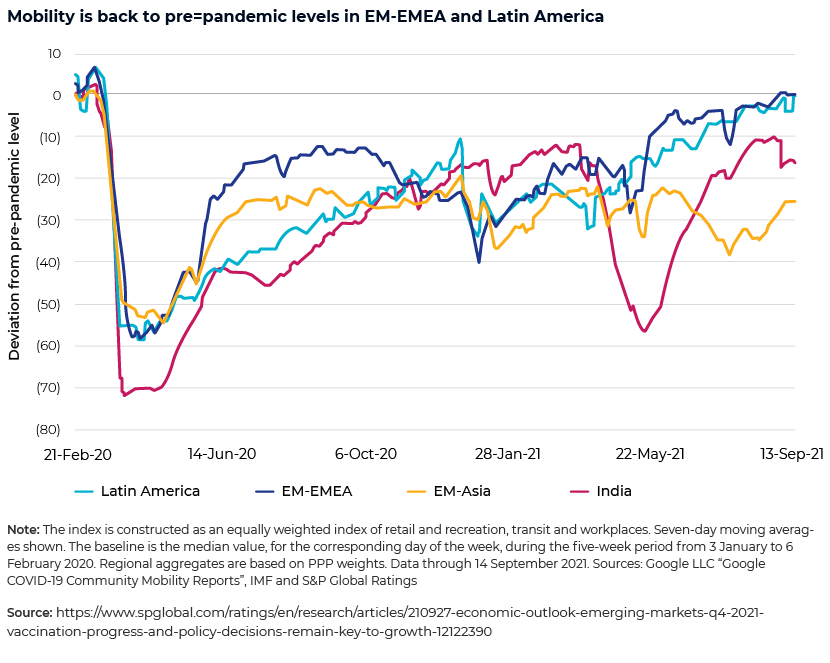 On the other hand, EM-Asia has felt a disproportionate impact of the current COVID-19 delta wave during the third quarter. The manufacturing sector in emerging markets contracted for the first time in 14 months, reflecting the pressures brought on by the latest COVID-19 wave. Developed economies, on the other hand, continued to expand rapidly, albeit facing more severe supply chain restrictions and stronger pricing pressures than developing markets. The recent JPMorgan Global Manufacturing PMI also listed a decrease in the headline index to 54.1 in August from 55.4 in July.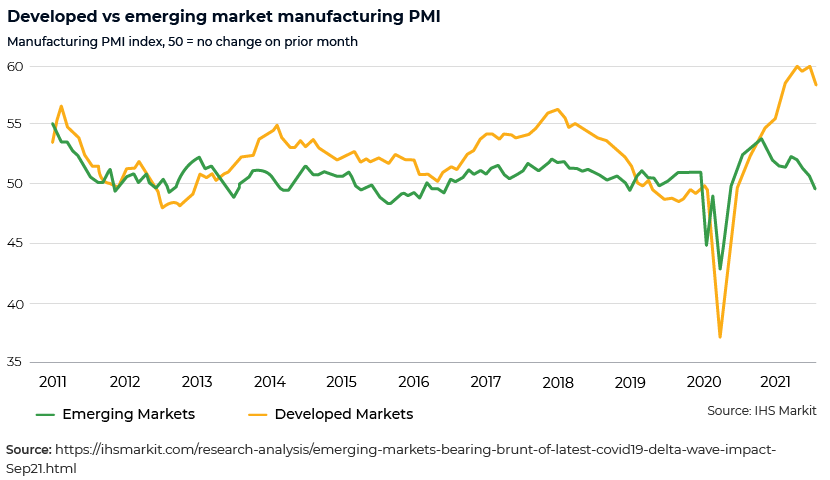 A preview of the future
According to the International Monetary Fund's (IMF's) Chief Economist Gita Gopinath, while China has already managed to return its GDP to pre-COVID-19 levels, many developing countries would not be able to do so until 2023 at the earliest. The Fund also specified that cumulative per capita income in emerging markets (excluding China) is expected to be 20% lower than pre-pandemic predictions for the period between 2020 and 2022, far higher than the 11% deficit anticipated for developed countries. "In comparison to pre-pandemic forecasts, the varied recovery trajectories are likely to produce much bigger differences in living standards between developing nations and others," Gopinath recently recognised.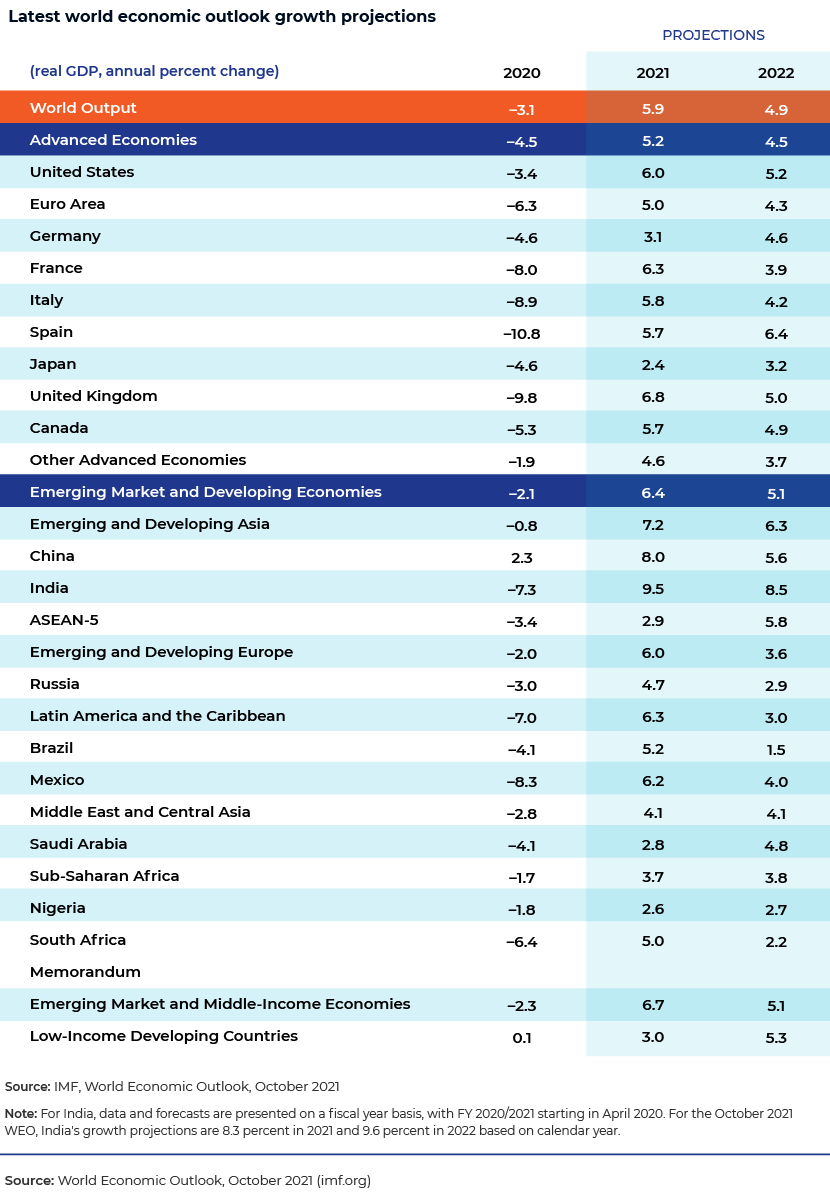 Financial conditions in emerging markets could remain tight next year. While the rate of inflation is expected to slow, the prices of food and fuel are likely to remain high. Emerging market economies could also face added pressure due to rising inflation amid the US's tightening of its monetary policy. This high inflation could slow the recovery of consumer-related sectors. At the same time, emerging market equities (outside EM-Asia) are expected to see a 15% upside in the next 12 months, according to Sean Taylor, Head of Emerging Market Equities at DWS Group. He also stated 1H21 was one of the best first halves for equity markets globally in a long time.
While many experts believe the global economy has bounced back after the slowdown during the pandemic, the pace of recovery will remain uneven owing to the ongoing surge in COVID-19 variants and cases in different nations at different times.
References:
https://www.imf.org/en/Publications/WEO/Issues/2021/10/12/world-economic-outlook-october-2021
https://www.spglobal.com/ratings/en/research/articles/210927-economic-outlook-emerging-markets-q4-2021-vaccination-progress-and-policy-decisions-remain-key-to-growth-12122390
https://www.lazardassetmanagement.com/research-insights/outlooks/emerging-markets#:~:text=The%20outlook%20for%202022%20is,and%20exported%20goods%20is%20strong.
https://www.gsam.com/content/gsam/us/en/institutions/market-insights/gsam-connect/2021/Emerging-Markets-Outlook-2021.html
---
What's your view?
---
About the Author
Meha Thakur is a part of the Commercial Lending team. She has 5+ years of experience in Commercial Lending operations. Prior to joining acuity, she worked as a financial analyst for NatWest Group. She has a master's degree and Bachelor's degree in Commerce (Hons) from Lovely Professional University.
Comments
09-Feb-2022 05:09:53 am
Yes, It is true that the future of emerging markets is bright because after a long recession or stagnation due to Panadmic the demand and supply chain reshape its future course of action that will assist specially india to grow at higher level because of india has the best political order leadership at present to handle and command and direct economy in better ways in such situation.
---

Blog
Impediments to ESG investing in emerging markets....
Since the pandemic, there has been a concerted effort to look at economic growth through a....Read More

Blog
Growth in ESG bond indices....
Climate risk is a primary concern in the asset management sector, particularly in fixed in....Read More

Blog
Oncology Market Research....
Oncology is considered to be the most dynamic area of therapy in terms of innovation, cons....Read More

Blog
Best practices for financial spreading
Reviewing and analysing financial data are key steps in credit analysis. Most companies pr....Read More
Like the way we think?
Next time we post something new, we'll send it to your inbox