Download Blog
Published on November 10, 2023 by Saisha Sethi
Is your startup looking for funding to expand operations and business? Or are you an investor seeking higher returns through funding that is more secure than equity? We recommend that you read about this new financing product, whose growth gained momentum in global markets amid the pandemic.
The pandemic resulted in a surge in entrepreneurship globally and a major boom in the startup, micro and SMB segments across sectors. The number of entrepreneurs spiked 24% from 2020 to 2021, with technology and digitisation leading the advancement to meet changing customer demand. The US saw growth of 44% in new business applications from 2019 to 2022, according to the US Census Bureau, and a UK government report states that the UK saw 753,168 new startups from March 2021 and 2022.
Challenges faced by startups
Sixty percent of the global startups created this year started as home businesses; of these, less than 10% of those that raised a seed funding round were able to raise a series A round of investment.
A global survey conducted by CB Insights in 2022 found that 47% of startups lacked funding, leading to failure. This was twice the percentage of those that failed for the same reason in 2021. The second reason for failure was the high probability of startups running out of cash due to poor financial planning; 44% of the failed startups fell into this category.
This reflected a big funding gap issue faced by the niche high-potential market, creating an unexplored possibility for investors to gain high returns, while meeting the lending requirements of startups and small and medium-size businesses (SMBs).
The main challenges startups face:

Startups with attractive solutions that have strong demand are unable to obtain funding from traditional banks due to their limited financial history or their inability to provide the data required to prove their credibility. Startups also do not seek funding from venture capitalists or angel investors, as these intend to own a share of a startup's long-term profits and gains, which startups are not willing to forgo.
Efforts to bridge the equity and debt aspects led to the creation of a new financing product called "revenue-based financing (RBF)". It focuses on the financial requirements of startups and SMBs without giving up ownership and provides high returns while minimising the risk to investors.
What is RBF?
It is an alternative new-age, non-loan financing option, with characteristics of equity investing and typical traditional bank debt best suited for startups and SMBs. This is especially useful for businesses with recurring revenue models. The RBF product supports companies that have limited proof of profitability or credibility to qualify for debt and large capital funding, and has customised and flexible repayment options. It enables all this without the need to forgo a stake in the company. It also allows businesses to incorporate non-dilutive financing at an earlier stage, helping them grow over time while paying off their debts, creating a win-win situation.
The product is designed in such a way that the investor has no ownership or share in the business but provides capital. It is repaid based on the company's sales revenue and does not require interest payments on the outstanding balance, combining elements of debt and equity.
Why should a company go for RBF?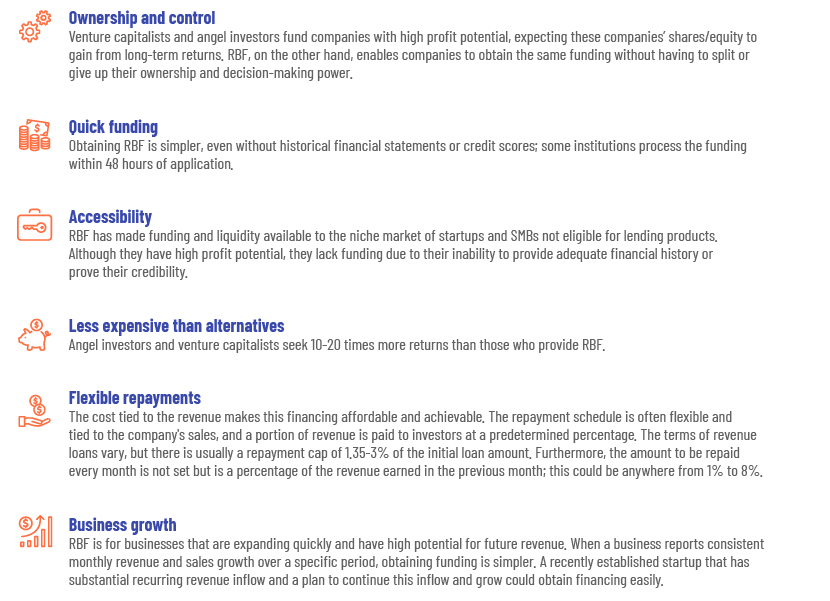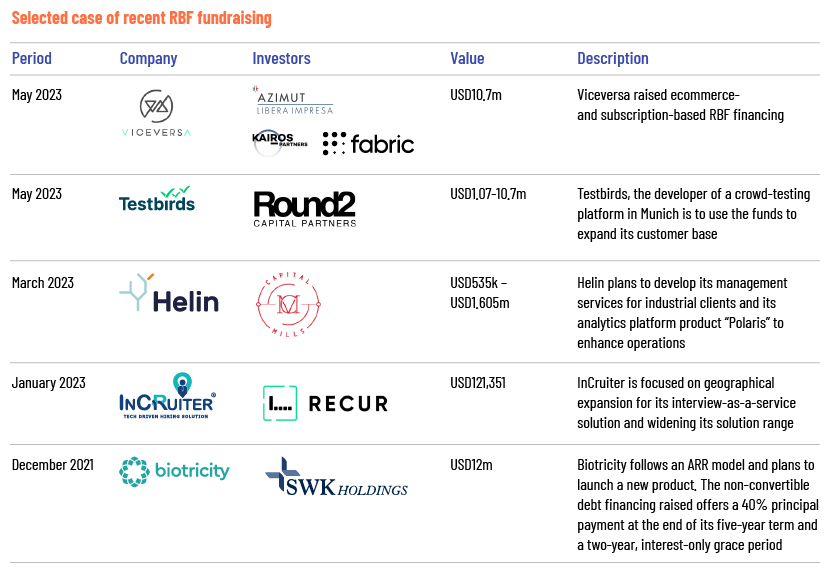 How Acuity Knowledge Partners can help
We assist clients with visualising, delivering and growing their business, backed by our strong expertise in the banking, startup, virtual capital and fintech domains. We offer strategic and tailored solutions; our capabilities include market assessment, competitive landscape and positioning, competitive benchmarking, competitor tracking, opportunity assessment and market-entry strategy. Our subject-matter experts, through their unique approach, combining processes, people and technology, deliver faster results and drive excellence for our clients, tapping potential business growth and expansion.
Sources:
---
What's your view?
---
About the Author
Saisha is a well-rounded professional with 7+ years of experience in the corporate strategy and consulting domain. Her functional expertise includes strategic and analytical research, profiling, and competitor analysis in tech and fintech domains. Prior to Acuity, she worked with BlackRock, leading the Analytics and Reporting team. She holds a PG in Data Science and Business Analytics from University of Texas, Austin, Cleared CFA Level I and earned a BSc. Economics degree from London School of Economics.

Blog
Battery storage disrupting the power sector....
Changing state of the renewable power sector Increasing stocks of renewable energy around....Read More

Blog
India's Union Budget 2021-2022: Focus on econo....
India's budget for the fiscal year 2022 is positive, as it aims to support economi....Read More
Like the way we think?
Next time we post something new, we'll send it to your inbox