Download Blog
Published on August 17, 2017 by Priya Vaidyanathan
In recent years, global private wealth has seen a steady rise, supported by growth in existing assets and economies. Developing Asia-Pacific markets have surpassed other regions in terms of growth, aided by fast-growing GDP and increased savings. As per estimates by Boston Consulting Group, wealth in Asia-Pacific and Japan combined will be ca. USD78trn by the end of 2021, overtaking that of North America, which is expected to be ca. USD73trn. The consulting group estimates global wealth to reach ca. USD223trn during this period.
Although private wealth is growing in Asia, global banks are facing challenges with shrinking margins, impacted by low commission, high market volatility, growing regulatory costs, a structural shift to the low-touch e-trading platforms, and rising costs of maintaining an onshore presence in Asia. Furthermore, stiff competition from local players has also eroded their market share. Over the last two years, many global banks have either cut jobs or have shut down their cash equities business entirely in Asia due to challenging market conditions, leading to a shift in their focus to other profitable regions.
The above situation has led to a shortfall in research coverage for equities in the Asia-Pacific markets. Global banks have low research coverage in Asia-Pacific stocks and focus mainly on large cap names and certain specific regions. There is also a significant overlap of stocks covered amongst the banks. The rapid growth in Asian bond markets, especially in India and China, have boosted the demand for fixed income research and rating services that assess individual issuer risk as well as specific industries. The Asian markets are highly fragmented and require specialization on sector as well as individual country requirements.
To meet their growing research needs, private wealth managers could opt for certain strategic options explained below: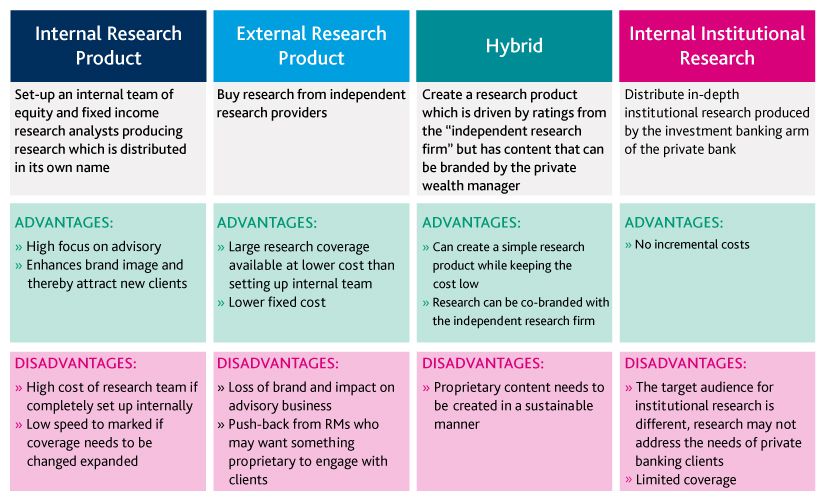 For private wealth managers, who are looking to create their own internal research product, partnering with Acuity Knowledge Partners would be a cost-effective and low-risk solution. We have a rich experience serving private wealth managers that include partnership with a leading European private wealth manager in a cross-asset research solution (including Equity and Fixed Income research) and producing pre-final-form equity research for an emerging market-focused private wealth manager post closure of their Asian cash equities division. To know more about our equity research capabilities please visit our Equity Research page. For further details on our fixed income capabilities, please visit Fixed Income Research.
---
What's your view?
---
About the Author
Priya has over 17 years of experience in equity research and financial auditing. At Acuity Knowledge Partners, she currently manages client relationship and delivery for leading private banks. She has been with the company for over 14 years and has led teams in sell-side and buy-side engagements. She previously worked at Ocwen Financial Services and as an auditor at Deloitte. Priya is a Chartered Accountant and holds a Bachelor of Commerce degree from Bangalore University.

Blog
Advantages of having a remote executive assistan....
"They're troubleshooters, translators, help desk attendants, diplomats, human database....Read More

Blog
The Federal Reserve's trajectory – side-trac....
The bank run that resulted in the collapse of Silicon Valley Bank (SVB) derailed the US fi....Read More

Blog
Impact of Research on Private Wealth Manageme
Private wealth management is a highly personalized, relationship-driven business model, wh....Read More
Like the way we think?
Next time we post something new, we'll send it to your inbox