Published on June 16, 2015 by Puneet Prakash
Acuity Knowledge Partners was delighted to exhibit and actively participant at the Investment Company Institute's (ICI) 2015 General Membership Meeting and Service Provider Exhibition on May 6-8, 2015, held at the Marriott Wardman Park Hotel in Washington, DC. In addition, the conference happened to coincide with ICI's 75th anniversary year.
The conference was well attended by Chief Compliance Officers (CCOs) across investment firms and financial corporations. Speaker topics revolved around the evolving world of mutual fund regulations and compliance, while panel discussions included topics such as the SEC's guidance on stress testing fund liquidity and issues on overseeing the distributors of mutual funds (how often to audit distributors).
We exhibit occupied an advantageous position in the exhibit area. Interestingly, We was the only exhibitor that provided compliance outsourcing services. Most other exhibitors promoted fund solutions, technology/distribution solutions, middle-office/execution solutions, etc.
To summarize key takeaways from the conference: Compliance officers have a myriad of pain points to deal with, mostly stemming from the SEC. Compliance officers are specifically concerned about:
Whether their companies (if they have significant exposure to interest rates) have implemented compliance policies and procedures, and investment and trading controls to ensure their disclosures aren't misleading

Ensuring there is an inventory of solutions related to the management of compliance risks

Defining their firms' governance framework, testing controls, etc

Sub-transfer agency arrangements and compliance implications (such as intermediary due diligence, etc)
To know more about our Compliance services, please click here
---
What's your view?
---
About the Author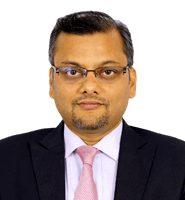 Senior Vice President, Head of Compliance Services
Puneet is the product head of the firm's Compliance Services business unit. He is responsible for strategizing and creating optimal solutions for the firm's Compliance clientele, globally. He has over 14 years of experience in financial services and knowledge offshoring. He has previously worked with firms such as TCS and WNS.
Puneet holds an MBA (Finance & Marketing) from the Indian Institute of Management, Kozhikode and a Bachelor of Technology from the Indian Institute of Technology, India.

Blog
What are PRIIPs, and how do they impact your bus....
Packaged retail and insurance-based investment products (PRIIPs) are a type of financial a....Read More

Blog
Growth of digital and robo-advisory platforms an....
Investment management and advisory businesses have evolved rapidly with the rapidly changi....Read More

Blog
SFC's conclusions on the consultation on clima....
In August 2021, the Securities and Futures Commission (SFC) issued amendments to the Fund ....Read More

Blog
Riding the US election wave: The impact on co
Overview of US commercial banking The US commercial banking system is valued at approxima....Read More

Blog
Enabling Chief Compliance Officers to "Achi
  The significant risk of reputational and financial losses due to lack of adequate cont....Read More
Like the way we think?
Next time we post something new, we'll send it to your inbox