Download Blog
Published on May 19, 2022 by Naina Kamra
Silicon Valley refers to the region in Northern California, USA, globally recognised as home to billion-dollar companies such as Google, Apple and Facebook.
But today, India is on its way to become the next Silicon Valley, being the most preferred outsourcing destination for global companies. With the fourth industrial revolution, or Industry 4.0, having started in 2016 and India being the world's most populous country, it is on track to reinvent itself – from being an outsourcing destination to becoming a centre of technological innovation.
India's outsourcing industry was valued at USD150bn in 2019 and is expected to reach USD225-250bn by 2025.
The country had fewer than 500 startups five years ago; it now has 60,000, changing the rules of the game and becoming the backbone of new India. India improved its ranking from 81 in 2015 to 46 in 2021, according to the Global Innovation Index. It has the third-largest startup ecosystem in the world. It has also become a top destination for foreign investment and ranked fourth in the world in attracting investment for technology transactions in 2020.

No wonder India has unparalleled potential to transform itself into becoming the world's next Silicon Valley. This unprecedented growth is supported by factors such as the following:
Technological revolution
India has a strong technology infrastructure and is the second most connected country in the world, with an online user base of over 750m. It also has the potential for creating a tech sector that is innovative and self-sufficient.
The country's technology sector benefited significantly from the pandemic, while it was a bane for most global companies. To maintain the momentum, the Indian government, led by Prime Minister Narendra Modi, is working to help IT and IT services and consulting companies.
Growth in India's tech market in 2021 was driven primarily by artificial intelligence (AI) and other disruptive technologies. AI, machine learning, cloud and other such technologies are leading some of the most advanced tools and applications focused on accelerating global economic and industrial growth. India's tech sector is expected to lead the global disruptive tech market from 2022.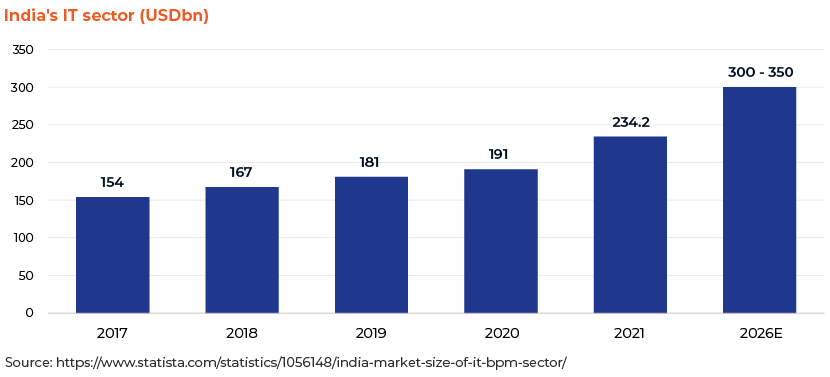 India's IT sector is expected to reach the USD300-350bn mark over the next five years, growing at 10% every year, according to McKinsey. This growth would be driven primarily by an increase in digital services, which currently account for 30% of the sector's revenue.
India has the world's largest, safest and most successful digital payments platform. In December 2021, 4.4bn transactions were conducted via a Unified Payment Interface (UPI) in India. UPI payments account for 60% of total payments there.
To achieve sector growth, it is expected to make further investments in scaling digital technologies that would include reskilling talent in new growth areas such as enterprise SAS ecosystem, cybersecurity, data, AI, 5G, IoT and product engineering.
Outsourcing
The outsourcing services India offers have resulted in a number of global organisations investing more time, money and resources in the country. This is supported by strong internet penetration, which grew to 45% in 2021 from just about 4% in 2007.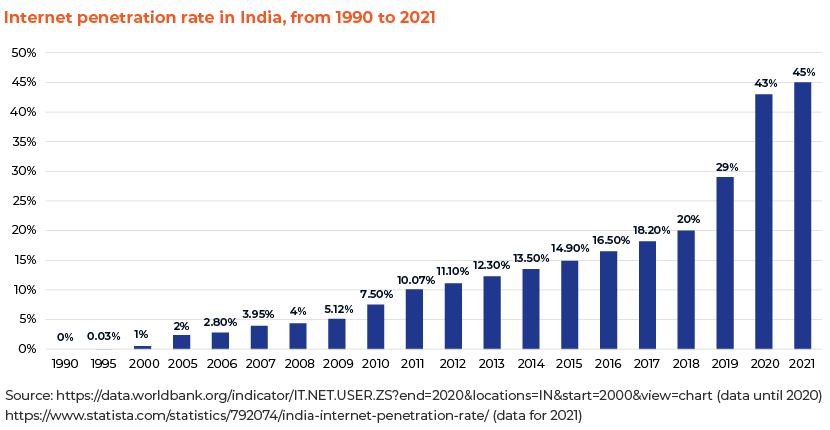 The number of internet users in India is expected to increase from 445.96m in 2017 to 829m by 2021 and 900m by 2025

The country's internet economy doubled from USD125bn in 2017 to USD250bn in 2020, driven primarily by the ecommerce sector

Digital transactions reached USD300bn in 2021 and are expected to reach the USD1tn mark by 2026
Government support and initiatives
The government of India has extended its best possible support to help tech companies achieve their ambitions. When the entire world was under lockdown amid the pandemic, the government took initiatives such as the following:
Waived rent for organisations and startups operating from 60 Software Technology Parks of India (STPI) centres from 1 March to 30 June 2020

As a result, the IT sector emerged stronger than before from the related economic crisis

Launched the Make in India campaign in 2016 to encourage organisations to develop, manufacture and assemble products domestically

The purpose was to make the country self-reliant and promote development of the nation

Reduced corporate tax rates

Required the private sector to invest in and own initiatives such as affordable housing and health insurance policies

Decided to build an investor-friendly ecosystem that supports domestic investors and FDI to boost the economy

This included the launch of the India Investment Grid (IIG), an initiative of the Department for Promotion of Industry & Internal Trade (DPIIT), the Ministry of Commerce, the government of India and Invest India, the National Investment Promotion and Facilitation Agency

The IIG offers a number of investment options across India on a single interactive platform

This is an initiative that enhances the ease of doing business and connects potential investors to project promoters across India

A stimulus package worth c.INR 21tn (USD277bn), equivalent to c.10% of India's GDP, to help those most affected by the pandemic and boost the economy

A Project Development Cell (PDC) has been set up for the development of investible projects with coordination between the central and state governments. This is expected to increase FDI inflow to India

An Empowered Group of Secretaries (EGoS) has been set up to attract investments to India, aimed at reinforcing India's vision of becoming a USD5tn economy by 2024-25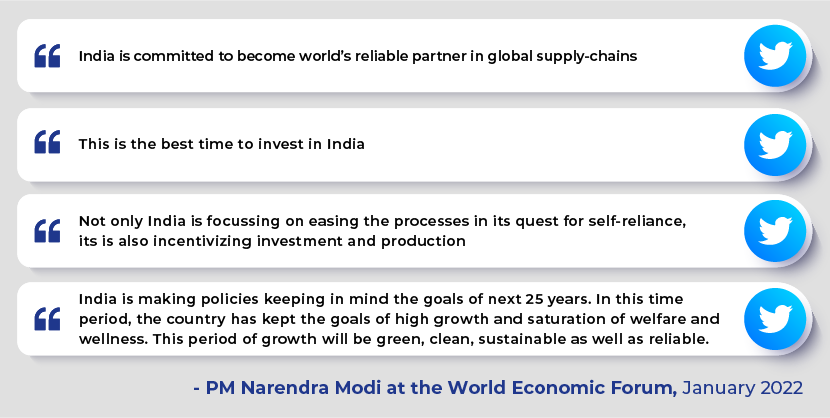 Urbanisation
With India continuing to develop its urban centres and promoting a spirit of entrepreneurship, it is set to soon become the next global tech hub. Bengaluru (formerly Bangalore), and Hyderabad in the south of India and Gurugram (formerly Gurgaon) in the north of India are tech-savvy cities symbolic of India's rapid urbanisation. It should also soon be home to the world's largest urban population.
The world's most dynamic cities
According to City Momentum Index 2020 – JLL
Hyderabad

Bengaluru

Ho Chi Minh City

Nairobi

Chennai

Delhi

Hanoi

Manila

Silicon Valley

Shenzhen

Chongqing

Pune

Wuhan

Dubai

Hangzhou

Kolkata

Shanghai

Riyadh

Austin

Mumbai
These Indian cities have embraced entrepreneurship and emerging technologies and have the required talent, capital and technologies to make the country the next Silicon Valley.
How Acuity Knowledge Partners can help
We are a leading provider of high-value research, analytics and business intelligence to the financial services sector. We help clients identify investment opportunities in India across sectors. We also help clients identify M&A and real estate opportunities and provide support with IPOs, FPOs and bond issuance.
Sources:
https://www.globalinnovationindex.org/Home
https://www.weforum.org/agenda/2019/10/india-technology-development-silicon-valley/
https://www.ibef.org/industry/science-and-technology.aspx
https://www.drishtiias.com/daily-updates/daily-news-editorials/india-s-startup-ecosystem#:~:text=Today%2C%20India%20is%20the%20third,up%20from%205000%20in%202010
https://www.startupindia.gov.in/content/sih/en/international/go-to-market-guide/indian-startup-ecosystem.html
https://www.statista.com/statistics/1056148/india-market-size-of-it-bpm-sector/
https://data.worldbank.org/indicator/IT.NET.USER.ZS?locations=IN
https://www.ibef.org/download/E-Commerce-November-2019.pdf
Twitter
https://www.business-standard.com/article/technology/active-internet-users-in-india-likely-to-reach-900-mn-by-2025-iamai-121060300710_1.html
https://timesofindia.indiatimes.com/business/india-business/explained-how-india-is-outpacing-the-world-in-digital-payments/articleshow/88580555.cms
https://theprint.in/theprint-valuead-initiative/indias-ites-bpo-industry-expected-to-grow-at-8-per-cent-cagr-reach-us225-250-bn-by-2025/796827/
https://www.narendramodi.in/text-of-prime-minister-narendra-modi-s-state-of-the-world-address-at-world-economic-forum-s-davos-summit-559493
http://www.naredco.in/notification/pdfs/jll-city-momentum-index-2020.pdf
https://indiainvestmentgrid.gov.in/about-us
https://indbiz.gov.in/govt-launches-new-initiatives-to-attract-investments/
---
What's your view?
---
About the Author
Naina has over ten years of extensive work experience in the Investment Banking Division. Currently she is an Assistant Director, attached to the Industrials and Power, Utilities & Infrastructure (PUI) sector teams and is responsible for carrying out industry analysis, macro-economic analysis, company analysis and valuation analysis for a leading bank based in the USA. Naina holds an MBA from IILM Graduate School of Management and B.Com Lakshmibai College, University of Delhi

Blog
India budget 2023: Walking the tightrope of fisc....
The latest budget continues to prioritise growth and fiscal consolidation, with high....Read More

Blog
Will India dominate the next century?....
Debates surrounding India's arrival at the global arena are gaining momentum. McKinsey C....Read More

Blog
China's dominance in the rare-earth metals
An introduction to rare-earth elements Rare-earth elements (REE) are a group of 17 chemic....Read More
Like the way we think?
Next time we post something new, we'll send it to your inbox