Download Blog
Published on July 17, 2019 by Jingrong Ma
Introduction
The pharmaceutical industry, growing fast globally, and especially in China, encompasses two types of medicines: (1) innovator drugs (patented drugs that command significantly high prices) and (2) generic drugs (copies of innovator drugs, which have lost their patents, available at a significant discount to the original prices). Drug patents are valid for a certain period of time, usually six years. Traditionally, the US has been one of the most significant markets for the drug industry.
Over 200 drug patents are set to expire between 2013 and 2020, including those for a few blockbuster drugs, opening up a huge opportunity for generics companies. However, higher competition in the generics market causes intense price wars, exerting pressure on generics companies' earnings.
The global generic-drugs industry is facing two key problems in the US
In the US, players in the generic-drugs market, especially the smaller ones, have traditionally been at a disadvantage. The current global trade scenario exacerbates their challenges.
The concentrated retail-drug industry has more bargaining power than small generic-drug manufacturers
In the US healthcare industry, insurance companies, Group Purchasing Organizations (GPOs) and Pharmacy Benefit Management (PBMs) bargain with wholesalers and wholesalers, in turn, bargain with drug firms. While larger drug firms negotiate to secure favorable terms, smaller companies have low bargaining power, leading to vicious price competition and, subsequently, pressure on margins.
US-China trade war to negatively impact
On March 22, 2018, US President Donald Trump imposed higher tariffs on imports from China and restricted Chinese enterprises' investments, as well as mergers and acquisitions, in the US. Later, on April 4, 2018, the US imposed an additional 25% tariff on commodities worth USD50bn, which included ca. 100 pharmaceutical products, mainly active pharmaceutical ingredients, bio-medicines and medical equipment. In retaliation, China imposed 5-25% tariffs on selected US imports on May 13, 2019.
Chinese drugs firms, especially small and medium-size ones, already at a disadvantage in the US market because of their size are further impacted by these trade sanctions. After a difficult year for the industry in 2018, the ongoing developments are likely to make 2019 another challenging year.
China's large market holds promise for the generics industry
China's generic-medicines market was worth about RMB638.4bn, accounting for ca. 40% of its pharmaceutical market in 2017, according to the China National Pharmaceutical Industry Information Centre.
To put this in context, between 2010 and 2015, China's generic-drugs market grew at a CAGR of 13%, with sales of such drugs growing from RMB275bn to over RMB500bn. Furthermore, of the 189,000 drugs approved by the China Food and Drug Administration (CFDA) as of 2017, 95% are generics. Notably, the volume of approvals has been high in China, as most of the drugs are generics products with similar clinical use.
Two core competencies are required to succeed in China
Marketing is vital for pharmaceutical companies. China-focused generic-drug firms have very high sales expenses, reflecting the substantial effort required to drive sales in this market. In such a scenario, firms with local knowledge gain because they understand customers, their processes, local requirements, and other local factors.
Apart from marketing, R&D could emerge as an area of focus. China's pharmaceutical industry has for long focused on generics for the domestic market, leading to a lack of significant focus on R&D. Now, amid the US-China conflict, the industry is contemplating whether it should aggressively pursue R&D. Developments on this front could also influence R&D activities in the generic-drugs segment. Therefore, the already large and growing generic-drugs market in China is likely to support R&D expenditure.
Challenges in China for generic players
Nonetheless, firms would need to overcome a few challenges specific to China. The two most important trends in China are centralized drug procurement and increasing competition.
As part of its centralized drug procurement policy, the government has started procuring drugs in bulk through a bidding process, with contracts awarded to the lowest bidders. This reduces buying prices, much like the GPOs do in the US. The process is called a 4+7 process, as it has been rolled out in four municipalities (Beijing, Shanghai, Tianjin, and Chongqing) and seven tier-1 and -2 cities (Shenyang, Dalian, Xiamen, Guangzhou, Shenzhen, Chengdu, and Xi'an). Based on the success of the program, the industry could come under further pricing pressure.
Drug prices have declined lately (most by 52%, and some by up to 96%), fueling competition. Therefore, in the long run, generics firms that do not innovate and differentiate themselves from the competition may see pressure on their margins, ultimately leading to lower valuations for them.
To overcome pricing pressure and competition, firms may need to adopt a strategy that involves low costs and multiple products. Evidence suggests that such firms have been successful in the Chinese market.
Of the 7,000+ drug firms in China, two stand out – Jiangsu Hengrui and Sichuan Kelun, which are performing well due to their strong R&D and sales.
Hengrui and Kelun's Financial Performance in last 5 years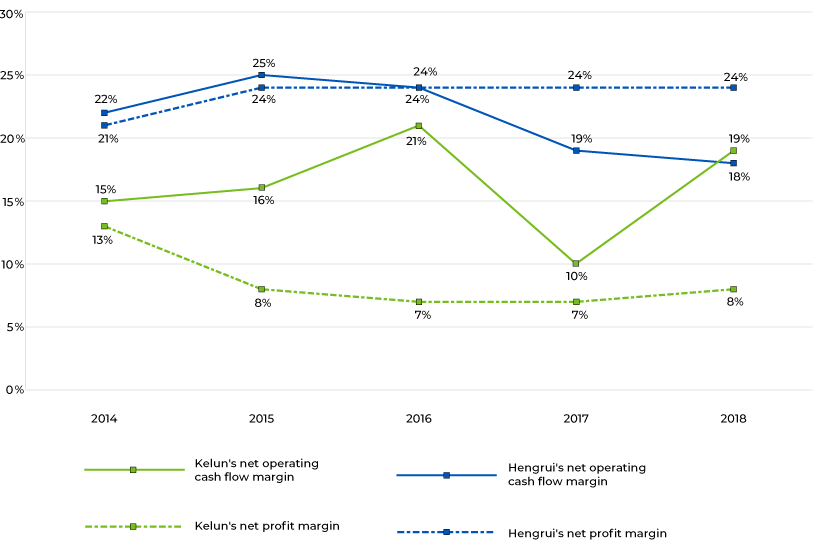 Hengrui's net profit margin increased to 24% from 21% in 2014-18. On the other hand, its net operating cash flow margin declined, mainly due to rising R&D expenses. Its R&D expenditure reached RMB2.67bn (15.3% of revenue) in 2018, up from RMB0.6bn (8.7% of revenue) in 2014. The company's investment in R&D supported sales, which grew at a CAGR of 42.4% during 2014-18, while its ROE remained consistently above 20%.
Kelun has demonstrated the importance of sales activities. Its net operating cash flow margin declined significantly in 2017, likely due to an increase in sales expenses. Kelun delivered sales of RMB11.43bn in 2017, an increase of 33.49% over 2016. However, its sales expenses increased at a faster pace, by 145.03%, to RMB3.07bn in 2017 from RMB1.25bn in 2016. On one hand, this substantial increase in sales expenses adversely impacted its operating cash flow, but on the other hand, sales increased. Consequently, its operating cash flow margin declined. To succeed in China's growing generic-drugs market, drug firms need to have a significant focus on R&D and marketing activities. As the market is at an early stage of development, we believe the right opportunities exist for the right companies.
Acuity Knowledge Partners has significant experience in offering market insights that are vital to players in the sector. Our other enabling solutions include industry analysis, compliance testing, monitoring programs, risk trend analysis, and risk mitigation and regulatory aspects that are relevant for effective business decisions.
---
What's your view?
---
About the Author
Jingrong Ma is a part of Consulting Research team at Acuity Knowledge Partners, Beijing Branch. She is proficient in consulting analysis of emerging industries such as Pharmaceutical, Banking, and Automotive covering macro trend, industry situation and company research. Prior to Acuity Knowledge Partners, Jingrong worked in commercial banking industry and served with multinational Global 300 clients. Her work combines strong research and analytical expertise with multi-language, analytical, and operational capabilities. Jingrong holds a BSc in Economics with Accountancy from University of East Anglia, UK, and a MSc in Economics and Finance from University of Bath, UK.

Blog
PE&VC sector continues to face headwinds....
Private equity and venture capital (PE&VC) firms face strong headwinds in the form of ....Read More

Blog
Pet humanisation in China: how dogs and cats are....
Introduction There are as many as 51m pet dogs and 65m pet cats in urban China. If distri....Read More

Blog
China – a promising wealth management market....
China has emerged as a highly-sought-after destination for wealth management services. B....Read More
Like the way we think?
Next time we post something new, we'll send it to your inbox