Download Blog
Published on November 16, 2018 by Sameera Singh
In 2017, Bitcoin, a name largely associated with blockchain, was the second most searched term on Google, as per the 2017 Google Trends report. Likened to the Tulip Mania in the 17th century by some, the fear of missing out on Bitcoin was pervasive, with the historic rise in prices creating millionaires overnight. Fall 2018, searches on Google nosedived 75% as Bitcoin plummeted ~70%, and the overall cryptocurrency market plunged 74% by November 2018 (Source: (CoinMarketCap). While the cryptocurrency market's meteoric rise found many observers, few understood the technology at the heart of it – blockchain.
Put simply, blockchain enables encryption and transaction validation, with the records being created and made available to multiple stakeholders (through a distributed-ledger technology that records and groups transactions, block-by-block, with the chain). It has obvious use cases across industries, including pharma, and the optimism here stems from the technological characteristics of blockchain and the multitude of bottlenecks in pharma, which is a large, complex web of processes, involving multiple stakeholders.
Tightening regulations in the US and Europe further accentuate the need for the stringent and urgent adoption of the "track and trace" phase of the two laws mentioned below:
In the US, the Drug Security Supply Chain Security Act (DSCSA) reinforces the need to build electronic, interoperable systems to identify and track prescription drugs through the supply chain by 2023.
In Europe, the Falsified Medicine Directive (FMD) has been made official with a February 2019 deadline, and all European member states are expected to comply with the regulations for coding, serialization, compliance reporting, and verification of pharmaceutical products.
The infographic captures a few convoluted complexities of pharma – in drug development, drug promotions, and drug supply chain – and offers a peek into what blockchain portends for pharma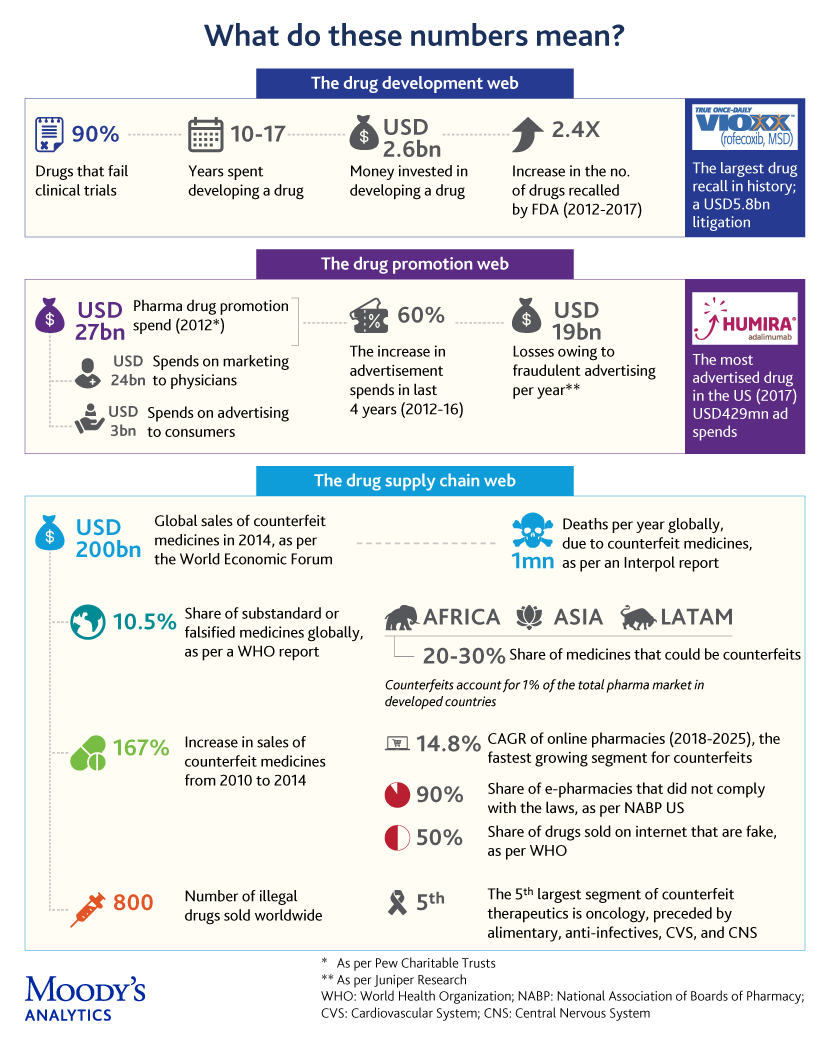 The blockchain promise
Several real-world blockchain-based use cases are emerging globally. However, most projects in this domain are in pilot phases, with very few nearing full-fledged adoption.
1. Drug development: The high rate of failure in clinical trials is one limiting factor, with published reports suggesting that ~90% of drugs fail during clinical trials, which are huge investments, both in terms of cost and time. In addition, a large number of drugs are recalled by the FDA each year, with a 2.4-fold increase in recalls from 2012 to 2017.
The development of new drugs by applying blockchain-powered genomic security to sequence and store genomic data and provide query-based results to individuals or third parties is being considered. New players, mostly startups, are taking on incumbents in a space that was typically dominated by gene testing & research laboratories. The idea of creating a consortium of genomic blockchains to address concerns about data privacy, among other things, is also doing the rounds.
2. Drug promotion: The problems do not end at the drug development phase, but continue into the marketing phase as well. Increasing competition has led marketers to invest billions of dollars in drug promotion, including digital advertising, to improve the visibility of their brands. However, companies tend to overspend (according to Pew Charitable Trusts, in 2012, USD27bn was spent on drug promotions), due to the lack of transparency in the utilization of their marketing funds.
Blockchain-based smart contracts are being utilized to automate every aspect of the ad-delivery process, audit advertising transactions between advertisers and publishers, and minimize or eliminate intermediaries. The "Proof-of-stake" (PoS) algorithm used in some blockchains, is expected to further improve ad speeds and eliminate the need for costly hardware and high energy consumption (Casper® is targeting four seconds). A "proof-of-view" (POVTM) algorithm that could help eliminate fake views by auditing audience metrics is also in the works.
3. Drug supply chain: Counterfeit medicines endanger human lives, with 1 million deaths reported each year globally, according to Interpol. Global sales of counterfeit medicines grew exponentially, from USD75bn in 2010 to USD200bn in 2014, as per a World Economic Forum report.
The current supply chain model is fragmented, with operational silos leaving a window of opportunity for counterfeits. Blockchain aims to bring multiple stakeholders together on a trusted digital network to achieve interoperability and a more seamless, secure and transparent supply chain. To weed out the counterfeits, barcoded drugs will be scanned and recorded in digital blocks with each passing transaction. This is possible for time and temperature sensitive medical products as well.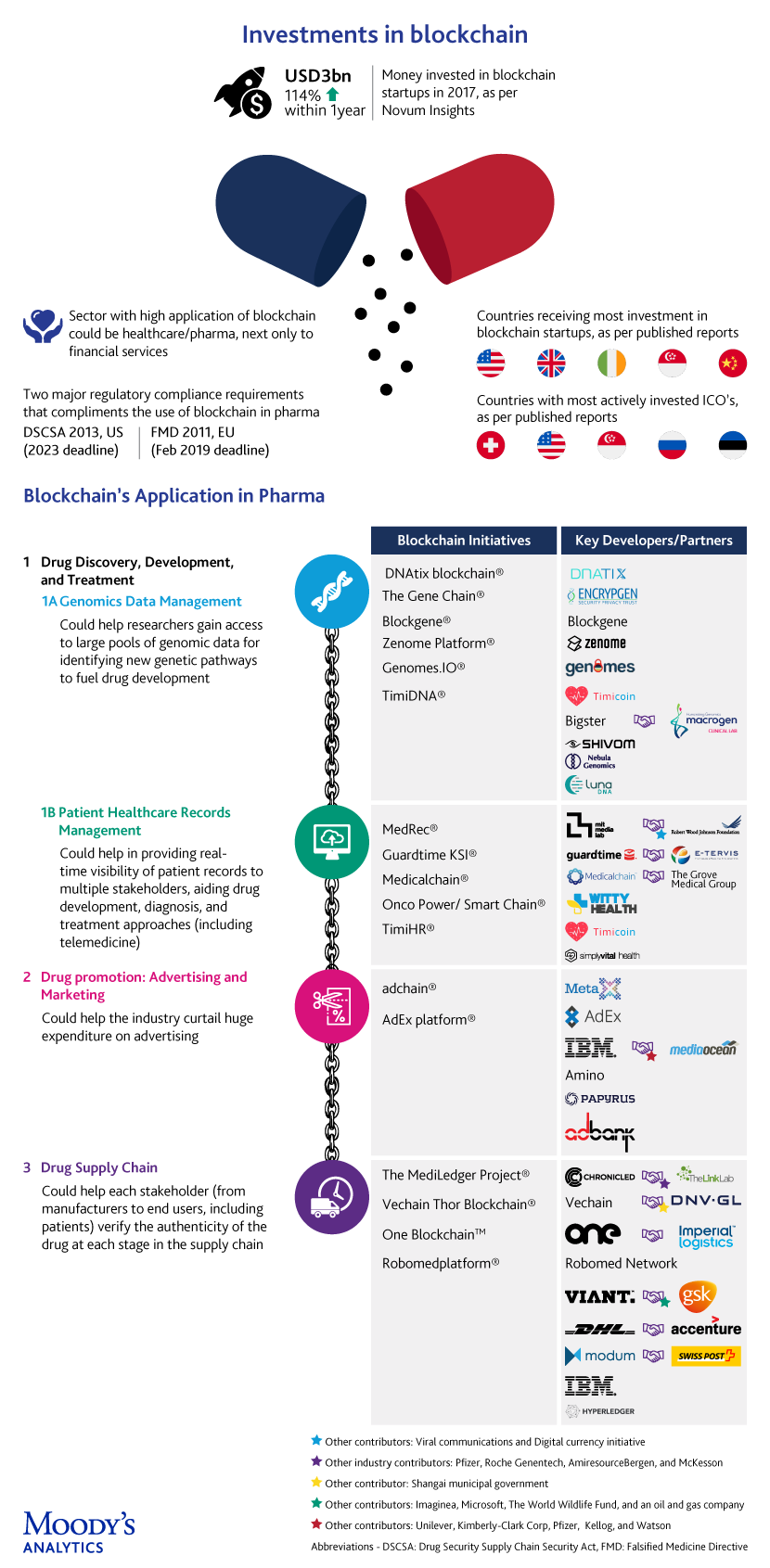 Blockchain – an overdose?
While it is true that new technologies or approaches, such as the blockchain, are moving up the innovation curve, it would be important to note that their commercial applications are limited thus far. As things stand, there are more pilot projects than full-blown industrial applications of blockchain. For any technology to be adopted, it should be cheaper and faster than the one it replaces. Blockchain's encryption features come at a prohibitive cost. There are over 1,900 coins/cryptocurrencies (according to Coinbase), but the increasing number of frauds (related to initial coin offerings) have come under the scrutiny of the SEC. SEC, in its 2017 investor bulletin stated that, "Fraudsters often use innovations and new technologies to perpetrate fraudulent investment schemes, it is relatively easy for anyone to use blockchain technology to create an ICO that looks impressive, even though it might actually be a scam."14
For blockchain to be successful, it has to make more economic sense in the real world, in the absence of which, it runs the risk of remaining a pipe dream.
The Life Sciences Team at Acuity Knowledge Partners has supported large and mid-tier pharma and healthcare firms in tracking innovation and assessing how new technologies could help solve complex business challenges. We have experience in identifying and profiling tech breakthroughs across varied categories, including medical devices, drones, 3D printing technology, robotic automation, and other such potential disruptors. Acuity Knowledge Partners provides clients with robust and actionable insights to distinguish their products, and maximize their market potential.
Bibliography:
1. WHO reports on counterfeit medicines
2. Interpol reports on counterfeit medicines
3. FDA website
4. Company websites
6.e-pharmacy market analysis, Grand View Research 2018
7.Stanley A.et al, Big pharma seeks DLT solution for drug costs, Coindesk
8.Appleby J.et al, Price check on drug ads, USA Today 2018
9.Investment into Blockchain startups, Blockchain News 2017
10.Bell L.et al, Applications of blockchain in healthcare, Healthcare Today 2018
11.Bhardwaj. G et al, How Blockchain and AI can help pharma focus on innovation rather than advertising, Forbes 2018
12.Year in search, Google, 2017
13.Coinbase.com
15.Investor bulletein,SEC,2017
16.There is nothing virtual about Bitcoin's energy appetite, The New York Times, 2018
---
What's your view?
---
About the Author
Sameera Singh is life sciences practice lead within the corporates and consulting vertical at Acuity Knowledge Partners. She has over seven years of work experience in life-sciences consulting, business research, and marketing. She has hands-on experience in strategic projects, such as therapeutic area assessment, competitive intelligence, disease insights, and brand management. Sameera is an MBA (Pharmaceutical Management) gold medalist and holds a bachelor's degree in Pharmaceutical Sciences.

Blog
Impact of the metaverse on the financial world....
Augmented reality (AR) technology brings the digital world into our physical world, wherea....Read More

Blog
Technology a catalyst for future deals....
Technological advancements have made past ways of transacting obsolete. Trends are changin....Read More

Blog
Blockchain securitisation – a revolution in gl....
The digital landscape of the world of finance has evolved significantly in recent years, m....Read More
Like the way we think?
Next time we post something new, we'll send it to your inbox